Department of Homeland Security (DHS) employees are struggling to communicate from the agency's brand new headquarters in southeast Washington DC, because cell phone reception in the area is spotty.
Even as Donald Trump appears to be dismantling the DHS by firing or forcing out top officials, the agency's long-planned, approximately $5 billion new headquarters officially opened on April 10. Kirstjen Nielsen, the outgoing secretary, cut the opening ribbon, flanked by other DHS senior leaders who were also on their way out, including acting deputy secretary Claire Grady and Secret Service head Randolph "Tex" Alles.
About 14,000 DHS employees are in the process of moving from around Washington, DC to the west side of "St. Elizabeths campus," the site of a former psychiatric hospital that sits across the Anacostia River from the US Capitol and has been mostly unused since 2003. In recent days, Quartz has had several conversations with DHS employees at the new headquarters who struggled to find decent cell phone reception.
Cell phone reception and data transmission is a problem in many DC federal buildings that were built generations ago. The Department of Defense's headquarters in the Pentagon, opened in 1941, has such thick walls that there's no cell phone reception through most of the building; the Department of Justice headquarters, completed in 1935, has similar issues in many areas.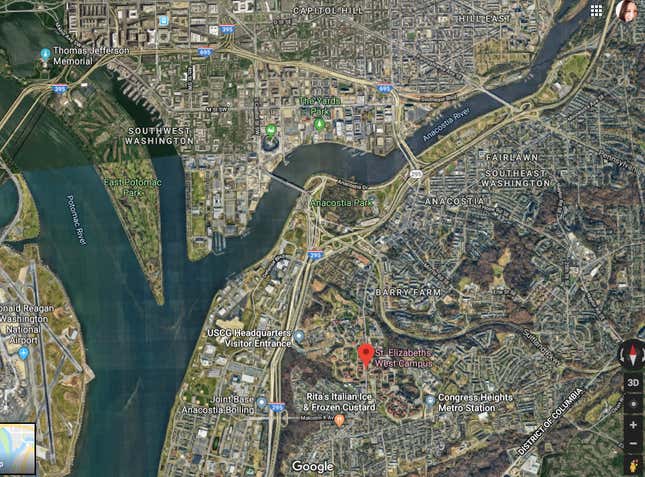 The federal government says the DHS move to St. Elizabeths is "largest construction project in the Washington metropolitan area since the Pentagon was built during World War II." The project began more than a dozen years ago, in 2006, when Congress allocated money to the DHS for that purpose. By 2014, the project was $1.5 billion over budget and as much as a decade behind schedule, according to a Government Accounting Office report.
The project includes preserving the facade of several historical buildings, including the  pre-Civil War, Gothic Revival-style "Center Building" designed by the original architect of the Capitol, Thomas U. Walter. The building, which was used for exterior shots in the movie A Few Good Men, was gutted in the renovation.
The 220,000-employee DHS, which has an annual budget of nearly $50 billion, was created in the aftermath of the terrorism attacks of Sept. 11, 2001, to address the US intelligence, immigration, and aviation security failures that allowed 19 militants, mostly from Saudi Arabia, to hijack US planes and kill nearly 3,000 people. The fact that it's hard to communicate with the outside world from its new, costly headquarters could give fuel to ongoing questions about whether the agency is focused on its national security remit.
T-mobile's coverage map says it has "good signal" in the area that includes "cell reception outdoors, in most homes, and in some big buildings;" AT&T's mobile coverage map says the entire area is covered by 4G LTE service. It is possible the coverage problem could be inside the DHS headquarters building.