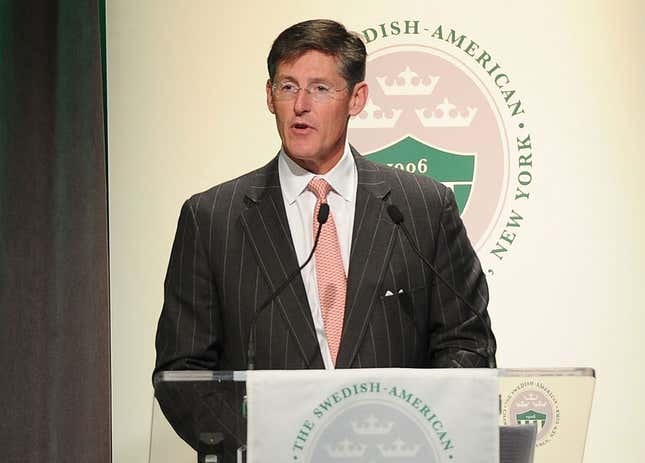 Citigroup's promotion of longtime employee Michael Corbat to CEO contrasts with its choice five years ago of Vikram Pandit, who came from Morgan Stanley. It suggests that the firm is attempting to turn back toward its more staid roots in commercial banking and away from its flashy Wall Street trading business.
Barclays made a similar choice back in August when it chose Anthony Jenkins—formerly the head of its retail and business banking divisions—to replace Bob Diamond, whose reputation was tarnished by the LIBOR scandal.
Like Jenkins, Corbat is a relative unknown in the world of high-profile Wall Street pundits. He was most recently Citi's CEO of Europe, Middle East and Africa. He previously served in a series of staid advisory roles: CEO of Citi Holdings, CEO of Citi's Global Wealth Management unit, and the head of the Global Corporate Bank and Global Commercial Bank. His focus was on business rather than trading: Corbat was responsible for managing clients' wealth and allowing countries and companies to do business, rather than placing bets on Wall Street.
To a certain extent, those roles required some kind of transformation; Corbat began his career in the "frat house" culture of Salomon Brothers, the firm described in Michael Lewis's Wall Street exposé Liar's Poker. Salomon was later absorbed by Citigroup after a trading scandal destroyed the firm's reputation. That Corbat remained at Citi despite the fact that the Salomon Brother's culture was unceremoniously destroyed suggests a predilection to longevity and stability.
It is possible that Corbat will also be charged with restoring a sense of corporate loyalty to Citi, an easier task for a man who has spent the greater part of his career at a single firm. In 2009, one banker told the Wall Street Journal that Citi was "a culture without a culture," and the bank has been struggling to fight this stigma.
The financial crisis and numerous ensuing scandals have dragged Wall Street through the mud. Reinventing that previous glory will require not only new regulation and structural change, but new faith in the stability of the financial system and its most important firms. By all accounts, Corbat—like Jenkins—is a nod to the banking as the public thinks it should be: staid, unassuming, and with an eye to developing trade across the globe.