Tesla's flagging profits aren't the only thing the company has to worry about. The electric carmaker's latest headache comes from unflattering accusations by a Chinese ride-hailing company, which broadcast its complaints about quality control on billboards in New York's Times Square.
iUNICORN, also known as Shenma Zhuanche, is a Chengdu-based ride-hailing company focused on high-end electric cars. Last Wednesday (April 24), it rented three billboards on the Thomson Reuters building in Times Square to demand compensation from Tesla, a Shenma spokesperson said.
Shenma said that 20% of the 278 Teslas it purchased in 2016 and 2017 had electromechanical issues; the time-consuming repair process took an average of 45 days, costing Shenma some 6.5 million yuan ($970,000), the company said on social media site Weibo (link in Chinese) late last week.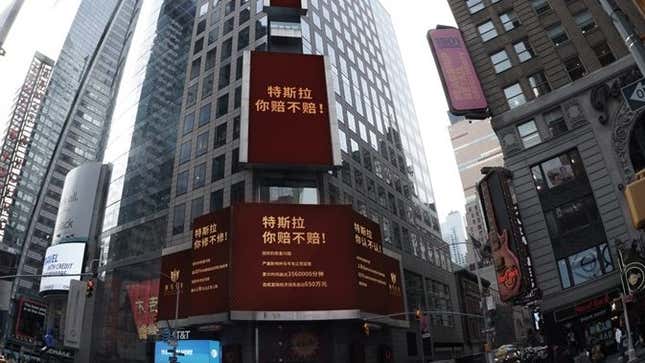 The messages were taken down half an hour after they went up, and Shenma is looking into why, according to the company's spokesperson. Shenma said it didn't take photos in the short time the messages were up, but did provide a rendering (above).
Shenma said it tried contacting Tesla multiple times but the carmaker has "low efficiency in internal communications" and the complaints "take too long," according to the Weibo post. The firm said its billboard stunt was inspired by the film Three Billboards Outside Ebbing, Missouri, and New York was chosen because that is where Tesla's shares are listed. The electronic messages on the billboards were in Chinese: "Tesla, fix it or not," "Tesla, compensate or not," and "Tesla, admit it or not." Printed under those slogans were Shenma's loss in numbers—including the 20% fault rate and 3.5 million minutes of driving time lost due to cars took out of service for repairs.
"The more you keep a case in the public eye, the better your chances are at getting it solved," Shenma said in the Weibo post, referring to a quote used by the mother in Three Billboards film, who put up the advertisements on a road to draw the public's attention to the case of her daughter's murder. Shenma said it is seeking 6.5 million yuan as compensation from Tesla.
Shenma didn't elaborate on how much it spent on the billboard messages. Shenma's official site said the company operates in five cities (link in Chinese) including Guiyang, Chengdu, Shanghai, Shenzhen, and Guangzhou. It offers Model X and Model S (link in Chinese) for rent.
Tesla declined to comment on the incident.
This isn't the first time Tesla has received complaints in China—the company's biggest overseas market. Earlier, it faced a backlash (paywall) after cutting prices from some local customers who bought Teslas just before the change took place. Chinese car buyers also weren't impressed by the unveiling of the Model Y sport utility vehicle last month.
These complaints come at a key time for Tesla's Chinese ambitions—the company plans to build the first batch of made-in-China Teslas this year at its Shanghai Gigafactory. It is also facing increasingly fierce competition from Chinese electric-vehicle rivals like BYD, the world's largest electric carmaker, and startups like NIO and Xiaopeng.
Looking for more in-depth coverage? Sign up to become a member and read more in-depth coverage of China's electric-car boom in our field guide.