It was Senator Elizabeth Warren's classic campaign message: Facebook, Google and Amazon were corporate bullies trampling the public's rights. On March 8, the presidential hopeful ran a Facebook video ad for her plan to unwind Facebook's "anti-competitive" acquisitions of WhatsApp and Instagram.
Days later, the ad disappeared from the social network. Facebook told Quartz it took the ad down because it featured the Facebook logo violating policies that forbid advertisers from using Facebook's corporate trademark. The company later restored it in the interest of "robust debate."
But Warren's camp was already on the offensive. "Curious why I think FB has too much power?" Warren tweeted on March 11. "Let's start with their ability to shut down a debate over whether FB has too much power. Thanks for restoring my posts. But I want a social media marketplace that isn't dominated by a single censor. #BreakUpBigTech."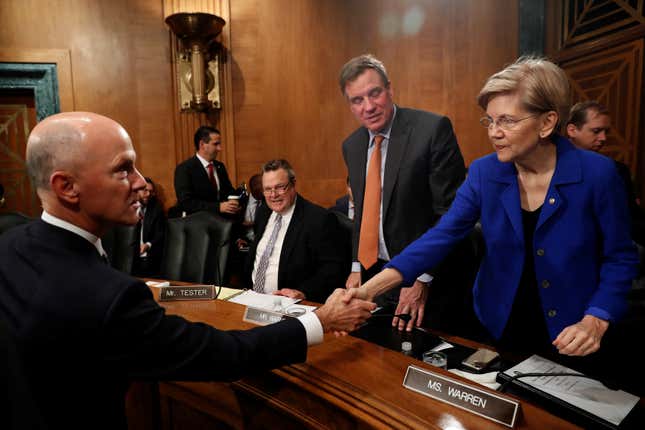 Silicon Valley is now a symbol of what's wrong in America for both sides of the aisle. Populist candidates in the Democratic Party are warming to Warren's call to fight tech's "major monopoly problem." Even traditional champions of the tech sector in Congress, such as Sen. Mark Warner (who was a telecom investor in the 1990s) are "pretty pissed off" at technology companies undermining Americans' privacy and the elections.
Fury has boiled over on the right for a different reason. During Mark Zuckerberg's congressional testimony last April, Republican Sen. John Kennedy of Louisiana warned the Facebook CEO that federal regulation of the platform was coming if it continued to exploit its users privacy. "Your user agreement sucks!'" he told the Facebook CEO. "I don't want to vote to have to regulate Facebook, but by God I will." Other Republicans, most notably Donald Trump, have cast the tech giants as part of a left-wing conspiracy. "Facebook, Google and Twitter, not to mention the Corrupt Media, are sooo on the side of the Radical Left Democrats," he tweeted last month, insinuating "something is happening. It's collusive and very, very fair to say that we have to do something about it."
It wasn't always this way. During the Obama years, technology companies and politicians were inseparable. The Intercept notes Google sent representatives to attend White House meetings at least once a week, on average, for most of Obama's presidency. During his administration, at least 250 people moved between jobs at Google and the Federal government. Former Google executive chairman Eric Schmidt led software engineering recruitment efforts behind Obama's and then Hillary Clinton's presidential campaigns. Sheryl Sandberg, who later joined Google and then became Facebook's COO, served in the Clinton Administration.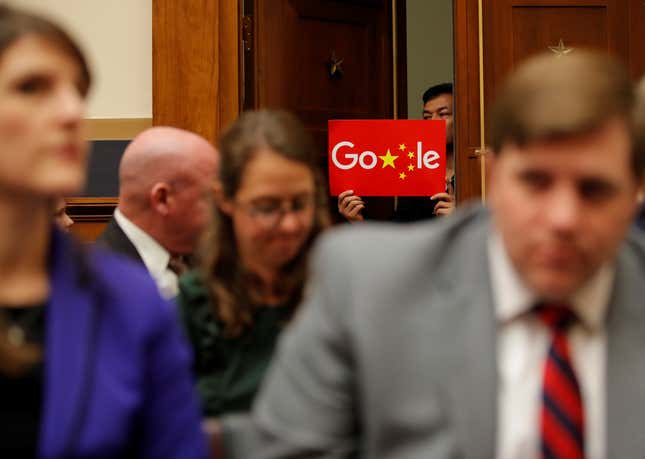 "There used to be this halo over the platform companies," said a former Obama official, who asked not be named because of his ongoing work with tech companies in the Valley. He described DC's relationship with tech as at its lowest point in memory. "It has gone from being worshipful to pretty bipartisan resentment toward platform companies. The relationship is outright hostile right now."
The deterioration of this relationship has consequences. Freedom from Washington's scrutiny has underwritten tech's success from the beginning. In 1996, Sen. Ron Wyden co-authored Section 230, a carve-out in the Communications Decency Act, granting online platforms legal immunity over published content and moderation. In many ways, it was a clause that built Silicon Valley. Without it, startups like Google, Facebook, and Twitter would have been inundated with lawsuits, and companies would have proactively suppressed controversial speech to avoid controversy or lawsuits. "Section 230 is as important as the First Amendment to protecting free speech online, certainly here in the U.S.," says Emma Llanso of the Center for Democracy and Technology.
This freedom from regulation seemed prudent when Silicon Valley controlled just a fraction of the US economy. Today, tech dominates the stock market. Amazon now controls 50% of the e-commerce market. Google and Facebook control 49% of the online advertising market. Of the world's six largest companies, five are tech firms headquartered on the West Coast.
Lax regulation is no longer an option. As the power of tech grows, along with hostility from Washington, legislation is coming that will change the internet as we know it. The only question is what it will look like—and Silicon Valley would like to shape that answer.

The cultural becomes political
Silicon Valley has historically seen politics as an obstacle to code around. Cypress Semiconductor founder T.J. Rodgers famously articulated this in a speech given at the Cato Institute in 1998. Entitled "Why Silicon Valley Should Not Normalize Relations with Washington D.C," the libertarian battle cry angered members of both parties.
"Silicon Valley is an island of capitalism in a sea of collectivism. We are surrounded by big governments, big unions, big media, and big, statist corporations…By the very way it works, Washington undermines the free minds and free markets that are the cornerstone of Silicon Valley's success," said Rodgers, according to an edited transcript of the speech (pdf). "The metric that differentiates Silicon Valley from Washington does not fall along conventional political lines: Republican versus Democrat, conservative versus liberal, right versus left…It falls between freedom and control."
Since Rodgers' infamous speech, the tech industry's sense of exceptionalism in American business has never faded. A former executive at a Silicon Valley company, now living in DC, says this has blinded it to the downsides of its own creations. "Silicon Valley believes the world is fundamentally a good place that can be changed for the positive and that government, for better or worse, gets in the way," he said, asking not to be named due to work with clients in the Valley. "Good people may work in government, but smart, really talented people work in Silicon Valley where they can take on the same problems, global problems, and attack them from a creative perspective."  It was a bubble that left little room to understand how the world might work offline. "I found it crazy when I moved to Silicon Valley, having spent years working on some of the most interesting problems in the US government, [that] no one was interested," he said. "No questions at a cocktail party. It just never came up at work."
Tech execs' disdain for DC has only intensified in the last five years. It took a steep dive after 2013 revelations from former CIA-contractor Edward Snowden showed the National Security Agency (NSA) had compromised the tech giants' infrastructure, stealing billions of communications. The intrusion shattered trust in the security of Silicon Valley's biggest companies. Within months, Valley's executives and engineers were hardening their infrastructure against external threats, a category that now included the US government. "It's impossible to understate the anger over that," said the ex-Obama official. "That for me was the moment where I could feel the change in behavior and the nature of the interaction with Silicon Valley's top executives and government changed."
It just got worse from there. Washington's frustration with the Valley erupted in 2016 over the tech platform's mishandling of Russian meddling in the presidential elections. Many politicians felt the tech companies hid the extent of the manipulation, and remained complicit in letting it continue rather than protecting the public. This distrust has only compounded amid a constant stream of Facebook privacy violations, such as the Cambridge Analytica scandal, and questionable anti-competitive behavior by the platforms. Then there are charges of censorship (without substantial evidence) by conservatives on Twitter and Facebook.
In conversations on Capitol Hill, legislators and staff from both parties feel burned by the tech companies' misdirection about what's really happening on their platforms. Facebook, in particular, minimized its role in election interference and then deliberately kept itself in the dark (paywall) about how propaganda spread on its own platforms so it could not be held legally responsible. Amazon appears to have engaged in anti-competitive behavior, and Google is raising questions by building a censored search engine for China to appease America's primary geopolitical rival. Congress is still embarrassed by its own inept questioning of tech CEOs on all these issues during televised hearings  (One staffer in Congress admitted "it's the big joke here: Do they not know how the internet works?")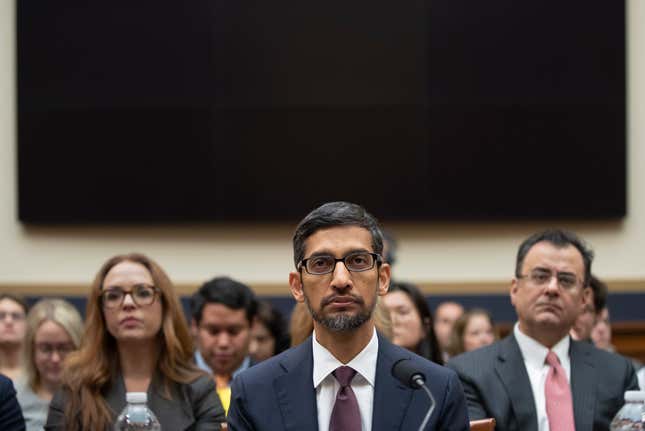 For their part, Silicon Valley executives have wanted little to do with Washington since Donald Trump became president. Most have dodged testifying at hearings and turned down all but informal advisory roles in the Trump Administration in order to avoid protests by their employees. The revolving door used by Google and the White House is now a side entrance for a few associates of PayPal founder and Trump backer Peter Thiel. Tesla CEO Elon Musk tweeted in 2017 about his reluctance to deal with Trump:"[I] really don't want to get in politics. I just want to help invent and develop technologies that improve lives."
But Silicon Valley's playbook of avoiding politics on the way to global domination (and profits) isn't working this time. Tech executives have already acknowledged as much. Zuckerberg told (pdf) Congress last June that he would accept regulation—even welcome it "in principle"—in exchange for a unified set of rules.

Regulation is coming
The internet's business model has evolved to rely on what some call surveillance capitalism. Services are free, but users' every move and inclination is tracked, stored, and targeted by advertisers—or anyone willing to pay for it. Users have little idea exactly what is happening to their personal data, or the ability to control it. Harvard Business School professor Shoshana Zuboff, and author of The Age of Surveillance Capitalism: The Fight for a Human Future at the New Frontier of Power? warns tech companies are subverting democracy, and the rights of individuals, by using our data to manipulate and direct our behavior for corporate profit.  
"Surveillance capitalism…is coming for our human experience, they're translating it into behavioral data, they're creating predictive knowledge out of that and they're selling that predictive knowledge," says Zuboff. "But they're selling it to others, not to us. So it's knowledge about us but not for us."
Lawmakers in the US and abroad are considering legislation to curb this. Bills would enshrine new privacy rights and enforce data security, as well as impose antitrust restrictions on the big tech companies. In the worst-case scenario for tech companies, a new regulator may be empowered to press the case. For the first time, users will have the right to see and delete their data from businesses that store it. Tech platforms might need to take responsibility for harms beyond what is strictly illegal. Even if surveillance capitalism never goes away, the balance of power for these companies may shift irrevocably.  
"The question is no longer whether we need a federal law to protect consumers' privacy," intoned Republican Senator John Thune of South Dakota to bipartisan nods at last fall's privacy hearings. "The question is what shape it should take." Republican Roger Wicker of Mississippi has even called for "a federal law on the books by the end of 2019."
Writing such laws is now a favored pastime in DC. There's Democratic Sen. Ron Wyden's Consumer Data Protection Act (pdf), Sen. Brian Schatz's Data Care Act. Sen. Warner's white paper (pdf) offers a buffet of regulatory options for lawmakers to dine on. Rep. David Cicilline, head of the House subcommittee on antitrust, described Facebook's deceptive tactics as right out of the "big tobacco playbook."
Silicon Valley is shifting into damage control. Instead of denying the need for new rules, it's hoping its own solutions will minimize the burden. Intel has drafted its own privacy bill. IBM called on the consumer platform companies to assume more "liability." Zuckerberg wrote (paywall) in a Washington Post op-ed on March 30 that Facebook is ready for "a more active role for governments and regulators", citing harmful content, election integrity, privacy, and data portability as areas to start.
None of these proposals address the root of the problem. Facebook's proposals would only entrench its control over social media and messaging. The company says it is now merging the technical infrastructure behind WhatsApp, Instagram, and Facebook Messenger, making future attempts to separate them in an anti-trust ruling far more difficult. Zuckerberg has also spun an existing market strategy—prioritizing group conversations and private, encrypted communications over its manipulation-prone newsfeed—as a response to politicians' concerns. Beyond Twitter and Google admitting to some missteps, they've largely remained silent. The chair reserved for a Google executive at Senate hearings on the integrity of elections last September was left empty.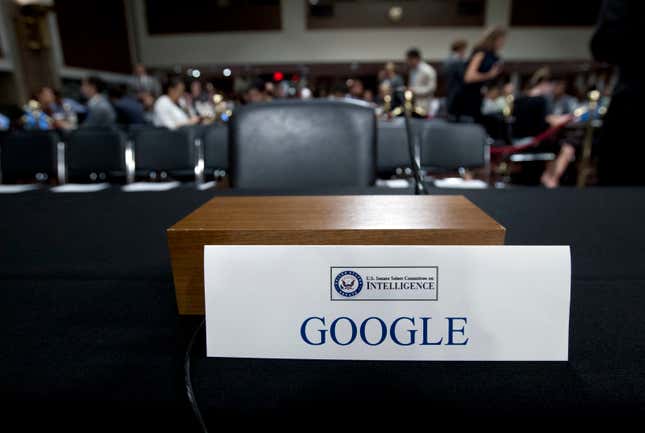 Tech's half-measures are, in a way, a bet that Washington will not be able to enact the sweeping overhaul promised by politicians. This may be a good bet. Despite the ire in DC, lawmakers are no closer to agreeing on a plan. Warren's plan has not won over skeptics on Capitol Hill (many call it a good diagnosis, but wrong solution). Any plan to break up the big companies would need to win over at least a dozen skeptical Republicans in the Senate. Congressional staffers and members interviewed for this article suggest only narrow legislation to address specific concerns like privacy has a shot at passage.
Ro Khanna, Democratic representative for California's 10th district in Silicon Valley, wants Congress to pass regulation tailored for specific problems, not the anti-trust sledgehammer in Warren's proposal that might hand an advantage to the China's tech giants Alibaba, Baidu, and Tencent. 
Not that breaking up tech is even politically feasible, says Mitch Stoltz, a senior staff attorney at the Electronic Frontier Foundation. "[Tech companies] are so well integrated into various sectors of the economy, they have a certain insurance against policymakers doing anything really disruptive, and they know that," he says. "They can afford to pay fines and they are in a sense too big to fair. For now,  public opinion to break up big tech just isn't there. A poll of 1,001 registered voters this March show Americans are almost evenly split on regulating big tech (and previous surveys found Republicans slightly more in favor of regulation than Democrats).
"I don't think the demonization of Silicon Valley will work given the poll numbers," Khanna says. "My instinct is more people want to work at Google than break them up. We should pick our villains carefully, not companies with double the approval rating of anyone running for President." Google, Amazon, and Apple's enjoy favorability ratings above 60%, Facebook has a 48% favorability rating, and a majority (72%) of respondents agreed tech has a "positive effect on society."

How the US lost its lead
Even as Washington dallies, a wave of momentum for regulation builds around the world. Should DC fail to act soon, plenty of other governments are ready to lead the charge. That will give the advantage to the first-movers: tech platforms will want to save money by asking for common policies (paywall) everywhere they do business.
The European Union is in the midst of a legislative blitz covering everything from copyright to artificial intelligence to privacy, with the EU's General Data Protection Regulation (GDPR) having been implemented last May. The GDPR, which analysts call the "strictest data protection and privacy regime in the world," is now forging a global legal framework on the issue by recognizing the adequacy of other countries' privacy regulation and granting them equivalent status so companies can operate freely across jurisdictions (Japan's data protection law was recognized  under the scheme in 2017).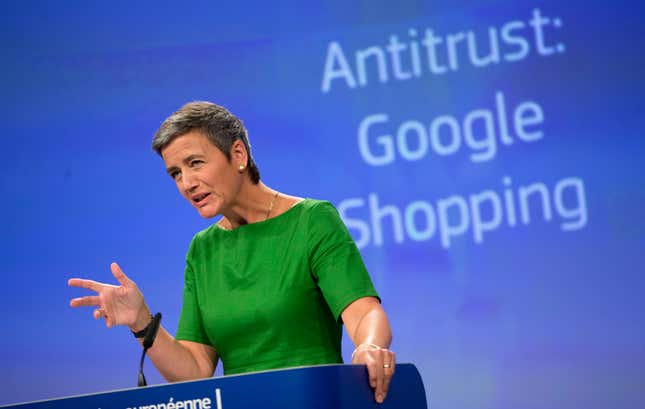 California has joined the effort. The states' lawmakers passed the California Consumer Privacy Act in 2018, enshrining new legal rights for people's data online. Beginning in 2020, businesses must disclose what personal data they collect and allow individuals to request they delete personal information collected from the individual or opt out from the sale of personal information.
Even if federal legislation passes, Europe and California will be the starting point, concede staffers in Congressional offices. With the EU and California setting the bar, the world's tech companies have already begun investing in them as the standard for compliance. Democrats and civil society groups will fight hard to ensure federal law doesn't undercut California's strict standard. 
What this might look like is taking shape in the United Kingdom. Its April 8 "online harms" white paper (pdf) is the first time a Western government has taken a public health approach and implicated the business models of big tech companies as part of the problem, says civil society non-profit Luminate. The proposal calls for a "free, open, and secure internet" that aspires to be "the safest place in the world to go online." It would force tech firms to assume a digital "duty of care" to protect users, and impose severe penalties if they do not. Regulators would be empowered to target speech that is not just illegal, but harmful from the spread of disinformation to hate speech to child exploitation. Tech platforms wouldn't be liable for every post, but they must show they're improving the overall safety of their products. Independent regulators could hit violators with a massive fine, ban access, or hold executives criminally liable for infractions.
The proposal represents the most sweeping change to how tech is regulated in Western democracies in decades. It lays out a regulatory framework that would remake how the internet moderates content. If passed, Facebook, Google, Twitter and others would have to radically step up efforts to combat abuse on their platforms. Advocates say it's a sensible response over a sector that has one far too little to prevent massive social harms. Critics have compared the effort to China's oppressive regime forcing private firms to censor content and silence critics.
In America, the proposal's more prescriptive elements would be unlikely to survive scrutiny under First Amendment protections. Enforcing it fairly may prove impossible everywhere. But it's a sign of the times. The best way to read the UK's new proposal is that the world's major democracies have had enough with the unregulated internet. As every aspect of society moves online, it was always wishful thinking that Silicon Valley could escape regulation indefinitely. The world is a different place than when the internet was invented.
In the UK, 99% of 12 to 15 year-olds are online for an average of 21 hours per week. Adults spend even more time online. The number is bound to increase as connected devices embed themselves even deeper into our lives. Nations will struggle to strike a balance between the free-wheeling innovation Silicon Valley loves, and "sensible" regulation to stave off the worst online abuse.
Who gets to define this will be one of the great fights of our times. As Sen. Warner said last year while contemplating new tech regulations, the "era of the Wild West" is coming to an end.