That heartwarming/nauseating Apple advertisement left out one very important aspect of what has become a 21st-century holiday tradition. On Christmas day, when people open their presents and find shiny new smartphones or tablet computers, the first thing they will do is start downloading apps. First will come the regulars—Facebook, WhatsApp, Angry Birds—and then they will hunt for more, generally games. More apps will be downloaded tomorrow than on any single day before it.
This is both good news and bad news for app developers and publishers. A hit can mean millions of new downloads. But to get there also involves spending millions on marketing. And apart from the biggest publishers, few can count on making that money back.
Black Friday for apps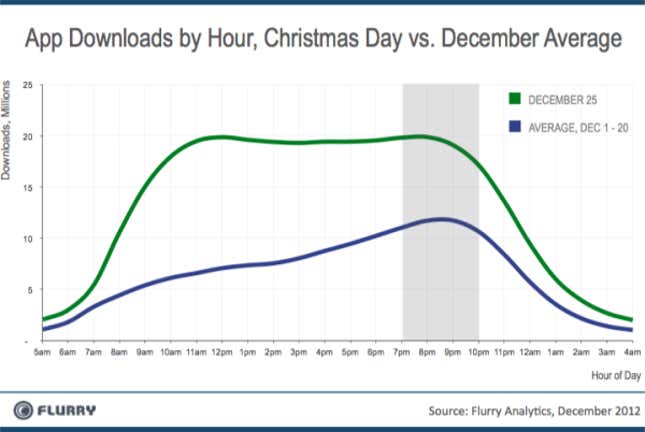 In 2012, the world downloaded 328 million apps on Christmas day, according to analytics firm Flurry, compared to a daily average of 155 million between Dec. 1 and Dec. 20. That was one-third more than the year before. This year will be bigger yet. "The holiday season is a key moment during the life-cycle of a gamer when she is actively looking for new content," as SuperData, another research firm that specialises in games, puts it.
Despite the seemingly organic nature of the process, however, millions of dollars of planning and promotion have gone into getting your grandpa or niece or download a particular game. According to Joost van Dreunen of SuperData, every installed game in November cost its publisher $5 in marketing and promotion—known as "cost per install" (CPI) in the jargon. During the holiday period, that could hit $7 or $8, he says. But the amount publishers will recoup from users will be less than half that, SuperData reckons.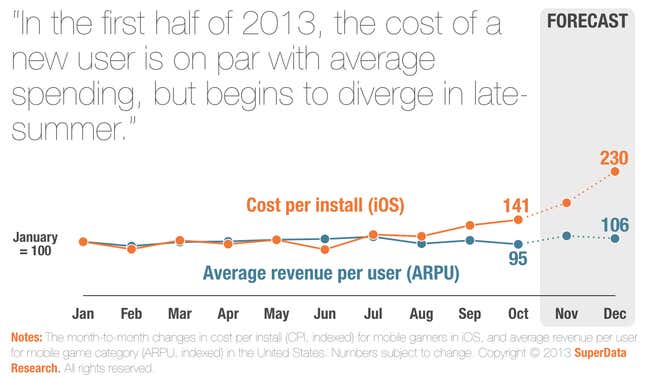 The techniques they use will vary. Some rely on relatively simple promotions such as advertising, discounts, new games and write-ups in the press. Others, reports Bloomberg, use frowned-upon tactics such as hiring companies that guarantee a number of downloads so the title appears high in an app store's list of top apps. Cross-promotion is also a popular strategy. In Japan, big titles like Puzzle & Dragons and Clash of Clans advertise together. Candy Crush Saga uses television commercials. And it's not just app developers that are trying to juice the numbers. From today until Saturday Dec. 28, Amazon is offering $5 of free credit for downloads on its new app store, which can be used on any Android device.
Clawing it back
So how does any of this make economic sense? Analysts expect marketing costs to stabilize after Christmas, reports Reuters, so the extravagance won't last. And even though most games are free, millions of new users watching ads in the games will provide some return. But the prize lies in converting casual gamers to people who actually spend money. The conversion rate ran at under 5% in October, but those who do convert spend vast amounts. In the US in October, paying users spent over $21 on their games every month, at a time when CPI ran at $2.25.
The tricky bit will be to turn tomorrow's proud new owners of phones and tablets into people willing to spend money on apps too. That process takes a couple of months of play, says van Dreunen. That is when all the promotion ceases to matter. Getting the app onto your phone is only the first step; it has to be good too. "This is reminiscent of television audiences: Most people watch only nine channels regularly, despite having access to 1,200. By some estimates, mobile gamers only play around half a dozen games regularly," van Dreunen says. In the same vein, the vast majority of app developers and publishers stand to lose this Christmas. But a few will strike it rich.