The price of Bitcoin, after falling to as low as $3,400 in February, has rebounded to reach $7,800 yesterday (May 13). While it's still a far cry from the $20,000 level last seen in December 2017, Garrick Hileman, head of research at Blockchain, a crypto trading and data company, sees it as evidence the worst is behind us.
Hileman, also a research associate at the London School of Economics, concedes the current ecosystem is fraught with challenges. Still, he's generally optimistic about the future of cryptocurrencies. Private Key talked to Hileman about the regulatory environment for cryptocurrency, the value of stablecoins, and why Warren Buffet isn't an unbiased observer. (This interview was been lightly edited for brevity and clarity.)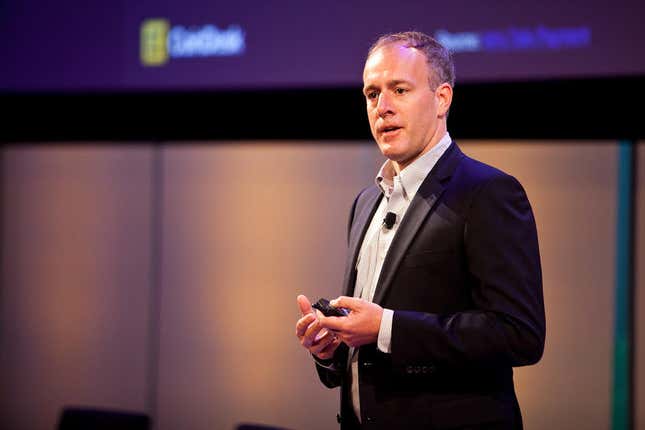 Private Key: What do you think is the current mood regarding cryptocurrencies?
Hileman: I think the mood is improving given the very significant price corrections in 2018. There is an understanding that the ecosystem can move past the extreme levels of volatility that is witnessed occasionally while developing a technology. These cycles also attract investors where they end up risking more than they should. But the overall sentiment has been positive, with the general [sentiment] that this too shall pass.
There are governments around the world that have been urging blockchain development but believe that cryptocurrencies should be banned. What is your view on that?
Regulators can have significant impact on the growth and the use of cryptocurrencies. This idea of a ban has also been mentioned by US congressmen recently and they are even working on a bill, which shows that several economies are talking about it. These virtual currencies do disrupt the current way of doing business and how we organize our financial system. But with the development of this technology most regulators have seen more positives than negatives and it is very difficult to imagine how we can ever embrace blockchain but not cryptos because of how interlinked they are. There have been certain projects that have experimented in this direction but have not been able to find traction. We published a survey recently where we said that within corporations, the only place blockchain is really gaining in popularity is where there is a virtual currency involved.
What will stablecoins be useful for? Should they be pegged to existing currencies or algorithmically determined?
We have seen significant growth in the stablecoin category and that is because they offer something different compared to bitcoin and ether. They have a mechanism that helps to minimize the exchange rate volatility. And we have seen that the price of bitcoin can decrease by nearly 80% as well. If that is something that an investor cannot tolerate, then this is your best option. The rates are linked to the US dollar, providing it some stability.
What regulatory change would most facilitate crypto adoption in the US, in the UK, and internationally?
Enabling the ability of banks to connect with cryptocurrency platforms and services may be the single biggest thing regulators can do to facilitate the adoption of cryptocurrencies. And if there was more regulatory clarity or sandboxing like we have seen in the UK and Singapore—where startups are given more protection due to their small size—that is something that can foster a better environment. Clarity around regulatory laws is also very important. They can also play a role in cleaning up some of the bad actors in the space.
While you're bullish about cryptocurrency, there are others, such as Warren Buffett, who called it delusional. What do you have to say about that?
One has to understand where they are coming from. Buffett is a huge backer of the current financial ecosystem and cryptocurrency is seen as a disruptor to that. So when people actually ask Buffett what he thinks about these digital currencies, it is like asking a taxi driver what they think about Uber. You are not going to get an unbiased answer. But these believers in the financial system such as JPMorgan are also looking at launching their own stablecoins, and that is quite telling.
Chart interlude
Bitcoin is surging—more than doubling from its February price. There's no consensus as to why. Theories include a spillover from Bitfinex's troubles, which may be driving investors out of Tether and into bitcoin, and the investment of big buyers, including one "whale" who bought $343 million worth.
Perhaps the most intriguing theory is that it's being propelled by turbulence in traditional asset classes, making bitcoin the most unlikely beneficiary of a flight to safety.
Please send news, tips, and reorganization proposals to privatekey@qz.com. Today's Private Key was written by Nupur Anand, and edited by Oliver Staley. Either do things worth the writing, or write things worth the reading.