If you live in the UK, you might be taking a little piece of the Amazon rainforest home from your local supermarket—in the form of a can of tinned corned beef.
A report published this month by the nonprofit research group Earthsight connects a Brazilian beef firm that has long faced corruption and illegal deforestation charges to several brands of tinned beef in UK supermarkets. Cattle ranching is responsible for as much as 80% of the ongoing deforestation of the Amazon rainforest, as trees are felled to create grazing pasture. (The soybean industry, meanwhile, is responsible for much of the rest of Amazon deforestation, and destruction of the nearby Brazilian savanna.)
Tropical rainforests are critical storage sites for carbon dioxide, keeping the greenhouse gas in its solid carbon state, locked away in soils and trees. The Amazon is the world's largest tropical rainforest, making its protection critical to preventing runaway climate change.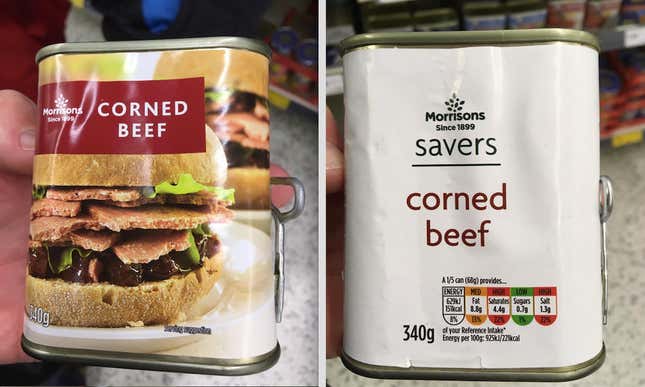 The UK imported 28,550 metric tons of corned beef in 2018, according to Earthsight. Of that, 95% came from Brazil, and nearly half came from JBS, the largest Brazilian beef exporter and one of the world's largest food companies. UK markets purchased $54 million worth of JBS corned beef in 2018—nearly 25% more than it bought the previous year, when JBS was mired in scandal.
UK chains Sainsbury's, Asda, Morrisons, and Lidl all carry JBS-sourced corned beef. At Morrisons and Lidl, the JBS beef is labeled as store-brand. At Sainsbury's and Asda, it is found under the brands Princes and Exeter.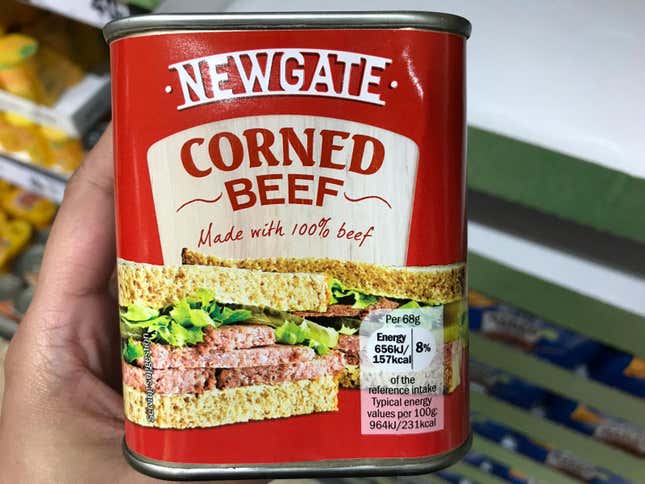 According to Earthsight, JBS beef is also used in Simmenthal, an Italian tinned beef brand stocked by "all major supermarkets" in Italy, including Carrefour, the French multinational that is one of the largest supermarket chains in the world. Simmenthal tinned beef is also sold at Carrefour stores in Belgium, according to the report.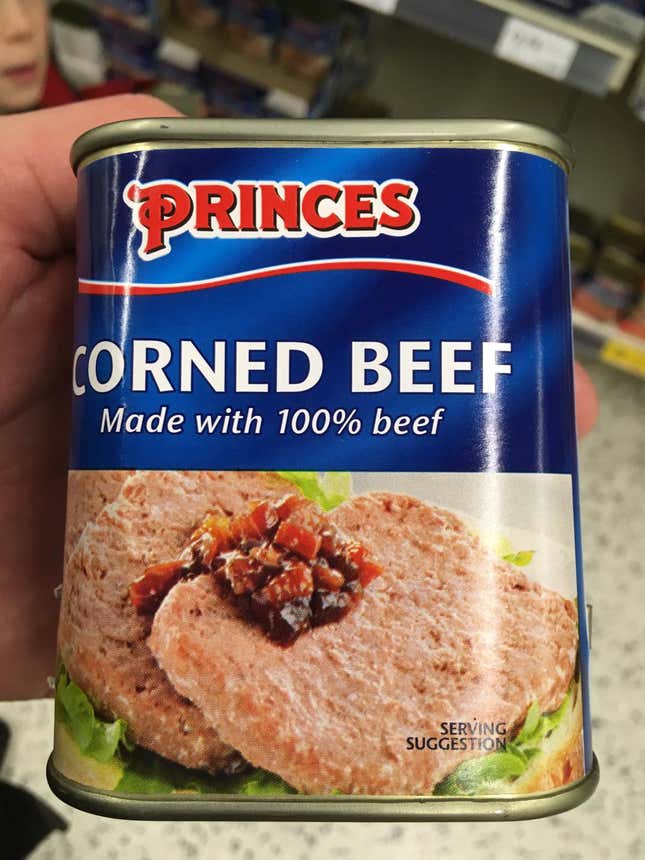 In 2017, JBS was fined nearly $8 million for buying cattle that they knew was raised on illegally deforested Amazon land. The same year, JBS's then-chairman (and current controlling shareholder) admitted to paying to $150 million in bribes to 2,000 politicians, and a Brazilian police investigation found that Brazilian meat companies, including JBS, paid inspectors to ignore the adulteration of processed foods and change expiration dates. (The US suspended imports of fresh Brazilian beef following that report but it continues to import processed beef products. US imports now amount to half of all revenue of the two biggest meat companies in Brazil, JBS and competitor Marfrig, according to the Financial Times.)
Also in 2017, a Guardian investigation found that JBS bought cattle from a farm linked to modern slavery. Following the report, JBS ceased purchasing animals from the farm, and UK supermarket chain Waitrose ceased stocking tinned corned beef linked to JBS. In 2018, the controlling shareholder of JBS was arrested in connection with a probe into an illegal campaign finance scheme linked to the agriculture ministry in Brazil.
Demand for JBS beef is still strong
In 2018, the UK, Italy, the Netherlands, Belgium and Spain bought nearly 90% of JBS's 55,000 metric tons of European beef exports, according to the Earthsight report.
Carrefour, Sainsbury's and Morrison's did not return requests for comment. Lidl and Asda referred to a statement from the British Retail Consortium but declined to say whether they would continue to stock the tinned beef products.
"The [consortium] and our members regard any form of labour abuse and illegal deforestation as completely unacceptable," the industry group wrote. "Whilst it is recognised that Brazil has significant challenges, the country has led efforts to tackle modern slavery through a mix of laws and enforcement. However, recent legislative developments may be putting that progress at risk and this example demonstrates how vital it is for effective laws and enforcement to protect people and the environment from exploitation. We urge the Brazilian government to take swift action to address this issue throughout the supply chains."
JBS denies the Earthsight allegations
In an emailed statement, JBS said it "does not acquire animals from farms involved with deforestation of native forests, invasion of indigenous lands or environmental conservation areas," adding it "will not work with suppliers involved in rural violence or land conflicts, or who utilize slave or child labor." JBS wrote that its internal policies include "strict" vetting to ensure responsible meat sourcing and that the results of the vetting "reveal that in the last three years over than 99.9% of JBS cattle purchases complied with the company's social and environmental criteria."
Earthsight director Sam Lawson sees it differently. "This is a company that can't be trusted," Lawson told Mongabay. "Every time someone calls them out on illegal deforestation, the assumption is that JBS is a trustworthy corporate entity who has accidentally done something wrong and will change. If you look at the bigger picture it shows you the intention is different."
As of last year, deforestation of the Amazon was at its highest level in 10 years. Brazil's president Jair Bolsonaro might be the biggest single-person threat the Amazon rainforest has seen in a generation. He took office in January promising to support the agriculture industry and slash Amazon conservation policies, including ones that demarcate indigenous reserves in the rainforest, where deforestation for things like industrial-scale cattle ranching then becomes illegal.
In March, Bolsonaro met with Donald Trump to discuss the US resuming Brazilian beef imports.