A new study on Silk Road, the recently shut-down illicit online marketplace that first brought bitcoin to notoriety in 2011, paints an interesting picture of three major countries' illegal drug purchasing habits. The study, Use of Silk Road, the online drug marketplace, in the UK, Australia and the USA, surveyed nearly 10,000 global drug users in an effort to gather information about how Silk Road was used.
The most commonly purchased drug on Silk Road for the all three countries was MDMA, commonly known as ecstasy. The second and third for all three was marijuana and LSD—in the case of the UK and Australia, respectively; in the US, the other way around. Further down the list, however, purchasing habits diverged.
In the US, a family of psychedelic drugs known as NBOME was the fourth most popular on Silk Road, with 29% of surveyed drug users reporting that they used the marketplace to procure it.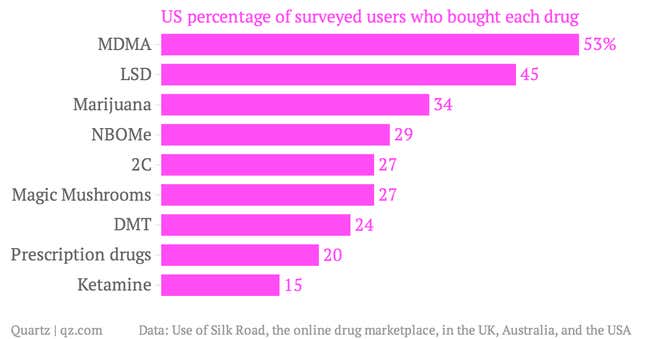 In the UK, the fourth most popular was a family of psychedelic drugs known as 2C, which 23% surveyed drug users reported buying.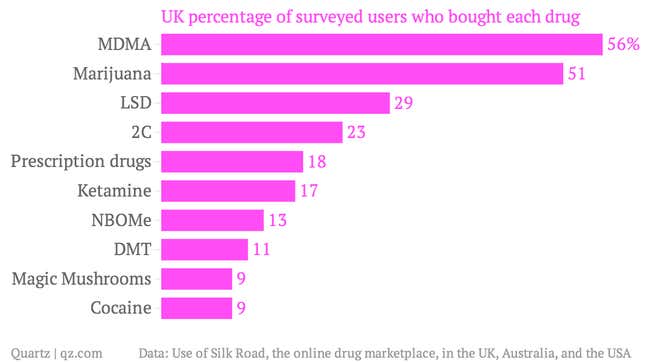 In Australia, the fourth most popular drug was a bit less obscure—25% of Silk Road users used the marketplace to purchase cocaine.