"What you're doing matters" declared large lettering on a multi-colored mosaic in a central location at Mom 2.0, a well-heeled conference at Austin's Marriott hotel where more than 1,000 women (and a handful of men) gathered to learn how to be better bloggers and influencers this April. It was a backdrop for photos, in front of which countless "mompreneurs" would take smiling shots for their Instagram feeds.
I asked some women what the sign meant to them. One said that it was about having a voice, that what her and the other women had to say was valuable, "even if it's not viral." Another recalled the skeptical reception she gets when she says she is a blogger. "This is a real job too," she said.
In a world where influencers and especially "mommy-bloggers" are often derided as frivolous and contrived, it was hard not to see the proclamation as a form of defense. We have something to offer. Do not dismiss us.
Influencing, a multi-billion-dollar industry, is mediated by tech giants and used by the world's biggest corporations as a powerful marketing channel. But what's fueling it is the labor of countless workers, who serve as de facto one-person publishers or advertising agencies, Mad Men of the 21st century.
Or rather, Mad Women.
"It's an incredibly time-intensive and laborious process and that's kind of belied by the fact that they are expected to be 'authentic,'" said Brooke Erin Duffy, assistant professor in the Department of Communication at Cornell University and author of "(Not) Getting Paid to Do What You Love," a book about the labor of content creation. "A lot of the work gets concealed behind the scenes, which is part of a larger way our culture and economy values or alternatively devalues certain forms of work." Work most often done by women.
Yes, there are plenty of wannabe or even real influencers who try to game the system in order to get freebies and fame. And yes, the amount of sponsored content crowding some influencers' feeds can be annoying and confusing. But, behind many of the seemingly effortless snapshots we see on social media, there are hours of posing, emailing, editing, negotiating, networking, strategizing, and worrying. Influencing is the true modern hustle, with its own tactics, rules, and pressures.

Becoming an influencer
There is no set formula for becoming an influencer.
Miranda Anderson, who is trained as a nurse, started blogging while she was living in Puerto Rico with her husband, updating their families on their life. It was just something to do while they were managing a T-shirt shop. Jennifer Borget began when she was working as a journalist; her blog was an extra project where she wrote about her preparation for motherhood. Emily Vartanian's fashion blog was borne out of an assignment for a college class.
Anderson and Borget started around 2007-08, and Vartanian in 2011. None of them thought of blogging as a business or as a career. But slowly they started working with brands, getting more and more sponsored opportunities. Now they all make a living doing it. The way they describe their paths fits into what researchers call "accidental entrepreneurship."
Ilana Wiles, the blogger behind MommyShorts, who has hundreds of thousands of followers on all the major platforms, had a different journey. While working as a creative director in advertising, she started hearing that clients were interested in the burgeoning space of mom blogs. She was laid off in 2010, several months after returning from maternity leave. She started freelancing, and also launched her own blog. "Initially it was just to show I can design a website," she told Quartz. She felt disadvantaged on the job market without significant digital experience, and felt she could use it to boost her portfolio. The blog took off, and after about three years, she stopped doing other work.
A lot of influencers come from the world of marketing or social media, armed with an arsenal of necessary skills and connections. And many people, especially those who've started more recently, enter this line of work with the mindset of either making money or using it as a launchpad to a related career.
For Andy Lalwani, who is 23, content creation was a natural fit. He says he grew up watching YouTube, and started making videos when he arrived in college. Discovering other people's stories on the platform helped him as he was coming out as gay. As a student, he also worked on the business side of digital media, in talent management, but then decided to focus on the creative aspects of the job. Lalwani does sponsored content for brands, and various promotional events, but he still works a part-time gig to help pay the bills. He did a stint as a stylist at a high-end store, but that wasn't giving him enough money or freedom to do his influencing work, so he's looking to get back into media jobs. Eventually, he'd like to end up in TV comedy.
Duffy's research shows that often, blogging or influencing is a form of "aspirational labor," which is similar to, for example, unpaid internships. Participants will work for free or for low pay, hoping the payoff will come eventually, and that it will be lucrative—either in content creation itself, or a related field.
There are many success stories, even among non-celebrities. One woman who I met at the conference, by a spiked lemonade stand aptly called "Le-Mom-Aid," said her family essentially lives on her blog income. She and her husband have "hobby jobs" as she called it, that they do once a week or so—she works as a nurse, he as a community college teacher. But the majority of people who try to become influencers don't achieve this level. Others like to keep their blogs as their side gig, and prefer to have a day job.
Duffy points out in her book that it takes time and often financial resources to organically build up an audience and to create content—for example, fashion bloggers often first have to shell out their own money for their outfits. For professional-grade photos, you might need a pricey camera.
The barrier to entry is high, and there is somewhat of a class divide in the field because of this. Some influencers have family support, others have to work full-time jobs as they get started. Anderson explained: "Oh I don't have to work," because her husband is gainfully employed as a lawyer, and because they had chosen to downsize their lifestyle.

What you have to do to make good content
There are ways to learn how to be an influencer, rather than just picking it up on the job. One way is the conference I attended. With sessions like "How To Increase Traffic, Page Views, and Earnings with SEO [search engine optimization]," it's an influencer school of sorts. Here are the basic rules:
Rule #1: Be authentic
A pink neon sign adorning a booth for an influencer agency blared the first rule of influencing: "Let Authenticity Lead the Way." For most of the creators I spoke with, this means that the only products they promote are those that they actually use, or would use after testing them out.
Anderson, who blogs about home decor, travel, and reducing consumption, rejects about 80% of offers from brands, she said. The partnerships have to fit in with her own brand—which, ironically, is all about minimalism and restraint. During a year when she pledged not to buy anything, she worked with only brands that made products her family couldn't use up (like perishables or household items).
Wiles said she'd been approached by a shampoo brand she actually used often, but the company wanted a post she didn't agree with creatively—a snapshot of a shampoo bottle in the shower. "It's not authentic to the rest of my content," she said. "If you look at my Instagram feed, you shouldn't be able to pick out the sponsored stuff that easily."
Generally, the creators said that their followers don't mind sponsored content—and even cheer them on if they get a coveted partnership.
Rule #2: Know why your audience follows you
The second rule to becoming a successful influencer is identifying a niche. One person cannot establish themselves as an expert in everything. Even within a topic such as parenting, influencers specialize. Janssen Bradshaw's Instagram account and blog are dedicated largely to children's books, for instance. One woman at the conference had a blog specifically for parents whose kids play sports.
Relatedly, women attending the summit were constantly instructed to know their audiences. Jacque Gonzales, a longtime QVC host, led a workshop on the psychology of emotional selling.
"Have a clear picture of who you're speaking to," she said.
 Rule #3: Be a great storyteller
Influencers like to talk about what they do as "storytelling"—which is also what's key to good salesmanship, Gonzales said. They have to weave a story around a product, "subtly" telling the audience about a problem they have because this product is not in their life, and how it can help resolve that problem.
As I was listening to Gonzales's spiel, I realized she was expertly selling the plain orange pen she was holding, ad-libbing about the made-up company's historic roots, the art of letter writing, and how the color orange reminds her of an orchard she spent time in as a child. All with a warm smile and sparkle in her eye.
This is exactly what the best influencers do. Take Borget. To promote a water dispenser, she posted photos of her adorable children drinking water in different situations, and capped it with a simple shot of her dog drinking out of a bowl positioned by the dispenser. Although she is a skilled photographer, most of the photos don't appear to be highly produced. The post has more than 1,300 likes.
"The audience knows you're selling to them," Gonzales said. "They want a more personal connection."
Rule #4: Be truthful
Another piece of advice? "Be truthful," Gonzales said.  For instance, she advised to say in a piece of sponsored content: "Here's this dress, it's got an empire waist. For the bigger-busted ladies, an empire waist is not flattering." This tells the audience, "I'm looking out for you." A brand might not be happy, but in the end, the influencer is building both their credibility, and the brand's, Gonzales said. Giving advice directly to potential buyers is where influencers can do what ads cannot, she says, and that helps brands avoid unsatisfied customers.

Chasing all the spokes
Although most of the influencers I spoke with talked about how "fun" their work is, it's far from a leisurely pursuit.
Just one post can require dozens of hours of work. For fashion influencers, getting one photo right might take an entire day. Influencers will work with brands by attending promotional events and filming Instagram stories—and every frame of a story has to be approved by the brand before it is posted, Wiles said.
One post in Borget's feed is an elaborate video montage of her 8-year-old daughter staging a "dance battle" with her own reflection in the mirror. It was an ad for Crest kids toothpaste, promoting the variety of its flavors. (She pays her kids small amounts for appearing in her work).
It's the influencer's job to maintain content across all their social media channels. Wiles, for example, has a blog, four Instagram accounts, each devoted to a different type of content, and accounts on YouTube, Twitter, Pinterest, Facebook, and Snapchat. Often, creators will maintain distinct identities on the different platforms—Instagram for the beautiful images or memes, Facebook for the longer, more intimate posts. Pinterest is like a search engine where the content has to be more universal. Influencers have editorial calendars, just like publishers. And full-timers sometimes have assistants, who help out with most aspects of the work.
Wiles and her content manager Allison Isnardi described what a typical day might look like. "Most sponsored content needs to be submitted at least 48 hours in advance," said Isnardi. They might have three things due one day, but also be getting feedback for a second round of something they'd submitted several days ago, and posting something that's already gotten approved. And this is all in addition to the editorial work that remains the focus and the bulk of the content.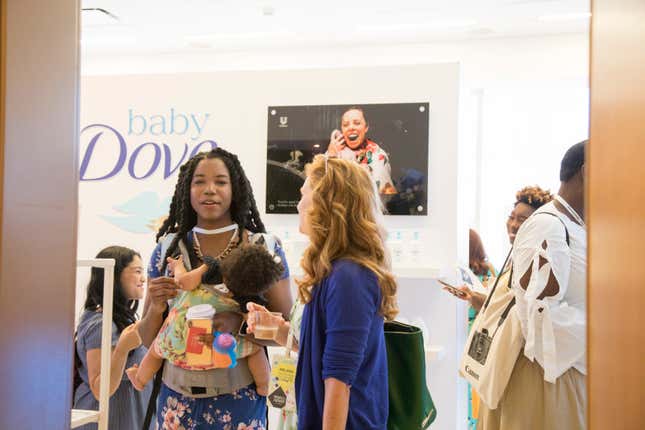 I asked Borget, whose nine-month-old daughter was alternating between chewing on my fingers and on my phone during our interview, about balancing her regular, "organic" work with paid opportunities.
"It's hard sometimes because when I'm not doing the sponsored work, sometimes I want to just take a break, hang out with my kids," she said.
What preoccupies many influencers are their audience numbers along with algorithms that social sites like Facebook and Instagram use to arrange posts in users' feeds. Changes to these algorithms can make influencers' content more or less visible to their followers.
One woman I overheard in conversation at the conference mentioned her fears about the "Instagram bubble" bursting and suggested that "[Facebook's] Zuckerberg could take it away tomorrow." That's why she retains her blog.
Many influencers feel the same way.
"Instagram—they own it," Vartanian said. "At least with my blog, I have full control over everything about it." On Instagram, she can create good posts, post at optimal times, respond to her followers, and create a community, she said. But it's the platform that controls its algorithm, its software updates, its new features, and whether it fixes bugs or not.
Rodson Garcia, who owns the Instagram account Canadian Bros and whose heroes are two fluffy white dogs, said he tries to game the Instagram algorithm by engaging as much as possible within 20 minutes after he posts a photo, something that he notices helps with getting his posts noticed. His work includes research that helps him assess how to adapt to the forces of the algorithm.
In addition to keeping up with the social platforms, there are other avenues that influencers are encouraged or even pressured to pursue.
One new trend is podcasting. Some influencers venture into publishing books. Others create their own blogging courses. Maria Bailey, a marketer and author of books on marketing in parenting, sells popcorn cakes. Anderson sells tie-dye workshops, and merchandise emblazoned with her motto "Less Stuff More Adventures," while Vartanian sells photo editing presets, so that her followers can achieve the same, slightly washed-out look for their photos. Each is $50, and she says she gets between 10 to 20 sales a day. She just launched a line of accessories as well.
Jillian Tohber Leslie, owner of CatchMyParty, a blog that curates party theme ideas, cautioned, however, that going after too many things at once is risky.
In her "spokes" theory, a blog is at the center, and everything around is a different spoke. Creators can't chase after all the "shiny objects" she said, because they risk spreading themselves too thin.

 The business of it all
Influencers attend conferences, travel for photo shoots and events, and have to constantly network. A massive part of their job is pitching themselves to brands and agencies, negotiating payment and scope of work, and maintaining these relationships. Being an influencer is, first and foremost, running a business.
Deals vary. Influencers can do a one-off campaign, or forge a longer partnership, like an "ambassador" program. They might try to get a licensing deal, which is the most lucrative option. They might just create content for a brand, without ever posting it to their own channels, or they might work for free, in hopes of scoring a better deal in the future.
Influencer rates also fluctuate widely. While it's been reported that Kylie Jenner commands $1 million for a post, newcomers or nanoinfluencers are often paid with just the product itself—even if it's as cheap as a book. Pay can depend on many factors: the influencer's audience numbers (follower count and engagement), the quality of their content, their previous work with brands, the stature of the brand itself, the type of content the brand wants (video versus photo, Instagram post versus Story, or some combination), the duration of the engagement, the rights structure.
Wiles would only say she makes more than she did as a creative director at an advertising agency. An Instagram story used to be a freebie, and now she charges the same as for a post. Anderson's primary source of income is still her blog, which she said brings in four times more than her Instagram.
Emily Hund, researcher at the University of Pennsylvania who studies the influencer economy, points to how divergent and fluid pay rates can be.
"Influencers don't always know how much they're worth," she said. When they start out, they often have to make up what they think they should charge. This can save brands a lot of money. She described, for example, a marketer telling her that they had budgeted $10,000 for an influencer, but the influencer had only ended up asking for $2,500—and that's what she'd get.
Influencers often have to think of themselves in numerical terms, whether it's through the size of their audience or the dollars their posts are worth.
Human interactions thus get boiled down to a number, "and this becomes kind of a proxy for one's status and, and impact on the social world," Duffy said. This mirrors the "metrification" of everyday life that many ordinary internet users experience as well, like when they track the likes on their latest selfie. For influencers, who depend on it, it can easily become an obsession.
Garcia said he stopped compulsively checking his audience numbers, that it was becoming too stressful.
Sometimes, the quantification goes even further.
Influencers often find business through agencies who represent them or the brand. Influential, a marketplace for influencers quantifies this matchmaking system. It uses artificial intelligence to score each influencer on different personality traits based on the content of their social media. "Find out where you rank on every personality facet from Adventurousness to Hedonism," its website declares.

Emotional labor
Influencing can enact an emotional toll. There's this "directive to always be on, always be responding, always be accountable to your audience, always be accountable to advertisers," Duffy said.
Vartanian, who is often quite candid about the downsides of her work, writes in a blog post from March how this can be especially hard when you don't want to be on.
"With a job that requires so much energy, so much of myself, it's hard to mask the sadness and the lack of motivation within. When you're in a bad place internally it's the hardest thing to get ready and smile for the camera let alone shoot content you love so others love it too!"
And it's so easy to compare yourself with others.
"Every time I would sign onto Instagram I would feel a sense of panic scrolling through the beautiful photos my blogger friends created that week," she writes. "A ton of negative thoughts would filter through my head and Instagram became a place I wanted to avoid (which I did). Avoiding it also took a toll on my engagement which took a toll on me. It became a vicious cycle I couldn't break."
She told me that today, the influencer world can feel "oversaturated." Discovering new people who do what she does can feel great, but there's a lot of competition.
Then there's the issue of negativity that people in this space face, whether it's the "mommy bloggers," who the internet loved to hate first, or influencers, who generate just as much vitriol.
"The hate was very, very scary and very, very hard to live through," Heather Armstrong, the founder of Dooce, one of the first and most successful "mommy blogs," recently told Vox. "It gets inside your head and eats away at your brain. It became untenable."
Borget would get criticized for her parenting style, or get negative comments after she wrote about her family situation, where she is black, her husband is white and a police officer, and their son is biracial. Recently, she had to turn off commenting on a post featuring her husband and son, with followers telling her that her family was "gross." Her (motherly) solution to haters is to "kill them with kindness."

Breakfast at the Mom 2.0 summit was sponsored by Dove. The centerpiece for each table was a display of the company's products and a pink letter board proclaiming: "Running on coffee and dry shampoo." It managed to bring attention to the hidden labor that it takes to be both a mom and an influencer, while at the same time commodifying and glamorizing it—a perfect illustration of the contradictory forces that govern the influencer economy.
"Maintaining a job while having a kid is so hard," Leslie said. "What happens is women say that 'I can't do it anymore, but I will go crazy with just a toddler.' [With influencing or blogging,] the money is not easy, you work hard, but you are your own boss."