Living in a place named for the US president no longer seems to appeal to a certain set of homeowners.
Sellers have drastically reduced their asking prices for at least half of the condominium apartments now available in Trump's eponymous Fifth Avenue tower, according to listings data reviewed by Quartz. Bloomberg News last week declared Trump Tower "one of NYC's least-desirable luxury buildings," with at least eight units reportedly selling at an inflation-adjusted loss over the past two years.
One of the 14 Trump Tower condos now on the market, a two-bedroom, three-bathroom spread on the building's 30th floor languished unsold since March 2017. It is now finally in contract for $3.5 million—a near 50% reduction from the apartment's original asking price of $6.9 million: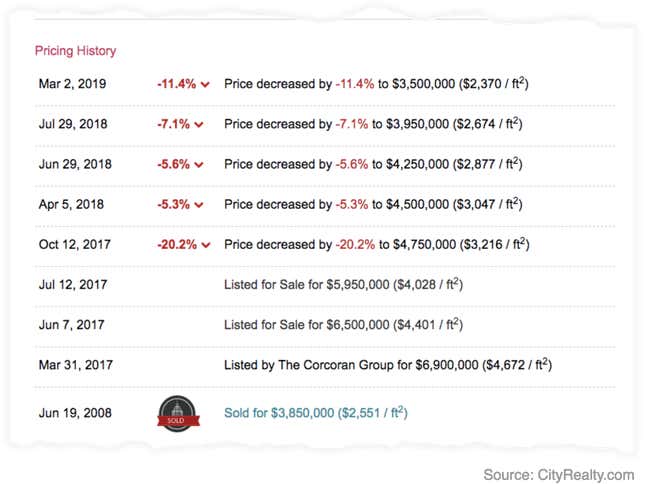 A two-bedroom on the 34th floor that brokers put on the market last October for $4.395 million is now selling for $3.5 million, a drop of more than 20%: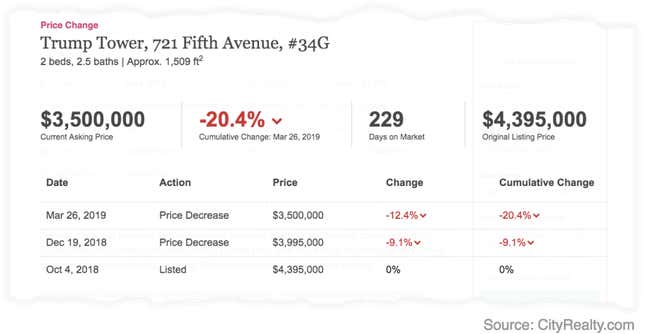 The asking price for a one-bedroom apartment on Trump Tower's 44th floor went from $4.045 million in January to $3.1 million at the beginning of April, a slide of 23% in three months: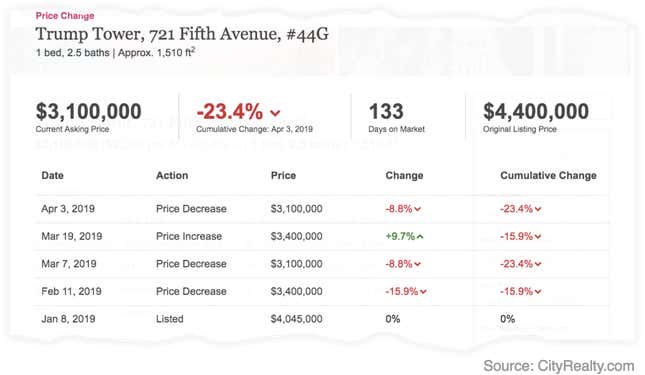 Prices for five of the 14 available Trump Tower condos—listed between January and May—remain unchanged. One, a three-bedroom on the 57th floor, actually increased slightly. Brokers raised the price by $5,000 two days after listing it last week: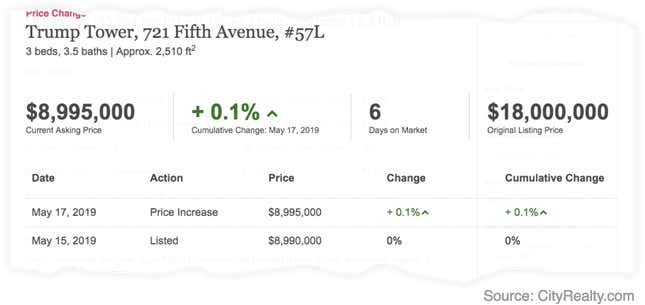 Trump Tower began to lose its marketability in 2015, when the future president began his campaign, according to the Wall Street Journal. A 2017 analysis by the Journal found prices rising at comparable properties in the area while those at Trump Tower continued to fall.
But while real estate consultant Andrew Jeffery, a founding partner at West Coast investment advisory MillFork Partners, agrees that Trump's presidency seems to have tarnished his real estate business, he told Quartz he is not convinced that there has so far been any lasting damage done to the Trump brand. He says prices for Manhattan apartments are sagging overall right now, and that "high end condos are notorious for aspirational pricing, followed by steep price declines when sellers don't get their number."
Jeffery thinks there are enough buyers out there who can "disassociate" their real estate from their politics to support the market in Trump buildings. "Many foreign buyers for this kind of building may not have strong feelings one way or another towards him that Americans do."
The Trump Organization did not respond to a request for comment.
A trend emerges
Trump and his family live in a triplex penthouse atop Trump Tower, a 58-story building that Trump once falsely claimed was 68 stories. He also once boasted that his apartment measured 33,000 square feet. But public records revealed it to be about 11,000 square feet. The Trump Organization is located on the 26th floor, and producers for the president's former reality show, The Apprentice, filmed on the sixth floor.
Exactly one year after American voters elected Trump, the Wall Street Journal reported that Trump Tower prices had tanked, citing a real estate analyst who said of Trump Tower: "There is no way of knowing whether prices have taken a nosedive because of the restrictions that are now associated with living in the building—such as the Secret Service and police presence—or because the Trump brand so closely aligned with the building is having a depressing effect on prices."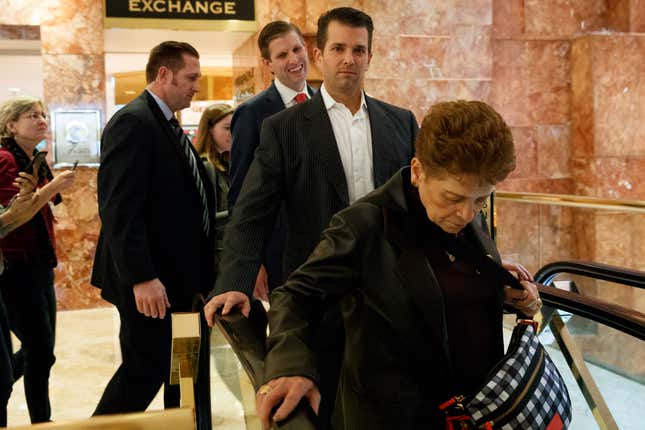 Six buildings on the Upper West Side of Manhattan that bore the Trump name (although Trump never owned them) took the gold-colored lettering down after residents petitioned the management. And after NBA star LeBron James announced that he would no longer stay at the Trump SoHo hotel on trips to New York, large numbers of corporate clients, including roughly 20 professional sports teams, also pulled their business from the property. The following year, Trump's name was removed altogether and the hotel was renamed The Dominick. In Toronto, the Trump International Hotel and Tower—now the St. Regis—did the same.
Company documents revealed recently that net operating income is down 69% at the Doral, a Florida resort owned and operated by the Trump Organization.
Trump Tower, meanwhile, is reportedly saddled with an occupancy rate of just 83%. That's about twice the average number of vacancies for Manhattan. The building is still profitable, though, according to Bloomberg. In fact, it generated about $10 million in net cash flow for Trump himself last year.