In the cryptocurrency world, there are movers and shakers—and then, there's Tether. It's hard to overstate the importance of this company and its eponymous token, created by iFinex, for the crypto ecosystem.
Tether, or USDT, is a blockchain-based token pegged to US dollar. It trades on the ethereum blockchain—the second largest crypto network—and its trades also settle on the bitcoin network. What's important about Tether, though, is that it's massive. Tether's market cap is almost $3 billion, making it the 8th largest cryptocurrency.
During mid-2018, Tether was responsible for 80% of bitcoin trading volume. Today, it still dominates the crypto markets. In fact, calculated by trading volume, USDT trades against bitcoin are responsible for the top 10 bitcoin spot markets (BTC/USDT) and its trades against ether make up the top 10 ether spot markets (ETH/USDT), according to LiveCoinWatch.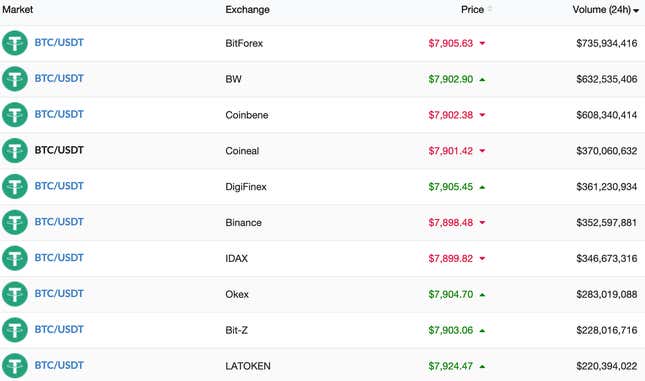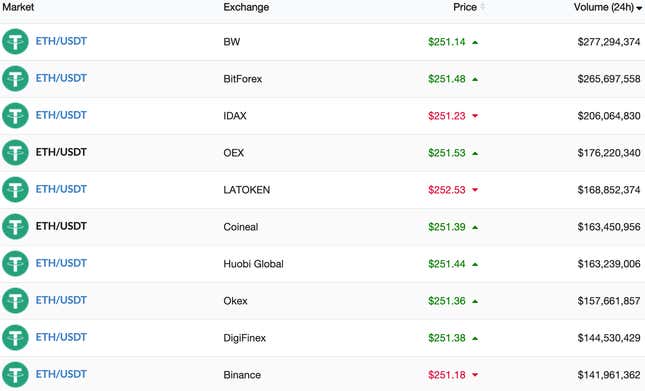 Bitcoin buyers in the US have no need for Tether because they can easily buy bitcoin through an exchange using US dollars. But the process can be much harder in other jurisdictions, where banks may refuse to process crypto-related transactions. To sidestep restrictions and facilitate customer transactions, iFinex developed USDT. The blockchain version of the US dollar, they said, would be backed by equivalent cash reserves held by the company. Through banking partners, Tether (the company) collected dollars, and then it issued USDT. Banks haven't been thrilled by this arrangement, which is why iFinex bounced between banking partners, including Wells Fargo, Deltec Bank & Trust Ltd, and Crypto Capital.
What's crucial to recognize here is that actual US dollars are/were meant to underpin Tether's price. Theoretically, USDT should always be redeemable for $1. However, as you might guess, that hasn't been the case. The USDT price has dropped below its peg on several occasions, reflecting investor doubts that the company could make good on the one-for-one exchange. As iFinex has become embroiled in a legal battle with the NY Attorney General's office, the crypto token is looking even shakier.
On Tuesday, Tether's attorney revealed in court how the company invested its potentially $2.9 billion in US dollar reserves. Contrary to statements previously posted on Tether's website which assured investors "every tether is always backed 1-to-1, by traditional currency held in our reserves," the company's attorney said Tether "actually did invest in instruments beyond cash and cash equivalents, including bitcoin." (italicized for emphasis)
It's not clear how much bitcoin Tether bought with its cash reserves. Paolo Ardoino, an iFinex executive, claimed it was merely fractions of a bitcoin (around $600 worth). However, Ardoino's assertion only accounted for one day of activity. The narrow explanation—if it can be called that—fails to provide the full picture. To prove that it's doing business legitimately, Tether ought to disclose its full slate of investments made with the reserves, perhaps over the last 2 years (which would include the 2017 bitcoin bonanza). The company might also explain why it is investing its reserve in anything other than government paper, much less one of the most volatile assets available.
If a single bitcoin is all that's at stake, then there's nothing to worry about. But Tether hasn't behaved in a way that inspires confidence. Last fall, the company quietly made a $700 million "loan" from its reserves to Bitfinex, an affiliated exchange which lost access to $851 million of funds. Bitfinex claimed the missing funds were "seized and safeguarded" by Polish, Portuguese, and US authorities.
More pressingly, if Tether invested a significant portion of its cash reserves in bitcoin, that could explain bitcoin's astonishing ascent in 2017. In that case, bitcoin's buy-side pressure would've come from USDT buyers and Tether, which issued the USDT in the first place.
Bennett Tomlin, a longtime crypto commentator who has carefully followed the Bitfinex-Tether saga, called the situation "tricky."
It "seems to at least be breach of contract" if Tether's purchase of bitcoin occurred when their terms of service promised full currency backing for each Tether, Tomlin said via Twitter DM. "You could argue that it is false advertising, a bait and switch, and possibly even securities fraud (as NYAG is trying to do)."
Effectively, Tether and its customers may have used the same dollars to purchase bitcoin twice—once as USDT by customers and once as the US dollars held in reserve by the company, potentially pushing up bitcoin's price.
 "[H]aving one of the primary liquidity sources for Bitcoin also 'investing' in Bitcoin would seem to suggest to me a significant risk of market manipulation," Tomlin said. iFinex did not respond to repeated requests for comment.
🔑🔑🔑
REGULATORY WATCH
IRS to release crypto tax guidance
The US tax agency will soon release updated guidance on how cryptocurrencies are taxed by the federal government. "I share your belief that taxpayers deserve clarity on basic issues related to the taxation of virtual currency transactions," wrote IRS commissioner Charles Rettig, in response to a letter from Tom Emmer, a Republican representative from Minnesota. Rettig says, he has "made it a priority of the IRS to issue guidance," noting cryptocurrency concerns including "(1) acceptable methods for calculating cost basis; (2) acceptable methods of cost basis assignment; and (3) tax treatment of forks."
Please send news, tips, and Minnesotans to privatekey@qz.com. Today's Private Key was written by Matthew De Silva, and edited by Oliver Staley. Courage is what it takes to stand up and speak. Courage is also what it takes to sit down and listen.