Social media influencers are often one-person businesses, but a whole ecosystem of intermediary actors has developed around them.
It includes major social media platforms, hundreds of agencies that manage influencer talent, influencer "search engines," networking conferences, and an array of other services. All of these businesses have a stake in the influencer world, and increasingly, they're shaping it.
Intermediaries often decide who gets afforded and denied certain opportunities, argue Emily Hund and Lee McGuigan, researchers who study social media and consumer culture, in a recent paper published in the journal Communication, Culture and Critique.
Agencies decide who to take on as clients and how influencers work with brands. Tech platforms control the way influencer content is distributed and can easily reduce the influencers' reach. Admission into affiliate link programs or access to conferences is sometimes determined through an opaque application process. All of these actors facilitate the influencer business, but also function as gatekeeping mechanisms to opportunities in the industry.
Here's a typology of the businesses that influence the influencers.

Platforms
While bloggers own and control their blogs, influencers on Instagram and YouTube depend on some of the world's biggest tech corporations. That means being subject to those platforms' ever-changing features, algorithms, and rules. But it also means free access to those platforms' enormous audiences. Most platforms see making influencers' work easier as important to their own bottom lines.
Instagram
The queen of influence is Instagram: 68% of respondents to a survey in 2019 by influencer marketing platform Linquia said it is the most important platform for influencer marketing.
Instagram recently began rolling out special "creator" accounts, which offer influencers features like a simplified inbox and an audience data dashboard (it allows, for example, recording follows and unfollows).
More importantly, Instagram has decided to eliminate any barriers that might stop a user from buying a product an influencer is promoting. In 2017, it rolled out "shopping tags," a way for users to shop from Instagram posts. Until recently, the tags led to a website where the product could be purchased, but now users who have handed Instagram their credit card information are able to make a purchase without leaving the app. In April, the platform extended this feature to influencer posts. (For now it is only available for specific brands and influencers, but eventually any brand will be able to apply to use it). The tags mean brands can keep precise tabs on the sales individual influencers are driving.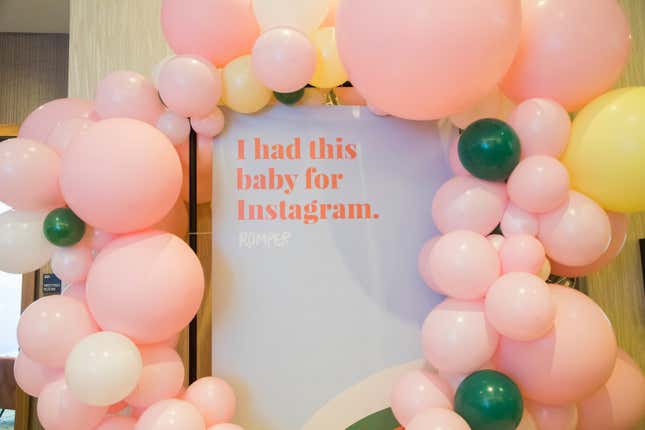 All of these features are crucial for influencers and the brands that use them, because Instagram limits users' ability to post outside links on the platform.
The company won't directly benefit from a transaction between a user and brand, but it gains in other ways. Instagram's revenue comes from advertising, which analysts estimate to be between $8 and $9 billion in 2018. E-commerce can significantly bolster its advertising business, since the more companies sell on Instagram, the more they will advertise on the platform.
Instagram could also benefit by turning influencer posts into ads of sorts. Both Instagram and Facebook, which owns Instagram, offer "branded content" tags that indicate to users when a post is sponsored. Facebook allows brands to put money behind influencer posts to promote them just like they would their own ads, and Instagram is also testing this approach, a spokesperson for the company said. In other words, sponsored influencer posts will become ads, akin to those that already follow you around Instagram.
Youtube
YouTube influencers, known more commonly as "creators," can make money in several different ways. The platform, which is owned by Google-parent Alphabet, splits with them the revenue from advertising that runs on their videos, with 45% going to YouTube and 55% to the creator. YouTubers also work directly with brands on sponsored content.
The automated process of matching ads to videos, however, doesn't always work out for the best. In 2017, videos portraying terrorist and anti-Semitic content were paired with ads from prominent companies, which pressured YouTube to toughen its ad policies and hire more moderators. This, in turn, resulted in many creators getting their ability to generate advertising revenue taken away or significantly limited—by more than 50%, some claimed. The new policies enabled brands worried about "brand safety" to opt-out of certain kinds of videos.
To appease creators, last year YouTube introduced new ways for them to profit off their work. Creators who have more than 30,000 subscribers can now sell memberships to their YouTube channels, which allows them to sell extra content to their most loyal fans for $4.99 a month. They can also sell products. In 2016, YouTube acquired FameBit, a platform that connects influencers with brands. Vloggers can now opt to have special "shelves" under their videos that feature from one to ten products from brands they've partnered with through FameBit, as well as their own merchandise, exclusively through distributor TeeSpring. YouTube takes a cut from the sales, as does TeeSpring.
Since 2017, creators have also been able to use "SuperChat," a system that lets viewers pay to have their comments pinned to the video during a livestream.
TikTok
Big brands are also turning to influencers on TikTok, the rapidly growing Chinese video-sharing app. These creators charge less than those on Instagram, the Telegraph reported (paywall). TikTok is best known for viral "challenges" in which users show their creativity by responding to a certain prompt or task, and some companies are jumping on that train.
When TikTok's parent company, ByteDance, acquired the karaoke app Musical.ly in 2017, it merged it with TikTok. By then, major brands had already been using Musical.ly influencers for their marketing. Coca Cola had creators upload content promoting its "Share a Coke and a Song" campaign, asking regular users to interpret major hit lyrics printed on Coke bottles. There were 953,000 video submissions, and that made #ShareaCoke the top trending hashtag on the platform, according to Coca Cola .
Guess launched its #InMyDenim campaign in 2018, which tasked TikTokers with a makeover challenge. In the videos for the campaign, creators would begin by appearing shabby in sweatpants and T-shirts with holes (which were clearly cut out right before the shoot) and then suddenly look highly polished, wearing head-to-toe Guess clothing.
To promote the 2019 movie "Escape Room," Sony hosted an event where TikTok influencers, including a magician, a comedian, and a makeup artist, had to solve puzzles in order to unlock their own "escape rooms," that replicated scenes from the movie. The company ended up with 75 pieces of promotional content for the film.
Though Instagram, YouTube, and TikTok are the buzziest homes for influencers, you'll also find them on practically any social network, including Facebook, Pinterest, the gaming site Twitch, Snapchat, and Twitter.

Affiliate link programs and networks
Affiliate programs pay influencers a commission on product sales. Influencers insert links to products into their content, and the programs track whether shoppers purchase those products after clicking. Here are some of the major programs:
The Amazon Associates Network: Amazon's affiliate marketing program pays a commission of up to 10%. Amazon also has an influencer program in which participants create their own storefronts on Amazon with a curated list of products. Mark Cuban, billionaire investor, owner of the Dallas Mavericks, and star of the investing TV show "Shark Tank," for example, promotes paddle boards, charcoal starter, and tool trays.
Reward Style: Started in 2011 by blogger Amber Venz Box, Reward Style is a massive affiliate, or "commisionable" link system whose tracking URLs you can find on most blogs that sell things on commission. In 2014, it introduced LikeToKnowIt, which capitalized on Instagram's lack of links. If you registered with the service, and you liked a photo on Instagram from an influencer enrolled in the program, you'd get an email with links to the products featured in the photo. In 2017, the company launched an app that lets users shop from screenshots of its influencers' images from anywhere on the web.
Reward Style works with about 4,500 retailers, and between its founding and 2017, it reportedly generated $1 billion in sales. Companies like it "have arguably shaped the development of shoppable social media more than any other actors," argue Hund and McGuigan in their paper.
Influencers get paid by commission, and the company takes a cut from that payment. Its network is invitation-only, and Hund and McGuigan's research shows that the process of getting accepted is opaque.

Influencer agencies
Many influencers rely on the help of various intermediaries in order to find work and manage their careers. These include:
Talent managers
Influencers are the celebrities of the social media era, and just like actors and musicians, many of them have agents.
Digital Brand Architects was one of the first influencer agent firms, established in 2010. It represents more than 140 influencers, some of the biggest names in the industry, like the fashion and design blogger Aimee Song or Emily Schuman of Cupcakes and Cashmere. They help with every aspect of an influencer's brand and career, Raina Penchansky, DBA's CEO, told Quartz.
"We help them figure out if they should be writing a book? Should they be launching a product line? Should they be launching a podcast? We're integral and very involved in the day-to-day of each of their trajectories," she said.
DBA has a dedicated arm that helps influencers launch products, like blogger and Instagram star Arielle Charnas' line of clothing for Nordstrom.
Influencer marketing agencies
"We're kind of that middle agency," said Zoe Marans, VP at Mediakix, an influencer agency founded in 2011. "We help on both sides. We interface with clients and influencers." Giving an influencer free rein can lead to unpredictable outcomes that the brand might not be happy with, she said. "And then vice versa, if a brand has complete control, it kind of turns out to be a commercial which doesn't necessarily resonate with audiences authentically."
Brands and advertising or PR agencies come to Mediakix wanting to work with influencers, and the firm will put together the strategy and the messaging. It will recommend which influencers to work with based on the client's goal and intended audience, and which platforms to work on.
Stack Influence is a small agency that works only with what it calls "Amazon influencers," so micro-, nano-, and non-influencers who promote the products of Amazon sellers, often tiny brands that might sell just one thing. Stack has access to a database of more than 10 million influencers, and it has worked with several thousand. The agency typically comes up with at least 100 influencers for one campaign, who are compensated only with the product they promote. Stack says it has been particularly successful with book publishers, and the rise of "bookstagram," a trend where people post photos of the books they have read and liked.
"The large majority of the people that we talked to with two, three, five thousand followers, they're not even aware that their account is worth anything, and they're frankly shocked that anyone is reaching out to work with them," said Mitchell Sorkin, co-founder of the agency. Stack sees an opportunity because these small influencers are "underpricing" themselves, he said.
Stack does, however, expect this ignorance of value to change, and its founders are prepared to explore other solutions—such as simply paying the creators cash.
Influencer platforms or marketplaces
There are countless influencers out there, and it can be hard for brands to find the right ones for their particular message. Enter platforms like Influential, a "search engine for influencers." Using IBM Watson artificial intelligence, it plays matchmaker. The 300,000 influencers who have signed up with Influential have profiles based on data sucked up from their social accounts.
The profiles include demographics, but also psychographic data determined by, for example, an influencer's word usage. Based on the "Big Five" model in psychological research, which claims that human personality is made up of a combination of five traits, Influential ranks influencers on characteristics like "adventurousness," "altruism," and "hedonism," and brands can decide which characteristics work for them and their products.
Ryan Detert, the company's founder and CEO, used the example of a campaign to promote an action film: "You want to probably have influencers that are adventurous and that have a high activity level. You don't want to have someone with the meek and modest talking about Stallone in the newest action movie."
(Influential offers other services as well, with its internal team running entire influencer campaigns for big brands).
There are dozens of similar influencer marketplaces, including IZEA, Julius, or Mavrck.

Advertising agencies, PR firms, and other players
The biggest advertising agencies in the world, like Ogilvy and Leo Burnett, have staff dedicated to influencer marketing. Public relations agencies work with influencers as well. And many companies, like Walgreens or Whole Foods, have their own employees dedicated to influencer strategies. There are lawyers who specialize in working with content creators. An entire conference circuit has popped up to serve content creator needs, finding niches in everything from mom and dad influencers to pet influencers.