In Zhengzhou on Jan. 2, hundreds of migrant workers knelt for hours at the construction site to beg their boss to pay them months or even years of back wages. In Wenzhou on Dec. 23, a large crowd of workers from a bankrupt shoe factory swarmed the city, asking the local government to help them get unpaid salaries. In Lanzhou on Jan. 3, six workers climbed to the roof of a nine story building and threatened to jump unless they got 240,000 yuan (about $40,000) owed to them.
It's the season of labor unrest in China, when some of the country's nearly 300 million migrant workers go to extreme measures to force their employers to pay them before they head home to see their families for Chinese New Year, which falls this year on Jan. 31. Many of these workers have not been paid for months, and they desperately need to bring home cash for what is often their only visit of the year.
There have already been 72 strikes in China between Dec. 1, 2013 and Jan. 7, according to the non-profit research group China Labour Bulletin, which promotes workers' rights. The strikes, mostly over unpaid wages, are concentrated in China's industrial southeast, the group's interactive map shows: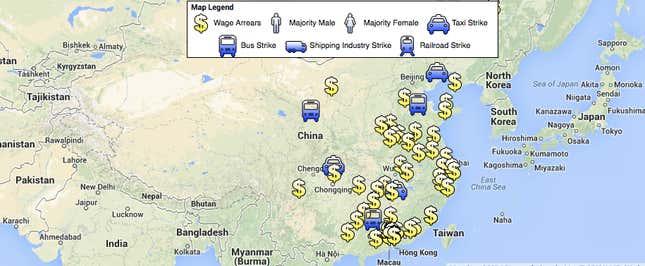 So far, that's about even with last year—China Labour Bulletin recorded 117 workers' strikes for all of December 2012 and January 2013. But a combination of rising wages, falling profits and debt-laden companies may make this strike season particularly eventful.
Construction workers are often the most prominent "victims of nonpayment," said Geoff Crothall, spokesman for the China Labour Bulletin, because of the way the industry is structured: There are "layers and layers of subcontractors, and the workers are the last to be paid."
This year, though, "manufacturing has been very badly hit with credit flow problems" he said, along with falling demand from Europe and the United States. In some cases, "customers have defaulted on payments, so these companies are not paying their workers, he said. Many state-owned enterprises like China Railway Group are struggling under huge debt burdens and are unable to pay employees promptly.
The balance of power has also shifted toward workers because of China's growing labor shortage. "Employers are very aware that they simply can't fire people and bring new people in at rock bottom prices," Crothall said. Still, he predicted that many workers will only get about half of what is owed to them before the Chinese New Year.
Gang Yang contributed reporting.