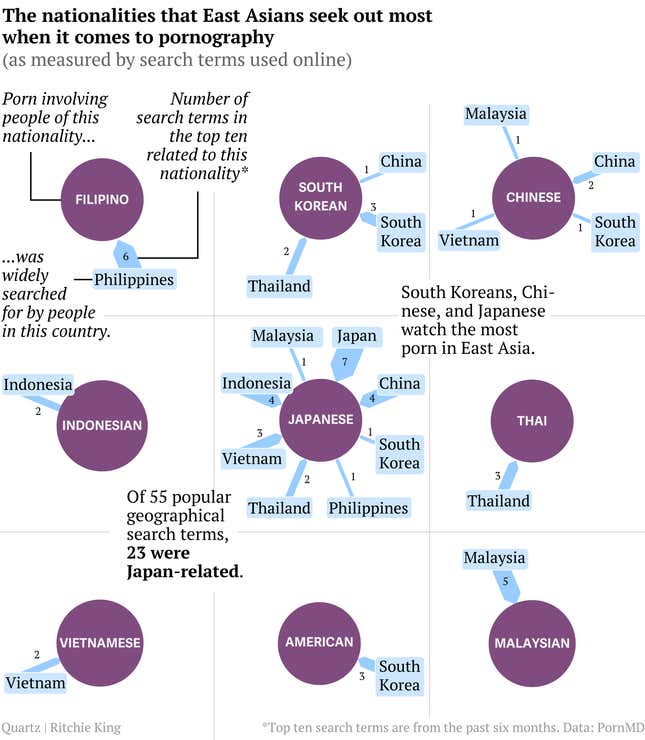 Here's how the chart above was created: Using data from PornMD, we looked at the top ten pornography search terms—that is, search terms used on porn search engines only—for each of the eight East Asian nations shown above. Then we filtered out only those terms that pertain to a particular country—including not only terms such as "indonesia" and "pinoy," but also "japanese massage" and "sora aoi," the name of a Japanese model and actress. Taking those 55 remaining top-ten search terms, we mapped the pornographic search connections between the eight countries.
Here's what the chart shows: A fair bit of preference for one's own fellow citizens. By and large, people in the Philippines are looking for porn starring Filipinos, for example. But it also reveals some exoticism. One of the most popular search terms in South Korea is "holly halston," an American porn star.
That people are searching for porn stars who are both like and unlike themselves isn't all that surprising, but this is: One, and often more, of the most popular pornography search terms in every single country of the eight analyzed has to do with Japan. Twenty-three out of the 55. East Asia has a Japan fetish.
Some of that affinity may be explained by the sheer size of Japan's porn industry. As of 2006, it was already one of the world's largest, raking in $20 billion in Japan alone. The Japanese porn industry is also an influential one. The country, after all, is responsible for the creation of a globally popular genre of porn, known as hentai, or anime.
Another important factor in the preference for Japanese porn is that China, the region's largest country, produces almost no pornography. China's consumers, as well as those in other East Asian countries, have therefore been forced to look elsewhere. For most other countries, including Indonesia, Thailand and South Korea, the top search term used in porn search engines is its own people. Beyond that, the migration to Japanese porn across East Asia may be explained by Dr. Katrien Jacobs, author of People's Pornography: Sex and Surveillance on the Chinese Internet, as follows:
Even though there is a wealth of genres and mind-boggling fetish products available from Japan, the cultures [of China and Japan] actually share a quite narrow-minded patriarchal view on sexual pleasure. This is perhaps the reason why Chinese men like Japanese stars, because they embody a feminine ideal of innocence and purity that is harder to find in Western porn.