When it comes to US employment reports, the Bureau of Labor Statistics' extravaganza early each month is clearly the most important. The next iteration—which will detail the state of the US job market in December—is due tomorrow (Jan. 10) at 8:30am. The consensus among Wall Street prognosticators is for an increase of 190,000 jobs, leaving the unemployment rate flat at 7.0%, according to data firm FactSet.
But there are plenty of other items you can watch that could shed some light on what kind of number we'll get from the Feds. Here's what we know going into the big day.
Claims for unemployment benefits have been volatile lately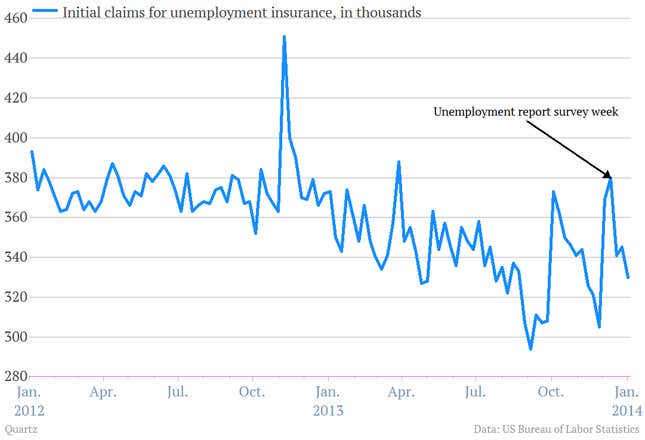 They spiked during the week of Dec. 12. That happens to be the same week the two surveys that form the basis of the labor report refer to (the week that includes the 12th of the month is the "reference week," and people surveyed are asked whether they worked that week, not for the whole month). But don't sweat it too much, say economists from Jefferies Fixed Income. "The recent distortions due to holiday timing and computer systems upgrades suggests that these comparisons are not reliable," they wrote.
Consumers seem to think the job market improved in December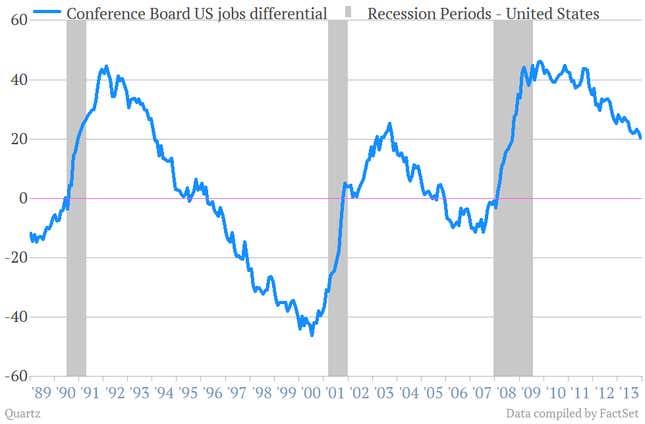 The so-called Conference Board jobs differential shows that consumers think the job market was still improving in December. (The jobs differential is basically the difference between the number of people who said jobs were "hard to get" and those who say jobs were "plentiful" in the Conference Board's monthly survey of US consumers.) It fell from 22.1 in November to 20.3 in December, i.e., jobs seemed less hard to get. We're still a long way from the halcyon days of 2005 and 2006. But it's a good sign that job growth in December was decent.
ISM business surveys suggest employment gains continued in December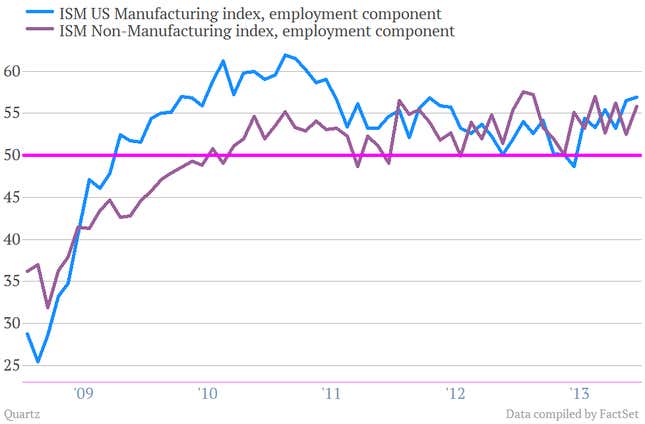 Both the ISM manufacturing and non-manufacturing (in other words, services) indices showed employment improvement in December. Both indices moved higher above 50, which indicates ongoing employment growth.
"Help wanted" online job ads picked up steam in December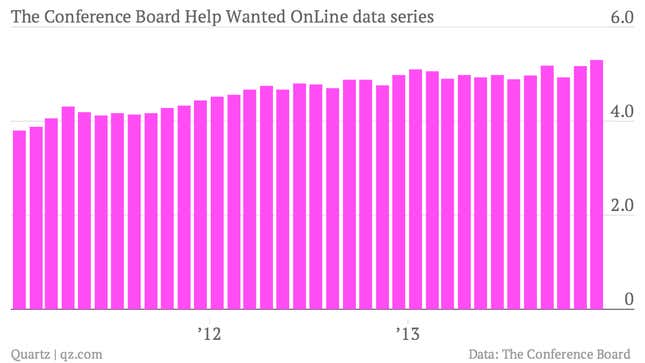 The Conference Board's gauge of online help-wanted advertisements has been picking up, broadly, since the summer, suggesting demand for labor is increasing.
Don't laugh: ADP's jobs index is worth looking at too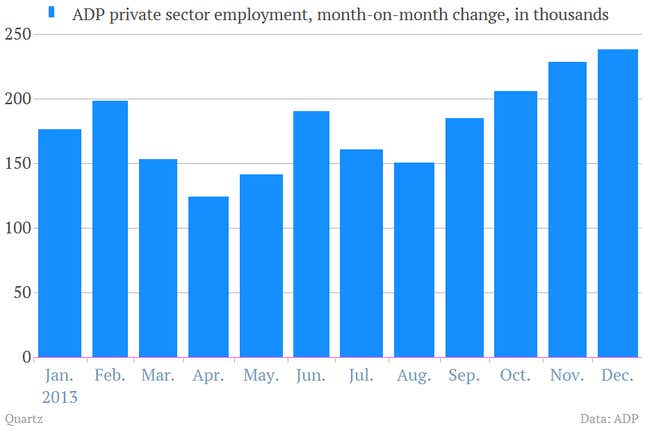 The private-sector employment data produced by payroll processing firm ADP has been much—and deservedly—maligned for some huge misses in the past. Efforts to tweak the methodology have only made it a tougher datapoint to hang your hat on. Still, the recent reading showing the US private sector created 238,000 jobs in December, the fourth month-on-month increase in jobs created, should be taken into account, even as a tertiary indicator.
Small businesses are more inclined to hire than they have been in recent years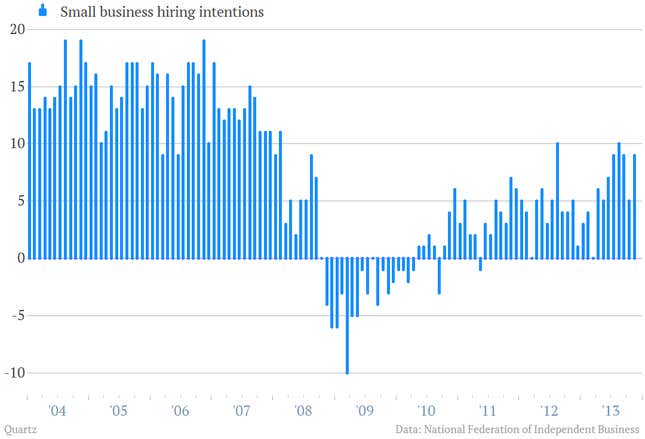 The the National Federation of Independent Business' survey of small business owners' hiring intentions over the next three months has shown real improvement in 2013. Some on Wall Street watch this figure as a leading indicator of hiring.
State and local employment should be less of a drag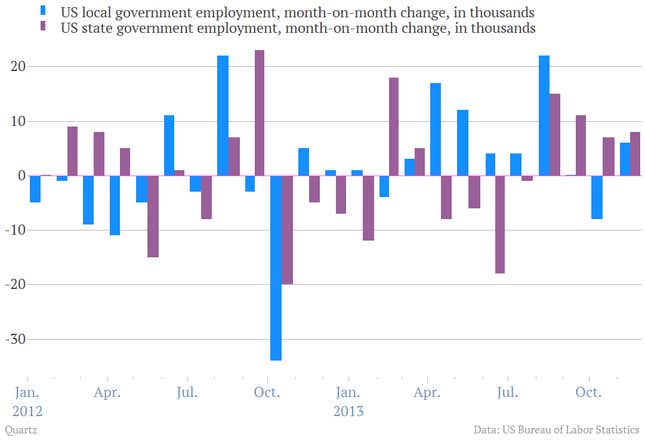 Meanwhile, government hiring seems to be turning around a bit as the finances of local municipalities improve along with the economy. (That helps boost tax revenues.) Admittedly, the federal government still seems to be cutting jobs. But a turn in state and local government hiring would provide a favorable tailwind for the US employment picture.