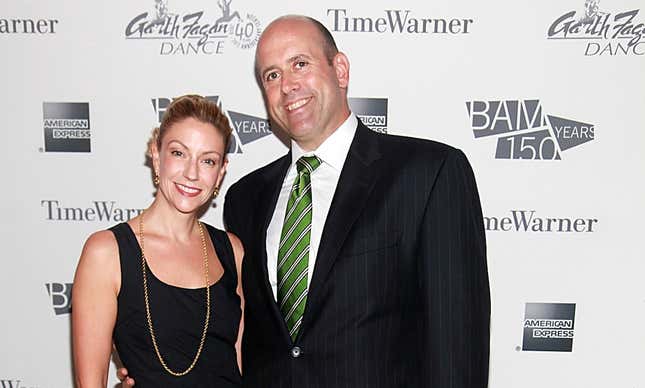 Additional executives are emerging as potential candidates to eventually take over the reins at Goldman Sachs: chief financial officer Harvey Schwartz and Latin America head Stephen Scherr.
The Goldman finance chief, who was tapped as CFO just last year, is on a genuine short list of candidates for one day replacing the firm's longstanding bank boss, 59-year-old CEO Lloyd Blankfein, say people familiar with the bank's succession planning. Scherr's name is increasingly mentioned in the informal handicapping inside and outside the firm of odds for candidates to be its next CEO.
Blankfein hasn't shown signs of stepping down anytime soon, as he nears his eighth year as the head of Goldman. "He's like a man snuggling ever deeper into a very comfortable armchair," one former Goldman executive says. But insiders including Goldman's directors, who discuss succession at the firm periodically, have expressed praise for Schwartz and believe he could prove to be the next leader of the 32,000-employee global investment bank, according to sources.
A Goldman spokesman declined to comment on succession at the firm. One insider suggested that Schwartz is perfectly happy with his CFO duties.
Still relatively green as a CFO, Schwartz will preside over the bank's Jan. 16 fourth-quarter earnings call where the bank's results aren't likely to wow. Last quarter, Goldman's much-lauded prowess for trading bonds betrayed it, due in large part to uncertainties around the Federal Reserve's monetary policies and a government shutdown in the US. That resulted in an uncharacteristic 48% decline in revenue from the trading of fixed-income products like bonds, commodities and currency securities, from $1.29 billion in the third quarter, compared to $2.49 billion a year earlier.
At the moment, the early race to eventually succeed Blankfein may be among Schwartz, Scherr, and president and COO Gary Cohn (who has acknowledged a desire to take the helm of Goldman.)
Bestselling-author William Cohan, who penned a profile of the bank titled  Money and Power: How Goldman Sachs Came to Rule the World  has his money on Cohn eventually being named CEO. The job "is probably Gary's to lose," he told Quartz.
Schwartz is a 6'4" (193 cm) tall Rutgers University graduate who worked as a bouncer in college, sources say. And like Blankfein and Cohn, Schwartz began his Goldman career in 1997 at currency and commodities trading unit J. Aron & Co–which was eventually acquired by Goldman.
Sources say the far less known and visible Scherr is close to Blankfein—like Cohn and Schwartz—and has held varied roles within the bank since joining the firm more than 20 years ago. He was a banker in the firm's financial institutions group and chief operating officer for its telecommunications media and technology group. Scherr currently oversees debt and equity financing at Goldman, in addition to his Latin America duties.
Other possible successors to Blankfein include David Solomon, a co-head of the firm's investment bank, and Michael Sherwood, a UK native known within the firm as "Woody." Sherwood assumed oversight of Goldman's European business after Michael Evans announced his retirement late last year.
Some insiders, however, think Schwartz is gaining momentum. During his almost 17-year tenure at Goldman, he has managed to navigate the sometimes-treacherous halls of the storied bank adeptly, having been promoted to managing director in his second year in 1999 and becoming a partner three years later in 2002. His acumen around the bank's bread-and-butter fixed-income business and a demeanor—which some have described as smart, transparent, and affable—have earned him notice outside the firm.
"He's really a trader and he feels very deeply about the trading business," says Brad Hintz, a bank analyst at Sanford Bernstein. Hintz suggested that even as a CFO, Schwartz has room to grow and isn't as seasoned as former CFO David Viniar. "He still hasn't mastered the art of saying nothing like [Viniar]," Hintz quipped.
As a CFO at Goldman, Schwartz is more than just a number cruncher. Like his predecessor Viniar, he manages one of the most visible roles at the bank and oversees a vital unit known internally as "The Federation," which includes technology and risk management. "He's responsible for more than half the firm," said one Goldman executive.
"Harvey [Schwartz] really got catapulted into a really high-profile position and he's really surprised to the upside since he was appointed [CFO]," said a former Goldman executive. "He is very smart and he is a consensus builder and those traits have been recognized," this person said.