By Ken Kaplan, iQ Editor-at-Large
The Consumer Electronics Show is where over 150,000 people come to see the newest techno gadgets, but this year it became a place to raise awareness for what's inside these shiny objects.
Essential minerals used to make microprocessors, and many other things from different industries, come from many parts of the world, including Democratic Republic of Congo, where often profits from the sale of these minerals were generated by forced labor and funded civil war and brutality.
In an effort to create microprocessors using conflict-free minerals, Intel set out several years ago to create a way for identifying the origins of mined minerals, and the result is changing how consumer electronics are made and how people think about them before they make a purchase.
Microprocessors, particularly ones that function as brains inside tablets, laptops, and desktop computers, are now being manufactured by Intel, beginning to end, using conflict-free minerals.
First revealed by Intel CEO Brian Krzanich at the 2014 International Consumer Electronics Show, this milestone marks a significant step for that industry during an era where consumers are increasingly conscientious about the things we buy. Moving to conflict-free minerals could extend beyond electronics to benefit jewelry, automotive, aerospace, and industries that rely on minerals.
"We felt an obligation to implement changes in our supply chain to ensure that our business and our products were not inadvertently funding human atrocities in the Democratic Republic of the Congo," said Krzanich. "It is just a start. We will continue our audits and resolve issues that are found."
A lot of the ground work that made it seem so unfathomable in the beginning has been done by Intel and a few other companies, said Carolyn Duran, supply chain director and conflict mineral program manager at Intel.
"Our encouragement to others is: get started now," she said. "We can effect change that way."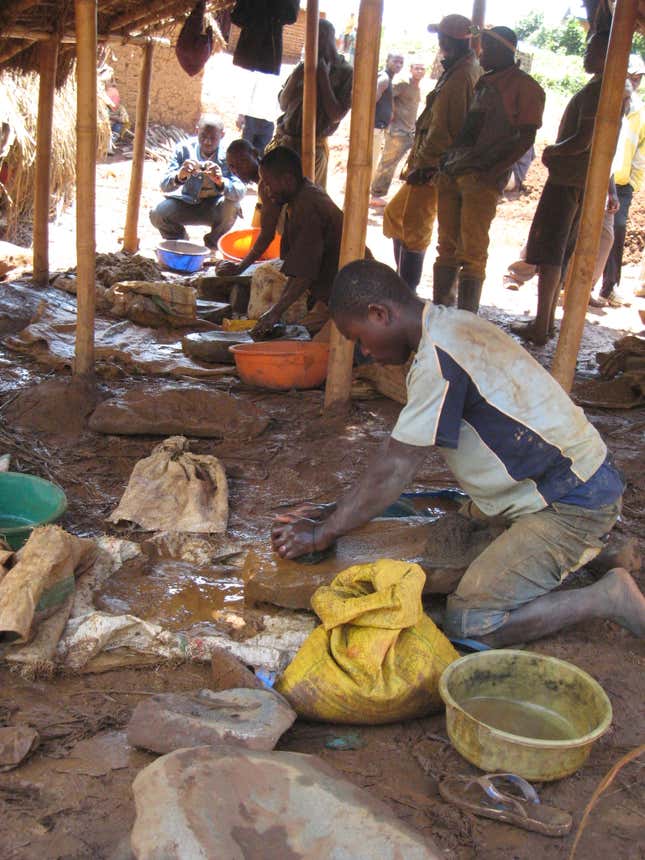 Gold-laden pebbles, fresh from the Chien Mechant Mine, are crushed into silt in preparation for gold panning in the Lubona Village, Democratic Republic of Congo. (Photo credit: Resolve)
Just as the choices we make about food could result in leading healthier lives and even help preserve our planet, choosing a computing device powered by components made of conflict-free minerals could have a positive impact on the lives of people living near mineral mines.
There's no denying that we love our gadgets. Smartphones, tablets, computers, and personal technologies are increasingly part of the modern life, and often are digital extensions of our very selves. At the same time, we are growing more curious about where and how things are made, like the food we eat and clothes we wear, and with technology becoming more pervasive in our lives, the onus is on us all to better understand what's in our devices and how are made.
Four key minerals
Tungsten, tantalum, tin, and gold are used to produce many common consumer electronics devices.
Tungsten is used in screens of smartphones and allows them to vibrate when a call comes in, according to Sasha Lezhnev, a senior policy analyst at the Enough Project, a non-profit that conducts research on genocide and crimes against humanity.
Tantalum is used to protect interconnects inside microprocessors. In 2012, Intel began producing microprocessors with conflict-free tantalum, a sign that conflict-free efforts were progressing.
"Tantalum helps you send text messages, tin is the solder on every circuit board and gold is the little connecting piece." said Lezhnev, who has teamed with Intel and other companies to bring a better understanding and solutions to the conflict-free mineral issue.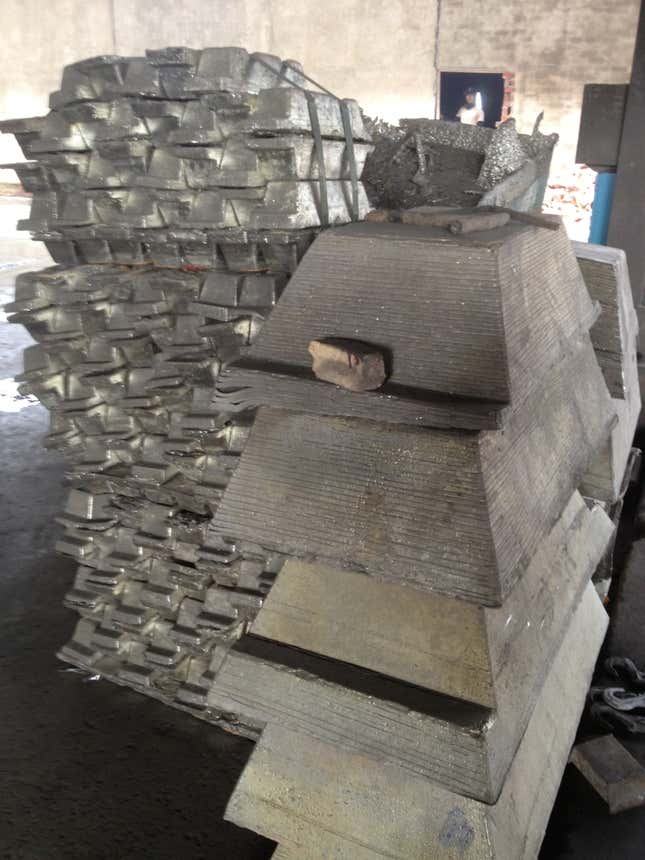 Stacks of refined (left) and crude (right) Tin ingots after smelting. (Photo credit: Intel)
These four minerals are all found in the resource rich Democratic Republic of Congo (DRC). For years, rebels and armed militia have profited from the mining of these minerals, exploiting local workers and often using unspeakable violence in a seemingly endless war documented recently in National Geographic.
Farming and mining are the two main sources of income for DRC residents, so an outright ban could cause further harm to people who are already threatened by poverty and violence, according to Bob Leet, the external engagement lead for Intel's conflict minerals program.
Rather than break Intel's supply chains in the DRC, Leet and others from Intel teamed with global industry leaders such as the BlackBerry, HP, and Motorola Solutions to create an auditing system so device makers can be sure they are using conflict free minerals, and help local miners make a living without threats of extortion and violence.
"Now some of these groups' funds [are] slowly being cut off, so they don't have the ability to extort the people like they had in the past," said Leet.
"It's just a start but a big change."
Avoiding tainted minerals
Back in 2009, Leet and others identified the most effective place to inspect and verify mineral sources was to focus on smelters, where the raw ore is converted into metals. In the years that followed, he and others from Intel visited some 20 countries to scrutinize more than 63 smelters, and their findings paved the way for what became the global Conflict Free Sourcing Initiative (CFSI).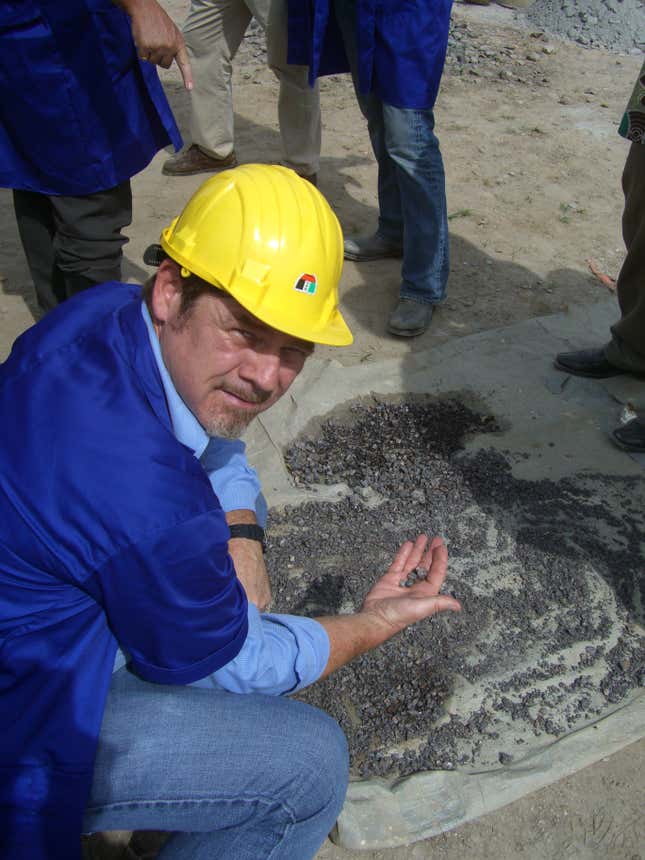 Bob Leet, external engagement lead for Intel's conflict minerals program, holds Tungsten ore chips from the Codemibu Mining Cooperative near Kigali, Rwanda. (Photo credit: Intel)
When some of the smelters in the supply chain were hesitant to participate due to the cost of verification, Intel, GE, HP, and later Microsoft and others, set up a fund aimed at getting more smelters involved with the verification program. These funds help alleviate smelters from financial obligations that come from the program, which encourage more smelters to engage in third party audits to determine origins of mineral sources they use.
"If we can demonstrate responsible sourcing across the smelter universe that serves electronics then we have changed the environment," said Leet. "We don't have to map the supply chain anymore. We can have high confidence that responsible sourcing is part of the ecosystem that feeds into our supply system."
Leadership and progress
Although progress has been made, much work remains to be done, according to Leet, but Intel's efforts are a framework for eliminating the use of conflict minerals in supply chains across many industries, including jewelry, automotive, aerospace, and medical instruments.
"We have to be cognizant of the fact that we all could have conflict minerals in our products," said Leet.  "Every person…needs to take this into consideration and to think about what you can do to help support the efforts that are going on to end this."
Collective awareness and changes in behavior can make a significant difference for the industry, consumers, and especially the people living near and working at mines in the DRC.
Do you know what's inside your digital devices?
This article was produced by Intel and not by the Quartz editorial staff.