"I think that Best Buy has killed showrooming," the retailer's chief executive, Hubert Joly, told the Wall Street Journal in November. The electronics chain boasted about its success converting customers who would normally go to a Best Buy outlet to try out products before buying them online from someone else.
Or so it thought.
Best Buy this morning announced that its same-store sales for December—the most important month of the year because it includes the holiday shopping period—fell by 0.9% from a year ago. Wall Street expected better; shares in the big box electronic retailer have plunged by 30% in premarket trading.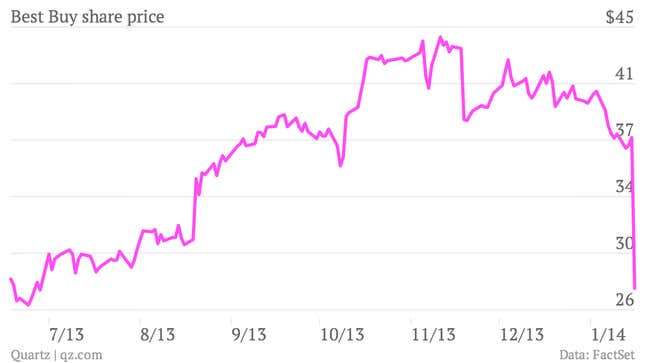 Best Buy's response to the threat of online competitors stealing its customers has been to price just as aggressively in its stores, even though it has a higher cost base due to its physical presence.
Basically, this strategy is savaging its profit margins. Best Buy now expects its margins for the fourth quarter to contract by as much as 1.85 percentage points. "When we entered the holiday season, we said that price competitiveness was table stakes and an intensely promotional holiday season is what unfolded," Joly said.
This is a worrying sign for the retail industry on the eve of fourth quarter earnings season, particularly given how confident Best Buy was only a short while ago.