Tis' the season for bonuses in China when companies and other organizations give out year-end gifts or cash ahead of the Lunar New Year.
Chinese bloggers are mocking a village in Sichuan that handed out stacks of cash (paywall) of up to 300,000 yuan (about $50,000) to villagers who participated in a rural cooperative investment scheme. The village has been labeled tuhao—which some translate as "the gold of the uncouth and wealthy," a derogatory term for China's rich.
According to one recruiting firm's study, two-thirds of Chinese employers polled raised employees' salaries by 6% or more during their most recent reviews, more than any other country in the survey. Over half of 847 companies polled in another survey, planned to increase bonuses for their employees. While many are getting more prosaic or underwhelming bonuses—one Sina Weibo user received an "apple notebook" (i.e. a paper notebook and a piece of fruit)—some employers are getting extra showy, prompting a larger debate about the increasingly ridiculous and tawdry rewards.
Here are some of China's most tuhao year-end bonuses this Lunar New Year.
A Benz or an Audi
An internet company in Guangzhou reportedly gave ten Audi A4L sedans to employees. The cars, whose prices start at 272,800 yuan ($45,000), were parked in the firm's car lot with signs on their windshields saying: "Year-end bonus!" An employee of a neighboring firm told a reporter (link in Chinese), "This is tuhao overload. Besides being envious, we have no choice but to hate the staff of that office."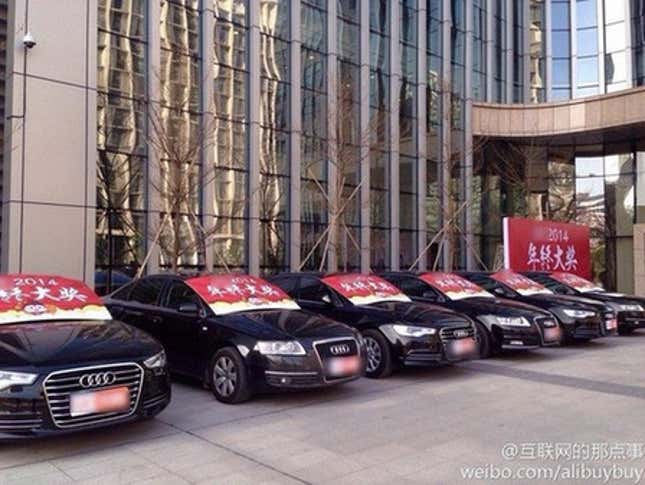 A firm in Shenzhen gave out Mercedes C180 sedans to ten employees, but the gifts were as much a recruitment tool as a reward. "We are still hiring. I hope that more talent will consider to join us," a spokeswoman told Southern Metropolis Daily (link in Chinese).
Bars of gold
The owner of a firm in Shenyang reportedly gave out over 100 gold bars ranging between 20 and 100 grams. (Bullion is popular in China as a form of alternative investment, especially among Chinese aunties.)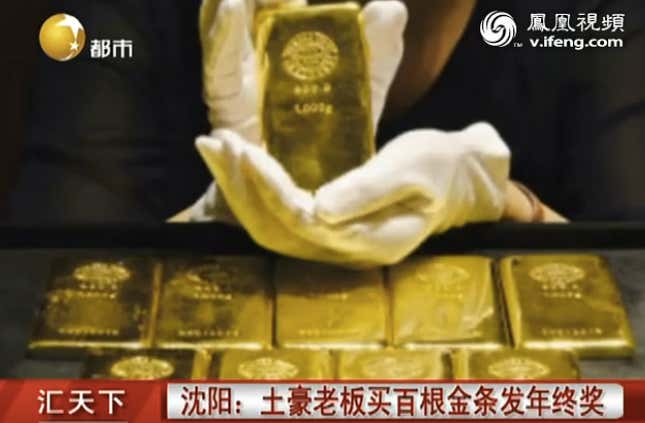 A coffin
Chinese social media are abuzz about a company that's awarding one employee a coffin, a rather untraditional way of wishing an employee a blossoming career as a future official. (The word for coffin or 棺材, is a homonym for guancai 官财, a term to describe a wealthy official, according to the owner of the company.) The employer, in true tuhao fashion, told the employee to donate the coffin, if unwanted, to the poor.
Jennifer Chiu contributed additional reporting.