Hong Kong activist investor David Webb has crunched the numbers on shareholder returns and the gender breakdown of local boards, and found it doesn't really matter whether women are involved or not.
Webb, who is well-known for his strident defense of shareholder rights, most recently in relation to  Alibaba's IPO plans, looked at 10 years of total returns for the all of the companies that use the Hong Kong Stock Exchange as their primary listing (some 1,500 in 2013) to come to his conclusion. He found that companies with no women on the board outperformed those with women in five of the 10 years, and vice versa.
(Webb did not include companies with four or more women on the board in his analysis, because he said there were so few—35 out of 1,502 companies had four, seven companies had five, and none had six or more—as to make the figures "statistically useless.")
"The most we can say is that these data do not provide any compelling evidence that board gender diversity adds value to investors," Webb wrote. "It does seem more socially equitable to have gender diversity, but then so does having diversity in nationality, race, religion or sexual orientation … [but] capital allocation is driven by investment returns, not by social equity."
Women make up just 10.7% of board members at all of Hong Kong's listed companies, and only 60% of companies have a female board member. That's about even with the US, where women occupy only 11.4% of board seats.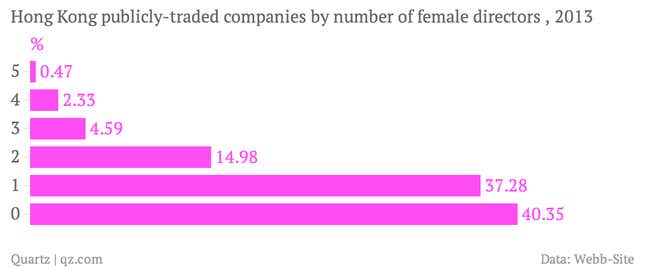 Webb's findings run counter to a growing body of research, mostly from the United States and Europe, that shows that adding women to publicly-traded companies boards can increase share price and reduce risk.