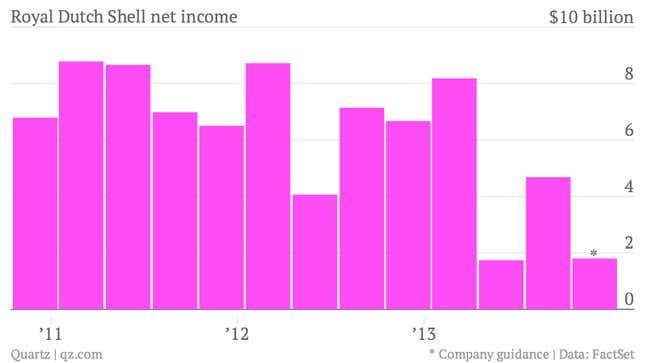 Energy giant Shell stunned the market with a profit warning today. When it publishes its fourth-quarter results in two weeks, it will report "significantly lower than recent levels of profitability," the company said. (See chart above.)
It was Shell's first profit warning in 10 years (paywall). The factors conspiring against it in the last three months of 2013 were diverse, including unexpectedly high maintenance expenses, a weaker Australian dollar and production stoppages due to unrest in Nigeria, to name just a few.
Shell's shares opened down by 4%, a big move for a company of its size. But Shell has stumbled in recent quarters, so the news of another shortfall was not totally out of the blue. And as investors digested the news during the day, the stock pared its losses, closing down by around 1% in London trading.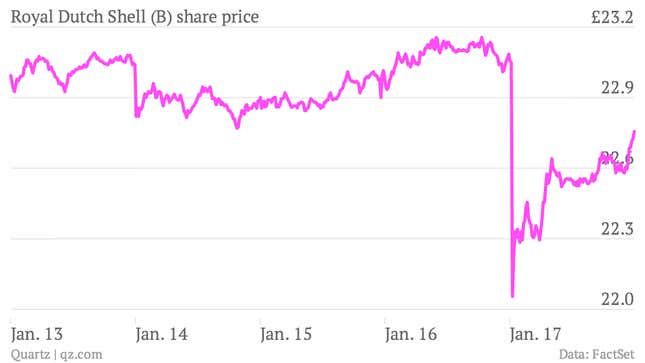 In addition to the operational reasons for weaker profits, investors and analysts cottoned on to another factor that might be in play at Shell—a new CEO. Ben van Beurden took over on Jan. 1, so at least some of the motivation behind the profit warning could be down to a classic "kitchen sink" exercise.
Otherwise known as "clearing the decks," "wiping the slate" or taking a "big bath," there is a rich body of research that shows, more often than not, new bosses front-load bad news early in their tenures, setting low expectations so that their subsequent achievements look better by comparison. From Sweden to South Korea, a range of accounting metrics and other financial disclosures reveal that the temptation for new CEOs to talk down a company's prospects is hard to resist. (Interestingly, in Japan it's the outgoing boss who tends to put all the bad news out just before the new CEO takes over, which is rather polite of them.)
Van Beurden is a 30-year Shell veteran, so he is hardly a fresh faced outsider. Still, he was a surprise choice to take the helm, as analysts saw other internal candidates as more likely successors. This gives him some impetus to put his stamp on the group with decisive action early in his tenure. Indeed, one analyst dubbed Shell's profit warning today as "a tad on the cynical side."