Wall Street wallets are getting fatter.
Just five years after the financial crisis forced the US government to extend a protective umbrella over its banking system, some of the biggest banks are doling out as much pay on average—and in some cases more—than before the wheels started coming off Wall Street's money machine back in 2007.
At the six largest US banks by assets, average compensation per employee—including benefits—hit $135,000 at the end of 2013. That's up 45%  since 2008, after the credit crisis sent bank profits tumbling.
Now it's important to note this is average pay per employee. The top six banks have cut headcount by about 5% since 2008. And it's also worth noting that Wall Street pay remains well below the high-water mark etched in 2007. (Average pay is down 43% from those halcyon days.)
But the trend in banker pay is definitely creeping higher over the last few years. It was up 4% in 2013, compared to the prior year.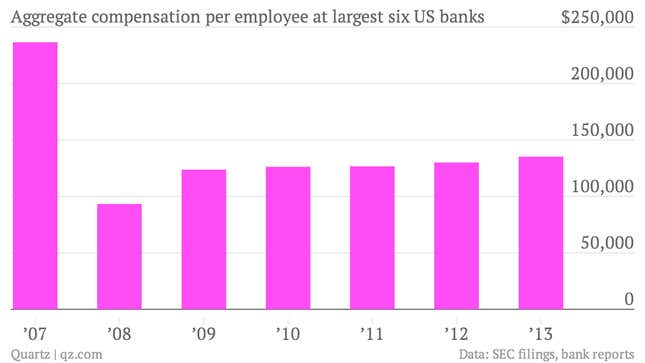 For example average pay at Bank of America was up 60% to $142,000 at the end of 2013, compared to $89,300 in 2007. That comes even as CEO Brian Moynihan has embarked on a wave of cost-cutting meant to streamline the sprawling bank. Pay at Wells Fargo is up 36% since 2007 to about $113,000.
At other banks, the increases are less dramatic but still significant. Average pay at JPMorgan Chase—$122,653 per employee at the end of 2013—is only 2% below 2007 peaks. Citigroup's average pay rose 13% from 2007, but has held relatively flat since 2008 at $95,645 per employee at the end of 2013.
At some of the better paid banks, pay levels are still well below peaks.  For instance, at Morgan Stanley average pay is still 13% below where it was in 2007. Still it has been rising more recently. It is up 13% since 2008, ending 2013 at $291,733. Likewise, Goldman Sachs has seen average compensation fall 32% from 2007 levels. In fact, Goldman's average compensation is at its lowest since the firm went public over a decade ago.
But you don't have to lose too much sleep over whether Goldman employees will make the rent. The bank still offers the richest per-employee pay among the big US banks. (It was $383,282 at the end of 2013, up 21% from 2008.)
In short, while new regulation such as the Volcker Rule might be cramping Wall Street's style a bit, bankers are still sitting pretty.