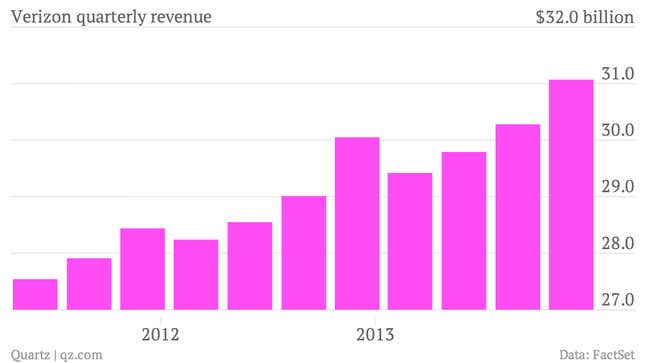 The numbers: Verizon swung to a fourth-quarter profit of $5.07 billion, from a loss of $4.23 billion a year ago.  Revenue was up 3.4% to $31.1 billion. Shares have edged higher in pre-market trading.
The takeaway: Once again, Verizon's wireless business was the standout. The carrier added 1.7 million new mobile connections during the quarter, pushing its total wireless customer additions for the year to 4.1 million. Revenue from Verizon Wireless was up 6% to $21.1 billion. In wired internet (supplied from a fibre or copper pipe rather than the cell tower), it added 126,000 new customers to its high-speed FiOS network.
What's interesting: 70% of Verizon's retail postpaid customers are now on smartphones, up from 67% at the end of Q3.  That's above the US average, according to the latest data from both Google and Nielsen. Still, for gadget-obsessed analysts and onlookers, that 30% of Verizon's ordinary customers are still on dumphones is worth keeping in mind.