"The competitive environment has changed again here in the fourth quarter, and you can expect us to respond accordingly."
Those fighting words from Verizon chief financial officer Fran Shammo on an earnings call this morning have spooked investors. Shares in the behemoth US wireless carrier are currently down about 3%, wiping about $4 billion off its market value, despite a solid set of quarterly results.
Why? There has been a lot of talk about a nascent price war in the industry, driven largely by a resurgent T-Mobile. Price wars are great for consumers, but terrible for investors, because they can obliterate profits across an entire industry. The comments suggest Verizon might be preparing to respond to T-Mobile's recent aggression.
As we've recently discussed, T-Mobile, led by the flamboyant John Legere, has been winning customers at an unprecedented rate in recent quarters, after introducing simplified plans that, among other things, separate the cost of a device from the cost of calls, texts and data. They also include free international roaming (albeit at limited speeds).
Verizon seems not to be much worried by these plans: Shammo said he doesn't think they are that much cheaper overall, just that costs of a device and wireless access are being shifted around. "Really when you do the math, there really isn't much of a price decrease here. It's just a shift of how it's marketed into the consumer market."
But T-Mobile's recent move to pay customers' early termination fees of up to $350 (and a further $300 for a traded-in device) if they switch over from another carrier is a different matter entirely.
AT&T has already blinked. It's offering T-Mobile customers $200 in credits if they switch to join AT&T's service. Maybe that's because most of T-Mobile's recent customer wins have come at AT&T's expense. The chart below from Macquarie Equities shows how many customers Verizon, AT&T and Sprint have each lost to T-mobile (TMUS):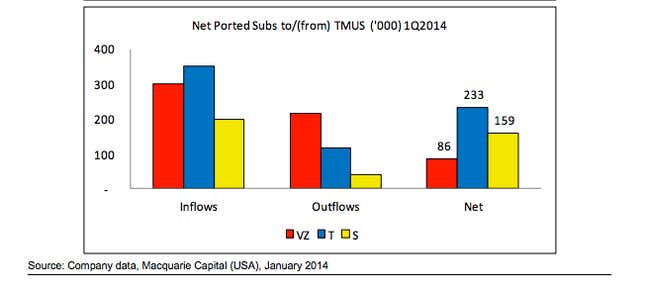 So far, Verizon, the industry's biggest player, hasn't followed AT&T's example. While it has more customers than anyone else (and hence more to lose), it has shed the fewest to T-Mobile.
But that was before T-Mobile introduced its latest offer to pay termination fees. Verizon's whole strategy has been built on having the best network, and charging the most for it. Shammo's words about a change in the "competitive environment" on this morning's call might signal a shift in its strategy, which would alter the telecom landscape dramatically. Consumers are likely to benefit—but not anyone owning telecom stocks.