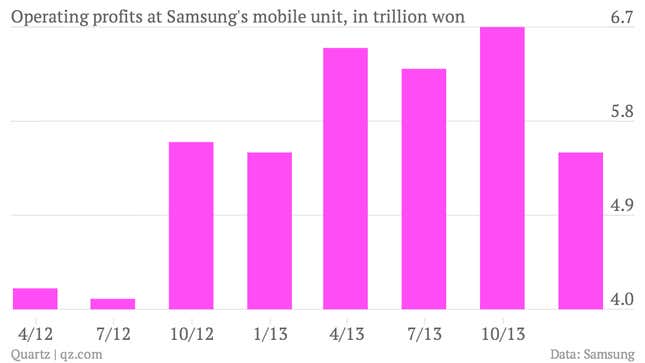 The numbers: Samsung's net income of 7.2 trillion won ($6.7 billion) in quarter ending Dec. 31 was up 3.7% from the year before, but down 11.4% from the previous quarter and failed to meet analyst estimates. Currency fluctuations, mostly due to the strong won, hurt earnings by $651 million and a one-time employee bonus cost $745 million, but lasting pain is being felt from an 18% decline in operating profit at the mobile unit, which accounts for half of the company's overall profits.
The takeaway: Samsung's recent mobile success, led by its larger-screen Galaxy and Note devices, is being squeezed by Apple's newest iPhones on the high end and Chinese and Indian competitors on the low end.
What's interesting: Apple's recently reported plans to release a larger-screen "phablet" of its own, along with its newly announced partner China Mobile, are going to eat further into Samsung's territory. In an attempt to differentiate itself, Samsung has promised its next-generation Android tablet could have features like iris-recognition technology, along with other possible new products like bendable TVs and more wearable devices.
An earlier version of this post said Apple had announced plans to make a "phablet." These plans have been reported but not announced by the company.