Think the US housing market is dangerously overheated? Think again.
Here's a look at new home sales, which the US Census Bureau just updated with December data. New home sales clocked in at an 414,000 annualized rate, a slowdown from the previous month, but a big improvement from December 2012.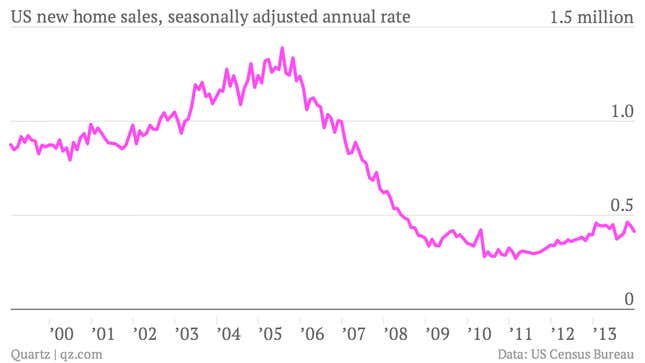 At any rate, if you look at this data over the long term, you can see that concern about a new-home-sales bubble is laughable, as the pace of sales remains well below the pre-crisis years.
That's not to say that the recent rebound of US housing hasn't been important. (In the third-quarter, residential investment grew by 10%, helping lift US GDP by 4.1% compared to the previous quarter.)
Rather, the point is that US housing can still be a large contributor to GDP for quite a while. That's because US homes remain very affordable, even if the recent rise in mortgage rates means they're not quite as cheap as they were a few months back. Here's a chart from economic analysts at Barclays making just that point.