In case you hadn't heard, the auto industry is in the middle of a crisis called Peak Car—the idea that America, at least, is getting over its century-long love affair with the automobile. True, Americans are driving less, but car sales have almost bounced back to where they were before the Great Recession. Confused? Follow along. This isn't a simple story, but it gets a lot less complicated if you understand a few key trends.
The first thing you need to know is the Great Recession marked a major shift in US driving habits. And since then, there's been little sign of any rebound in mileage. (Some say that's mostly because young people no longer feel the call of the open road.)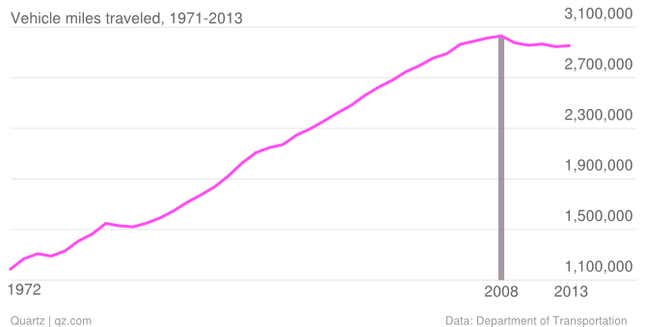 As you might imagine, the recession also hit new car sales. But unlike the mileage statistics, car sales have rebounded sharply. In fact, market analysts are predicting that in 2014, new car sales will reach 16.4 million. That would only be 700,000 cars shy of the high-water mark set in 2006, which was one of the best years on record for the car industry.
The thing to understand is that the demand for these new cars isn't coming from new drivers, it's from people who want to replace their pre-recession clunkers. The average car on the road in the US is 11.3 years old. And that underscores the fact that even though new car sales have clawed back a lot of ground over the last few years, on a population-adjusted basis Americans are simply buying fewer cars than they used to.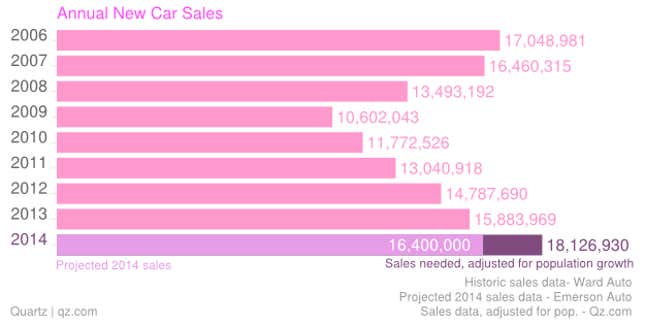 For example, in 2006 there was 1 new car sold for every 17 Americans, according data from Ward's Automotive, a market research firm. Since then, the country has grown by over 17 million people. With 2013 sales of roughly 15.9 million new cars, that equates to 1 new car for every 19 Americans. In fact,  while auto makers are celebrating the rebound of car sales in recent years, they would actually need to sell more than 1.7 million additional new cars to get back where they were in 2006, on a population-adjusted basis.  

All this brings up the question at the heart of the Peak Car debate: Is America's really falling out of love with the automobile?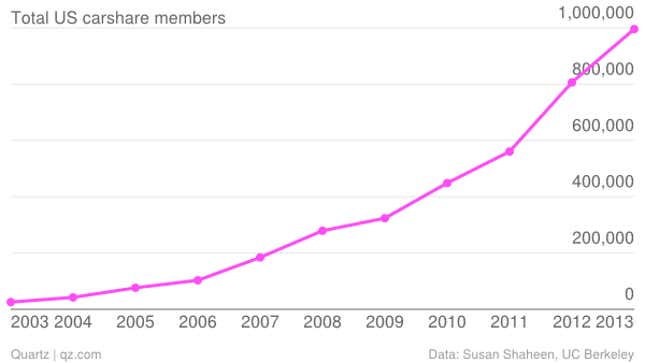 There are plenty of indications it could be true. Certainly, young people are driving less, even as the economy rebounds. Cities are increasingly the center of growth in US, and there's clearly an uptick in transportation alternatives such as bike-sharing,and ride-sharing programs. (Since 2010, at least 28 cities have started bike sharing programs, and more than 20 others have plans in the works.)

But whether or not these are just fads brought on by the deepest recession since the Great Depression, or a new chapter in America's relationship with cars remains to be seen. And while it may take decades, we know whatever happens is going to be complicated and fascinating.