China's seasonal bird flu outbreak has a slowly mounting body count, infecting nearly 100 and killing 19 since colder temperatures arrived in October. But there is some good news: All of the people who contracted the H7N9 virus probably had direct contact with poultry, so the prospect of an epidemic that is transmitted between people hasn't come to pass—at least not yet.
That's a very good thing considering that hundreds of millions of people are on the move for China's Lunar New Year, creating a potentially disastrous scenario if human-to-human transmission of H7N9 were taking place.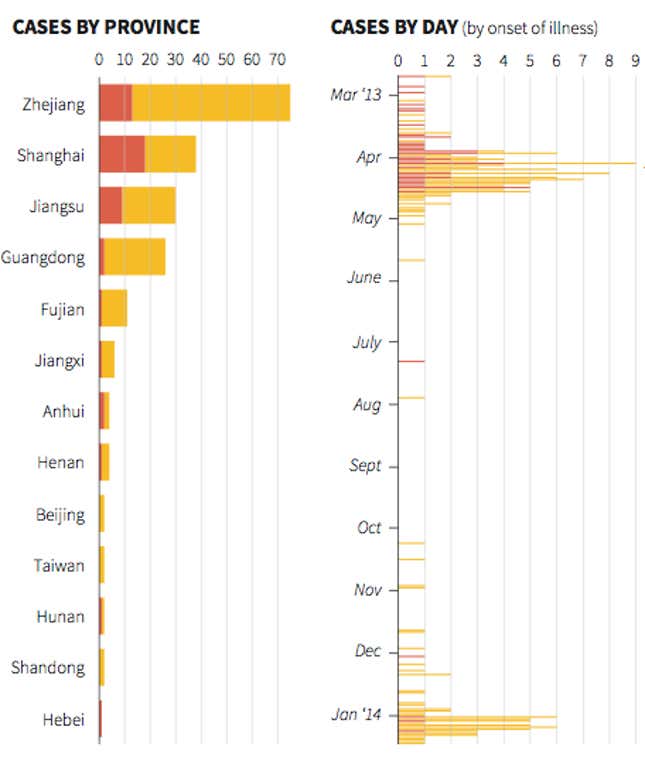 But for public health officials who worry about disease vectors and transmission rates, one big worry is whether healthcare workers are contracting the virus. That's why alarm bells rang when a Shanghai hospital worker died from H7N9 on Jan. 20. "It's always a concern when health workers die," the World Health Organization's Gregory Hartl told Bloomberg. "Hospitals and other medical facilities are a flash point for human-to-human transmission."
However, a subsequent WHO follow-up (pdf, p.3) determined that the dead healthcare worker was "exposed to poultry or a contaminated environment," according to the University of Minnesota's Center for Infectious Disease Research and Policy, which has been tracking the outbreak.
Still, laboratory tests using ferrets have showed that H7N9 is at least capable of being transmitted between mammals, and there is always a chance that the virus could mutate in a way that makes person-to-person infections more common.
In the meantime, Chinese authorities are taking no chances: The mainland has banned live poultry sales in some areas, and Hong Kong is culling 20,000 chickens after a bird there tested positive for H7N9. Chinese pharmaceutical firm Hualan Biological Engineering is testing a H7N9 vaccine, though state media said it was nowhere near completion.