It was bound to happen sometime. The UK's surprisingly strong economy disappointed the analysts, for once, with fourth quarter GDP growth coming in a bit below the consensus expectation. That said, 0.7% growth in the quarter only marginally missed the market forecast for a 0.8% rise.
What's more, in 2013 the British economy grew by 1.9%, the fastest pace of annual expansion since 2007. This fact was not lost on government policymakers, who have taken stick for their commitment to austerity in recent years. Still, critics will note that the UK economy remains 1.3% smaller than it was at its peak in 2008; Germany and the US surpassed their pre-crisis peaks three years ago.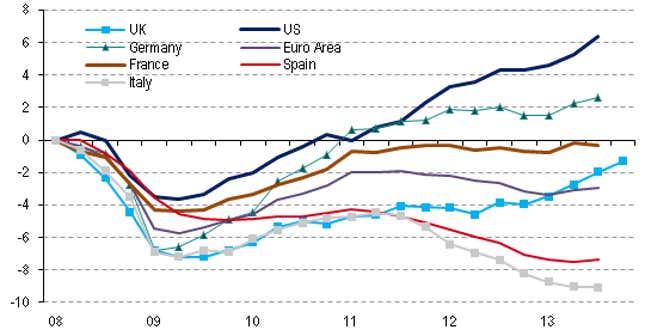 To be fair, the UK's heavy reliance on financial services meant it was hit harder than other large economies during the crisis, leaving it with more ground to make up in the aftermath. To avoid a similar fate in the future, British policymakers are keen to boost manufacturing and exports, aiming for a better balance between goods and services. Thus, chancellor George Osborne (pictured above) hailed the fact that the latest GDP figures are "broadly based."
But it's worth noting that, while the manufacturing industry grew by 0.9% in the fourth quarter, it was far from the "fastest" segment, as Osborne claims. A treasury spokesperson explains that the chancellor's claim is correct when comparing the quarterly growth rates for manufacturing, agriculture, construction and services. While technically true, that requires a rather selective reading of the numbers; the largest subcomponent of the service sector is the "business services and finance" industry, which is three times the size of the manufacturing industry and grew by 1.2% in the fourth quarter.
That suggests that, although manufacturing has been closing the growth gap with business services in recent quarters, a full-blown manufacturing renaissance is far off; the UK's service sector is more than five times larger than the production sector. Rebalancing the British economy was never going to be quick, but the latest data show that the economy's fortunes continue to rely much more on financiers in Canary Wharf than widget-makers in Coventry, whatever the politicians might say.