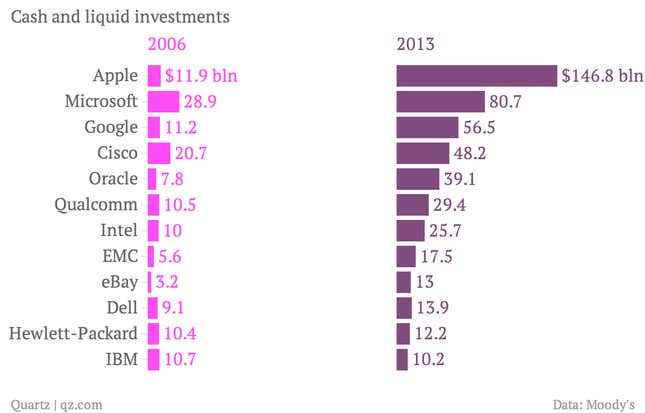 The US technology sector's cash hoard just keeps growing. According to the latest data from ratings agency Moody's, tech firms with more than $2 billion in cash and liquid investments are now sitting on a cumulative $604 billion.
But about two thirds of that money is held offshore and can't be repatriated without being taxed. So if tech firms want to pay dividends or buy back stock—as many activist shareholders are pressuring them to do, exhibit A being Carl Icahn with Apple—they have to take on more debt. Which they are also doing.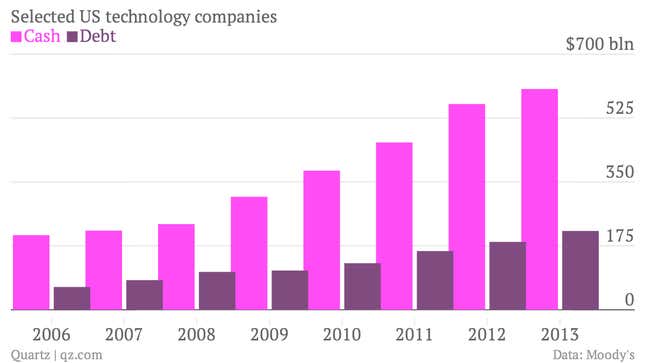 Although it's still dwarfed by cash, debt has been ticking higher. Moody's even described the US technology sector's growing offshore cash hoard as an "emerging credit challenge."
The companies that have increased their debt the most since 2006 include IBM and Oracle (both by $18 billion) and Hewlett-Packard ($17 billion). They could face pressure on their credit ratings if activist investors were to pressure the companies to return more cash to shareholders.
Apple, which borrowed $17 billion last year, and Microsoft, which has borrowed $16 billion since 2006, have both incurred the wrath of activists. The latter even added one to its board. Both are drowning in cash, so it would take something truly dramatic for either to face credit rating pressure. But stranger things have happened…