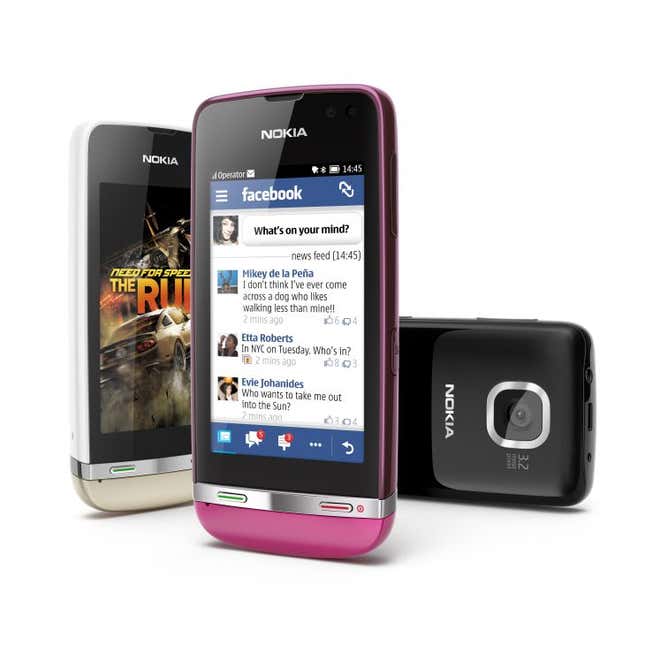 Nokia has been losing money and market share since late 2009. So why did three out of eight analysts on this morning's earnings call congratulate the Finnish company on its third-quarter performance?
It's partly that Nokia did better than they were expecting: a loss of €0.07 ($0.09) per share, instead of €0.10. But their praise centered on two risky new markets: spendthrift customers in Europe, Japan, and Korea who can't afford top-of-the-line phones but still want the speed of newer computing, and network-infrastructure equipment, where Nokia has a joint venture with Siemens.
Nokia and its investors must be hoping that these markets can cushion it from what is starting to look like an irreversible decline of its business in high-end phones. The company has high hopes for the release this quarter of its newest Windows phone, the Lumia 920, which is pitched as a competitor to Apple's iPhone and Samsung's Galaxy phones. But the truth is that Nokia—along with other mobile device makers—has fallen leagues behind in this market. According to an August report from Gartner's Anshul Gupta, Samsung and Apple jointly had about half of the market in the second quarter, while Nokia—like all other device makers—had less than 10%.
So Nokia is betting partly on what it calls "full touch smartphones." These phones, called the Asha line, are essentially feature phones designed to look like smartphones; they have touchscreens, but use less data and offer more battery life, and compromise on perks. Launched at the end of last year, these phones have had some success in Asia—particularly in Japan and Korea—and by the third quarter of this year, 6.5 million of the 76.6 million mobile phones Nokia sold were Ashas. Nokia is hoping that the success in Asia will translate to Europe as consumers take a hit from the euro crisis.
The phones are designed to undercut the Android-based phones that were previously the only real choice for customers who wanted a cheap smartphone. With designs targeted at emerging-market customers on prepaid data plans, CEO Stephen Elop says Nokia's Asha line has a distinct advantage over competitors who are "trying to take older versions of Android and cram them on cheaper hardware platforms." Yet competing with Android is a risky bet. Samsung has given Nokia a run for its money in India, Nokia's biggest market, and briefly challenged Nokia's dominance last year.
This is why analysts were also pleased with the other strong point in Nokia's report today. Nokia Siemens Networks (NSN), which makes the infrastructure for mobile-phone networks, reported operating margins (return on sales) 5.2% better than it did a year ago. In smartphones and devices, by contrast, Nokia's operating margin has fallen 19.2%.
That's an impressive turnaround for NSN. A relatively new venture, formed with Siemens in 2007 to challenge the dominance of Huawei, Ericsson, and Alcatel-Lucent, it had been bleeding money as the companies tried to restructure. But it looks like these efforts are starting to pay off. Sales rose 3% year-over-year and 5% quarter-over-quarter, and the company expects to report just as much bang for its buck in three months.
If Nokia can keep that up, it might have a shot at important market share in Europe. Alcatel-Lucent has been the most-shorted stock in France, and reported a loss last quarter. However, NSN lacks the scale of Huawei and Ericsson, which each have about double its €3.5 billion in sales each quarter.
Bottom line: it might still be too little too late for Nokia. The company lost a net €969 million ($1.27 billion) in the third quarter alone. "The big investor concern is that Nokia might run out of cash before Windows Phone builds a successful following," says Mark Sue, an analyst with RBC Capital Markets."When I look at the net of platform payments and your royalty commitments I think it's only incremental and it's particularly coming at a time when you need a lot of sales and marketing to ensure success of your new Lumia." Analyst congratulations might not be anything to throw a party about.