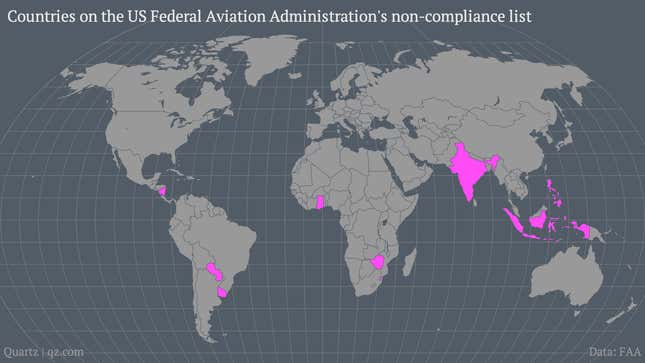 America's air safety regulator has downgraded its safety rating for India's civil aviation authority, according to a report by the Indian newspaper Mint, to a level on par with countries like Ghana, Indonesia, Uruguay, and Zimbabwe. The downgrade isn't just embarrassing for a sector that was once a success story of the Indian economy—it's a blow to Indian airlines hoping to expand.
The downgrade means the US Federal Aviation Authority has moved India's aviation authority into category II, a classification that means the country doesn't meet international standards for flight safety. India's director general of civil aviation, Prabhat Kumar, confirmed the FAA measure to Mint.
Airlines from category II countries are banned from increasing flights to the US. Existing flights by Indian carriers can continue but will be subject to extra checks at American airports. That could mean extra costs for those like Air India and Jet Airways, which already face competition from the likes of Emirates, which has been increasing flights between India and the US.
India's aviation industry has had a checkered past. In 2009, the FAA considered downgrading India's safety rating but decided against it after Indian aviation officials ramped up the training and hiring of safety officials. Then in 2010, a domestic Air India Express flight missed its runway and veered over a cliff, killing 158 people. The downgrade made this week is part of an FAA audit in September that found over 30 issues with the country's regulator, including shortage of flight inspectors.
The FAA uses downgrades to pressure countries into improving their regulatory measures, which is why downgraded countries aren't banned outright from flights to the US. As of Nov. 22, 2013, only 13 evaluated by the FAA were in category II:  Bangladesh, Barbados, Curacao, Ghana, Indonesia, Nicaragua, Paraguay, Swaziland, the Philippines, Serbia, St. Maarten, Uruguay, and Zimbabwe. Now, to its chagrin, India can be added to that list.