As news alerts increasingly detail the aging bridges, dams, and buildings around the world, warning signals are flashing red — endangering inhabitants and raising the risks of massive financial costs. Swelling urban populations in coming decades will add further stresses, with one study predicting that global infrastructure needs by 2037 will add up to a staggering $4.4 trillion. That's 21% higher than current investment trends would yield.
Clearly, the proportions of this problem have made innovative solutions ever more urgent. And Japan, an island-nation with its own history of natural disasters and the recovery process that follows, is taking this need personally and heeding the call.
Meet the forward-thinking group of entrepreneurs, engineers, and designers from Osaka-based KUMONOS Corporation. Together they are transforming our ability to assess deterioration in manmade structures and catch fatal flaws—a groundbreaking step forward for keeping our cities intact.
Bringing Japanese Innovation to an Analog Industry
Disasters that shut down city blocks and cost millions of dollars can start with something as minute as a hairline crack. Unnoticed and unaddressed, these small cracks branch through concrete, allowing water to seep in, rusting steel beams, and compromising the overall integrity of a structure. From there, it's only a matter of time before danger ensues.
Catching these fissures is critical, and that was KUMONOS CEO Kazuhide Nakaniwa's ambition: to build the technology and the human expertise to address this growing problem.
Witnessing firsthand the destruction wrought by unstable infrastructure, Nakaniwa started the company as construction surveyor to assist with the rebuilding efforts from 1995's Great Hanshin-Awaji Earthquake, one of the Japan's worst on record. In the aftermath of another major earthquake in 2003, Nakaniwa then shifted the firm's attention from new construction to the maintenance of existing structures.
With his team of surveyors and software engineers, he set out to invent a new device with the sturdiness to endure rough site conditions and the accuracy of advanced optics and the latest onboard programs. Over the course of the last 13 years, the company's signature tool has evolved into one of the most precise instruments on the market for measuring the width, shape, and length of cracks.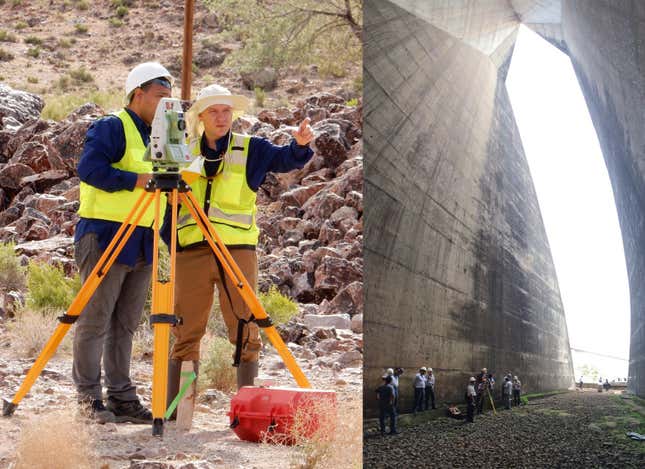 This measuring technology gives hard-hatted inspectors deep inside tunnels or at the foot of towering dams the ability to see things that were effectively invisible to previous generations. Employing a lens with a built-in concentric crack scale reticule, the tool's laser-enabled measurements can spot a fissure as small as 0.2mm—the thickness of just a few sheets of paper—from 45 meters.
These capabilities mean that trained technicians can detect cracks that might otherwise have been impossible to accurately assess, in places where scaffolding can't reach. The technology then converts the data into 3D CAD drawings which can instantly be beamed back to the office, shaving hours off the process and earning the company around 50 patents along the way.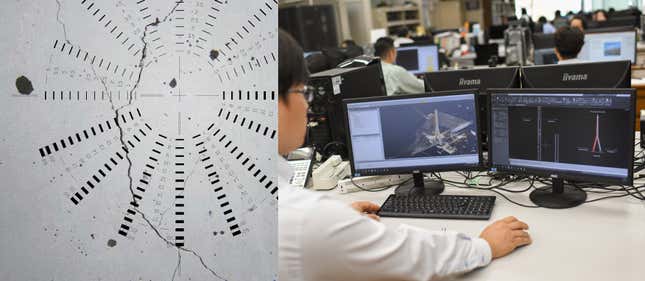 Over time the measuring tool has been widely adopted for important structures both inside and outside Japan, pointing to the need for collaboration across continents on infrastructure solutions. It's been used to determine the soundness of Osaka's ancient Shitennoji temple, Brazil's Itaipu dam, the historic Los Angeles buildings in the path of its new subway line extensions, and the Rama VIII bridge pylon in Bangkok.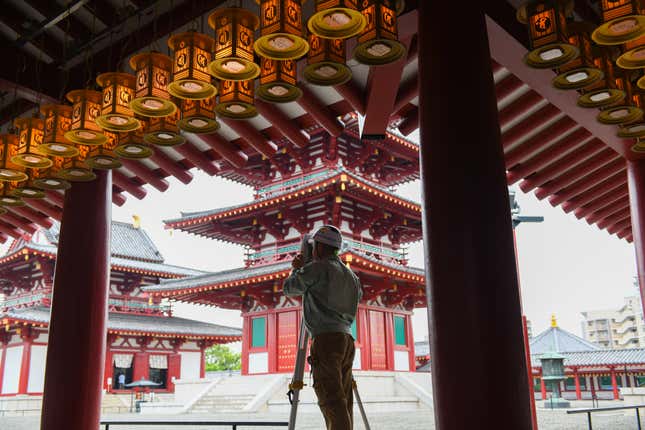 The Bangkok project came as part of an initiative to measure the country's 2,000 bridges with investment from the highest levels of leadership. For that work, "the Thai government thanked me personally," says engineer Akihiko Miyamoto.
Scaling to Meet a Goliath-Sized Problem
For his company to be most effective, Nakaniwa soon realize it needed to prize diversity and scale globally. Expanding to 120 employees and 200 manufactured devices to date, KUMONOS is not just growing its client base but its own teams to make strides.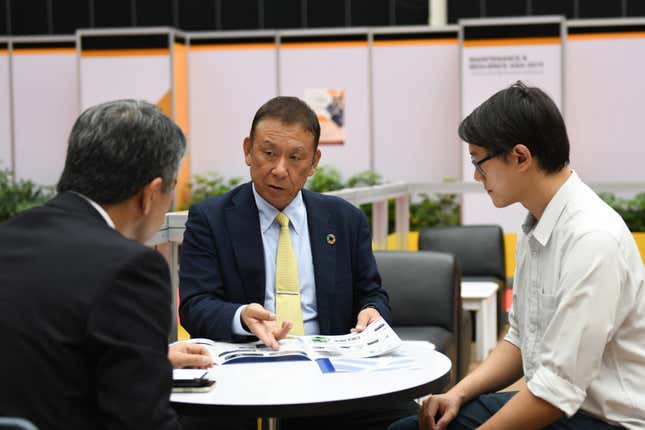 Like Japan itself—which has prioritized protecting natural resources and combating the effects of climate change—the company is attracting talent focused on fresh opportunities for sustainably-oriented action.
Based across its offices in Osaka, Bangkok, and San Francisco, employees hail from a wide cross-section of the globe, from Japan, Korea, Vietnam, Nepal, and Laos, to Taiwan, China, Panama, and Belarus. The company also employs a workforce that is 12% women and is striving to make more gains for gender equity in the traditionally male-dominated fields of engineering and construction.

In order to grow more quickly, the firm also developed a certification program for its proprietary technology. "We have 140 licensed technicians worldwide," says Miyamoto. "I want 500 by 2025. Then those technicians can train others."
With a deeper workforce capable of operating the tool, Nakaniwa's goal of expanding the lifespan of public infrastructure by a century or more could be manifested even faster. Maybe someday, his team could even help rehabilitate landmarks in the US like the Statue of Liberty or the Hoover Dam, he says, smiling at the boldness of his ambition.
Putting Personal Experience into Action
Nakaniwa's time on the frontlines of infrastructure damage in his own country provided him with a unique perspective on the remedies so desperately needed by other nations. When he first started out, appraising a structure's damage was time-consuming, costly, and often inexact, requiring scaffolding and aerial platforms to get technicians close enough to the cracks to then measure them by hand with a ruler, pen, and paper. As Nakaniwa recalls, "Our engineers were asking, 'we can see the crack, but why can't we find out if the crack is expanding or changing?'"
After listening to their frustrations, Nakaniwa started to think seriously about a tool that could predict and prevent the next major infrastructure disaster.
"I was dreaming about this instrument for many years," he says. "I knew there should be some way we could see cracks with a magnified view, build software that corrects for angle differences, and create a technical drawing of the crack." Nakaniwa's ambition was fueled by a desire for a more secure urban future. "Our responsibility is to measure and make predictions because aging infrastructure threatens human life."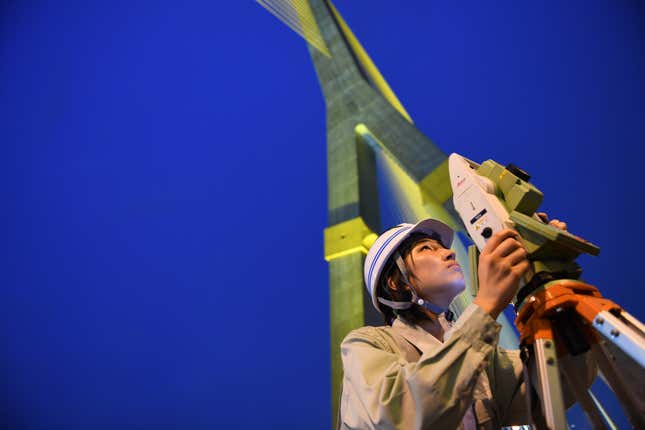 Now, Nakaniwa's dream has come true. He's confronted a multifaceted, multinational, and frankly messy, issue like aging urban infrastructure by literally working from the ground up. He's also been able to align his company goals with Japan's larger mission of crafting a more secure, ecologically healthy future by helping to meet the Sustainable Development Goals recently laid out by the United Nations.
So whether the stresses are from age, earthquakes, expanding populations, or flooding due to rising sea levels, KUMONOS will help cities gird themselves both structurally and economically. Through innovative, globally-minded engineering, it's an approach that puts people's lives first.
This article was produced by Quartz Creative on behalf of the Government of Japan and not by the Quartz editorial staff.