So many tourists are visiting China's "Great Wall Station" in Antarctica that it's becoming difficult for scientists to get research work done. Thousands of tourists visit the station every year, including a fast-growing number of Chinese, whose numbers to the region have increased more than any nationality (link in Chinese).
Antarctica is high on the must-see destination list for "extreme-seeking" wealthy Chinese tourists, the South China Morning Post reported recently. A host of tour operators are now catering to the market, including Israel's HH Travel, which advertises a 199,000 yuan ($32,800) Antarctica trip in China to "visit the world's last piece of clean marine environment." The Xinhua report—the latest in a rash of "Chinese tourists overrun X destination" reports—prompted more hand-wringing in Hong Kong, where mainland sightseers are often referred to as "locusts."
Despite the concerns, though, Antarctic tourism is still dominated by visitors from the US, according the International Association of Antarctic Tour Operators. (In the graph below of visitors per winter, the year 2011 refers to the 2010-2011 tourism season, and so on):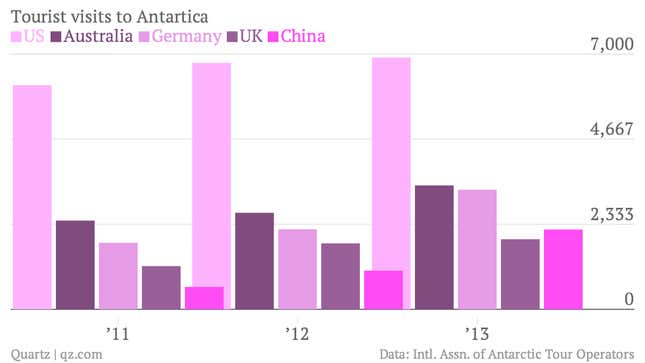 In 2011, ships that burn "heavy fuel oil" were banned from landing in Antarctica, which ruled out most vessels that carry over 500 people, the tour operators association said. The total number of tourists visiting Antarctica in the 2012-13 season is actually down significantly from a recent peak, at about 35,000, below the 46,000 that visited the continent during the 2007-08 season.
Jennifer Chiu contributed reporting.