They've been called an "eyesore" and likened to hideous Christmas sweaters." Since their grand reveal, Team USA's Winter Olympics uniforms—most notably the opening ceremony uniform's bold knit cardigan—have elicited more jeers than cheers.
Covered in a red, white and navy pastiche of stars, stripes, Olympic rings, and other patriotic emblems, the cardigans designed by Ralph Lauren were inspired by "classic Americana patchwork quilts and sweaters," David Lauren, an executive vice president at the luxury fashion company, said during the uniforms' Today Show debut.
Here's a look: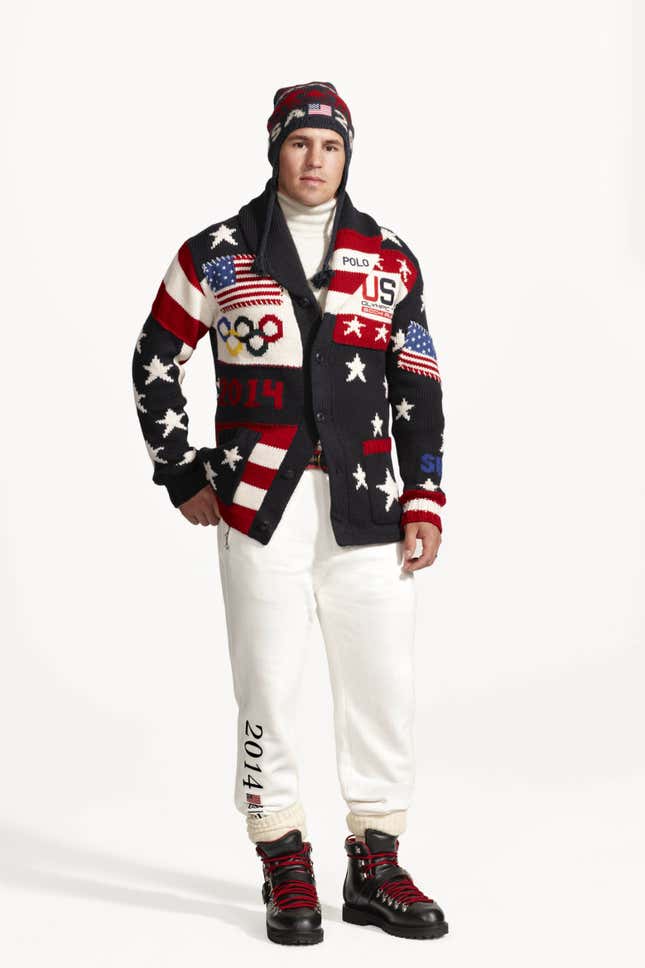 True, the cardigans are busier than a Bill Cosby sweater. But I think they are beautiful.
Stick with me, please. Here's why:
They're really made in the USA
This is the fourth time the classic American brand Ralph Lauren has designed uniforms for Team USA. But this time every bit of it really was made in the USA—a make-good after the controversial made-in-China uniforms Ralph Lauren designed for the London 2012 Summer Olympic Games. Made with yarn farmed, spun, and dyed in Oregon, Pennsylvania, and North Carolina and then woven at the Ball of Cotton in Commerce, California, these cardigans are a much-welcome throwback to American self-reliance.
They're stylish
Team USA will no doubt feel warm and toasty wearing these uniforms in the Fisht Olympic Stadium on Feb. 7. But there's a charming, nostalgic kitsch to these cozy ensembles that make them work. Along with the cardigan, the 2014 opening ceremony uniform includes a cream-colored cotton turtleneck, slim white fleece pants, black leather boots with red laces, a reindeer hat with earflaps and mittens that read "Go 4" on the right hand and "Gold" on the left. The outfit is certainly on trend with this season's chunky knit sweaters and winter white underpinnings. Plus, the cardigan's shawl collar and the rugged lace-up boots give this ensemble a fun 1920s vintage menswear vibe.
They'll be remembered
Most of the time, I'm a fan of minimalism. But at the all-important Olympic opening ceremony, minimal can read boring, like the Ralph Lauren-designed 2010 Winter Olympics uniform with a red-accented navy jacket and white pants. Cute streetwear, yes, but who really remembers that ho-hum any-country uniform? In stark contrast, the 2014 Olympic uniforms fearlessly make a statement. We. Are. Team. USA. Nothing is more "on brand" for the United States than an abundance of stars and stripes.
However busy they may seem, these cardigans unabashedly boast "I am American!" And that's refreshing.
After all, we want an over-the-top Hunger Games-style opening ceremony with flame-shooting uniforms like Katniss Everdeen's that dazzle crowds and taunt opponents. Next best thing to flames? A cardigan that looks like bombs bursting in air. Imagine the spectacle. Their uniforms, united, will look like a massive, undulating American flag. Or your grandmother's Fourth of July quilt. I'll take either.