Recent tremors in developing economies have wreaked havoc with equity markets, triggering frightening currency drops and weighing on earnings at global corporations. For a specific example of what a rough ride these markets can be, look no further than IBM's experience in India.
After a huge expansion that saw its headcount in India rise from 9,000 in 2003 to 120,000 a decade later, the company's business has hit the wall due to a series of revenue setbacks, tax disputes, fraud, and  other issues. The architect of IBM's landmark outsourcing deal with fast-growing mobile telecom firm Bharti Airtel—Jai Menon, Bharti's former CIO, who is also a former IBM employee—has been fired for "code of conduct violations" related to financial arrangements with Bharti vendors, including IBM, people briefed on the situation said.
The woes come amid broader struggles for Big Blue: IBM was the only net loser in 2013 in the Dow Jones Industrial Average and recently dubbed "dead money" by a stock analyst, mostly because of its wretched performance in Brazil, Russia, China, and India. In China, revenues were down 22% in the third quarter after hardware sales plummeted on fears of US spying and government support for local industry.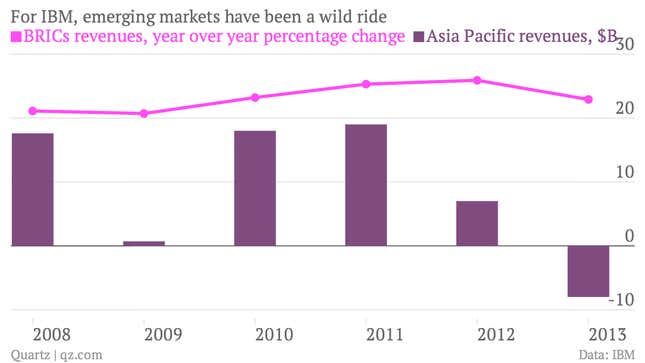 But its woes in India are much messier than geopolitics alone can explain, and in some cases just as uncontrollable. What exactly went wrong?
To answer that question, let's start in 2004, when IBM signed a precedent-setting ten-year deal with Bharti Airtel. The partnership would "redefine" the telecommunications industry, Bharti's chairman said at the time; an IBM manager dubbed it "the next big thing in technology." IBM agreed to manage Bharti's hardware, software, IT management, billing, customer relations and data management—virtually every part of its mobile phone business except for marketing—in exchange for a percentage of future revenues, which were expected to total $750 million over 10 years.
To do the job, IBM added tens of thousands of workers in India and bought several local companies.
"The outsourcing business of India had never seen anything that size," Sridhar T. Pai, the chief executive of research company Tonse Telecom, told Quartz. Pai is also the former head of Network Solutions, one of the companies IBM bought in India during its expansion.  "The entire operations headache would belong to IBM."
The ramp-up was part of IBM's $6 billion dollar expansion in India, which also included the $200 million purchase of Daksh, a call center firm. After signing with Bharti, IBM inked similar "we do it all" deals with Vodafone and Idea Cellular, among other telecoms, which helped transform India into IBM's fastest-growing market. Then it added more deals with Bharti in India and Africa, including a 2006 deal to develop Bharti's "content platform" to bring movies and music to customers phones.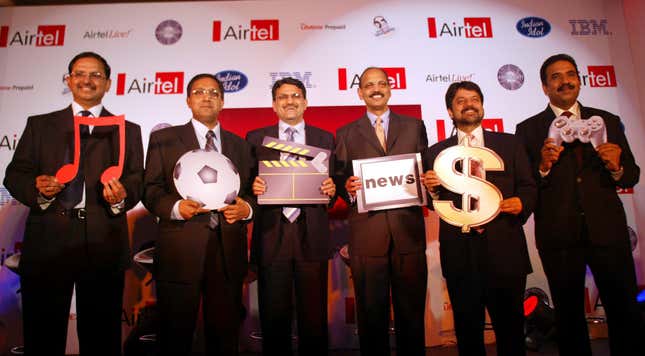 IBM also added IT contracts for fast-growing local companies like Apollo Hospitals, and built up its Indian operations as a major IT outsourcing center for its customers around the world. By 2012, IBM was said to have more employees in India then anywhere in the world.
While IBM does not break out its employees or financial results by country, its executives' public remarks indicate that revenue  in India was growing at healthy double digits—55% in 2005, 37% in 2006 and over 30% to $1 billion in 2007. IBM was also expanding rapidly in China and other emerging markets, and while the company does not break out actual revenues for the BRICs nations, it did say they were growing briskly—up 18% in 2007, for example.
Then, the tide began to turn. New telecom operators flooded the Indian market after the government sold off new licenses in 2008 in a controversial, corruption-laced auction that suddenly created cut-throat competition in the industry. Existing telecom players responded by slashing rates for subscriptions, calls, and text messages.
"There was a pricing bloodbath," Pai said. Suddenly it was cheap to get a mobile phone and minutes. As the company that had taken on all the support functions, and most of the employees, for big local telecoms IBM was "in front of the cannon fire," he said. "The cost from running the infrastructure never fell, salaries were always going up."
Other problems started to crop up. In the fiscal year to March, 2012, employees in IBM's Indian software division unit inflated revenues by $8 million in order to meet financial targets. The company fired two dozen employees in India because of the fraud. In the fiscal year to March 2013, IBM detected another instance of fraud which overstated revenues by about $10 million, Livemint reported, citing documents filed with the Indian government.
Meanwhile, India's "back office to the world" status was being eaten away by cheaper competitors in locales like the Philippines, which now has more call center operators than India. Outsourcing companies, including IBM, started moving work out of the country or getting out of the low-margin call center business. Last year, IBM sold off its outsourcing customer service division in India for $505 million to Synnex, a move that cut the number of Indian employees by tens of thousands.
To make matters worse, the Indian government now claims IBM owes $865 million in back taxes for the 2008-09 fiscal year, for allegedly stating only 20% to 30% of its revenues in the country. IBM is fighting the issue in court; it is just one of several IT companies in India grappling with a claim from the tax officials.
After growing for years, IBM's earnings in India as reported to the local ministry of companies dropped by 20% to 12 billion Indian rupees ($192 million) in the fiscal year that to March 2013.
IBM's mishaps in India are part of the reason the company announced a "workforce-rebalancing," which is expected to shed some 15,000 employees around the world. India has been the first to get the cut: former and current employees described a virtual "slaughter" in the company's Systems Technology Group in Bangalore earlier this month. Employees there were given no advance notice, anonymous employees told Wraltechwire.com, and were asked to return their laptops and leave the premises within two hours.
In December, Bharti Airtel's Menon, the architect of the landmark 2004 deal with IBM, was fired from Bharti Airtel for "code of conduct violations," related to contracts with Bharti's vendors, including IBM, which raises questions about the profits from those contracts that IBM has yet to answer.
An IBM spokeswoman said in an e-mailed response to questions that "IBM continues to invest in India and we look forward to continuing to help our clients to innovate and grow." IBM researchers in India contributed to 320 of the company's 6,809 patents last year and helped 100 clients reconfigure their businesses. The company considers Bharti a "valued client," and respects the company's confidentiality, she added.