Sure, it seems laughable.
Cupertino, California is the posh home base for one of the largest, most disruptive and successful companies in the world. And Detroit is languishing in bankruptcy court after becoming the largest-ever municipal filing last summer.
Still, J.P. Morgan municipal bond analysts make the point that Cupertino's reliance on a single company—even if it is arguably the world's most successful—could someday emerge as a risk for those who buy Cupertino's debt. In a recent note they write:
Apple is the city's largest taxpayer and employer, responsible for 46.6% of total employment, and 6.38% of total taxable assessed value. These numbers have risen significantly over the last decade; in 2003-4 Apple represented 2.61% of Cupertino's assessed value and 27% of employment.
Though they note some recent challenges for the iPhone maker, J.P. Morgan analysts aren't arguing that any sort of employment collapse for Apple is on the horizon, representing a threat to Cupertino's fiscal health. "But as we have seen in other areas, particularly in the Midwest and Rust Belt, before, significant concentration of single industry/name exposure can be a real risk when industry trends shift negatively," they wrote.  Redmond, Wash., the headquarters of Apple's longtime nemesis Microsoft could face similar emerging risks in future. "Since the company represents nearly 45% of the employment base, even a small cutback could be important," they wrote. Here's a look at some of the other cities in which one large company accounts for more than 10% of employment.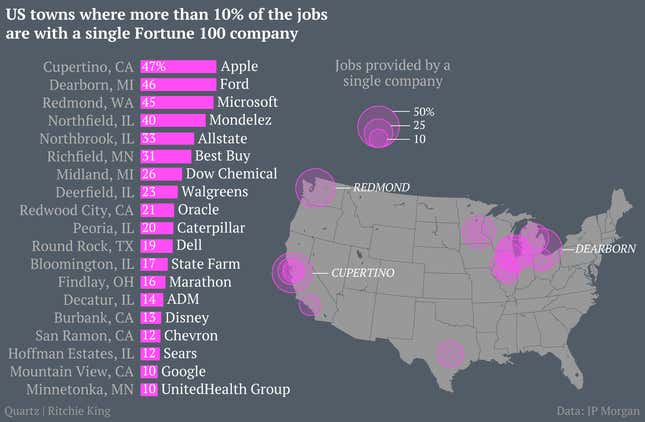 Now there are clear differences between the US industrial midwest—where cities and municipalities faced crippling blows thanks to the large structural shift of deindustrialization—and Silicon Valley. For example, Cupertino has already seen one massive employer's footprint fade from the area, when Hewlett-Packard moved out of the area to Palo Alto.
In fact, Apple's new headquarters is going up on the site of Hewlett-Packard's former campus, which underscores the regenerative nature of California's tech cluster; the Bay Area is unmatched in attracting titanic amounts of start-up capital. In short, Cupertino is still much better off than Detroit. But the comparison is worth thinking about.