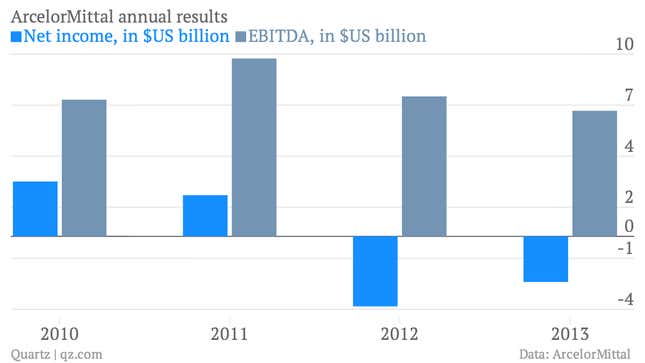 The numbers: The global steel giant reported a $1.2 billion loss in the fourth quarter, up from a $3.8 billion loss a year ago. Quarterly EBITDA increased 23% to $1.9 billion and sales rose just under 3% to $19.8 billion. For the full year, ArcelorMittal's net loss was $2.5 billion, an improvement from last year's $3.5 billion loss thanks to taking smaller write-downs and impairment charges. Still, annual EBITDA fell 10% to $6.9 billion.
The takeaway: Over 12 months of painful cost-cutting, plant closings and layoffs, thanks to overcapacity in the business and weak demand, may soon be grinding to an end for ArcelorMittal. CEO Lakshmi Mittal told investors he is "cautiously optimistic" about the outlook for 2014.
What's interesting:  ArcelorMittal's projections for the year ahead are a proxy for the future health of the global economy, given the company's size and scope, and here's where that optimism comes in. The steelmaker expects global steel use to rise between 3.5% to 4% in 2014 and steel shipments to climb 3%. Steel use in both the US and China should grow 4.5%, while in Europe it will grow 2.5% after falling last year, ArcelorMittal says.