The second punch always hurts more.
Moody's became the second major ratings agency in a week to downgrade Puerto Rico's debt to junk today, which bodes poorly for the island economy. While the first downgrade by S&P sent bond markets a warning, the second is sure to ignite a flurry of debt sell-offs.
Why? Because many institutional debt holders have investment rules that force them to sell off debt once two out of the three major ratings agencies deem it junk. No wonder Puerto Rico went from being "disappointed" with the S&P downgrade, to "strongly disagreeing" with Moody's.
Puerto Rican bond prices have been plunging since late 2012 (see the graph below). The latest streak of injuries will only send them further into the abyss.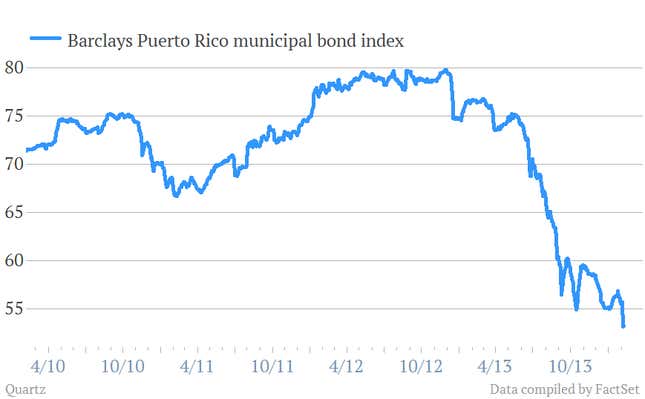 A sell-off will make Puerto Rico's access the financial markets even harder, which in turn will slow its struggling economy. If unable to borrow, the island will have to cut spending aimed at juicing growth. And that could turn into a vicious cycle, especially since Puerto Rico's economy has been contracting for seven years running (a total contraction of roughly 15% since 2006).