Elon Musk is determined to remake the world. And with an industry-spanning, multibillion-dollar business empire, Musk possesses the tools and influence necessary to do just that—for better or worse.
Between Tesla Cybertruck releases, solar roof designs, SpaceX satellite launches, and SEC cases, it can be difficult to keep track of what exactly is going on in Musk's world. Quartz's latest presentation puts everything you need to know—Musk's successes, controversies, and visions for the future—in one place.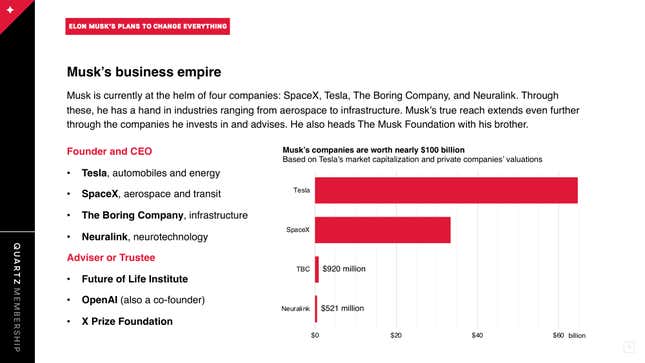 Musk is known for being CEO of Tesla and SpaceX, but his broader business network is actually much larger. He founded and leads two other companies: The Boring Company, an infrastructure startup, and Neuralink, a neurotechnology company. He also invests in or advises at least 10 other organizations, many of which work in artificial intelligence. Musk's business success isn't new, either. He launched his first business, Zip2, at 24 and founded what would become PayPal when he was 27.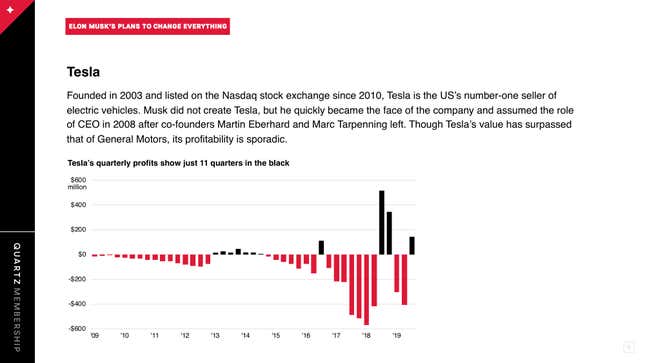 The most famous of Musk's endeavors is Tesla Motors. Founded in 2003, Tesla quickly eclipsed legacy Detroit brands to become the most valuable automaker in the US. Still, the company has struggled to make a profit.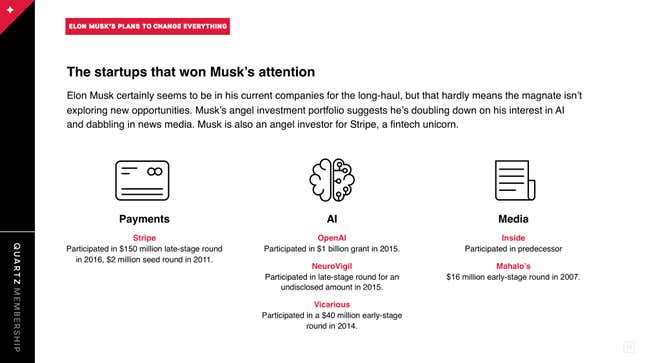 Musk's investments offer a window into what he sees as the future of tech, beyond his own companies. He is an angel investor to six startups, including fintech unicorn Stripe.
To see all of the slides, you can view the PDF version or download the PowerPoint file, which includes our sources and notes. This is one of an ongoing series of member-exclusive presentations, which you can read, reformat, and use as you wish.
Please share any feedback about what would make these presentations more useful—or topics you'd like to see us cover—by emailing us at members@qz.com. These presentations are an exclusive benefit for Quartz members. We'd love it if you'd encourage any friends or colleagues who express interest to become a member so they can access them too.