Almost half of the world's growth in air traffic over the next two decades will come from travel to, from, or within the Asia-Pacific region, according to estimates by Boeing. And most of that growth is coming from Asia's expanding number of budget carriers which are catering to the region's newly middle-class—yet still budget-conscious—travelers.
Speaking to reporters at the Singapore Air Show on Feb. 10, Boeing said it expects the region's total airplane fleet to almost triple in size, reaching 14,750 planes in 2032, from just 5,090 planes in 2012. Of that larger fleet, Boeing expects 70% of the planes (pdf, p.3) to be single-aisle models commonly used by low-cost carriers, which already account for about half of the region's aircraft currently on order.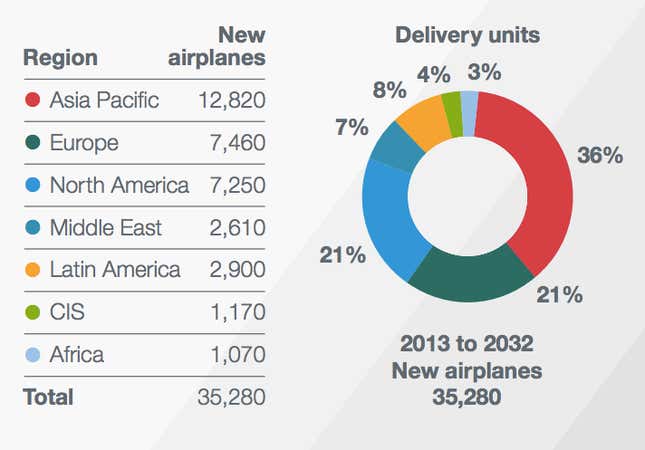 As households in emerging Asian countries grow wealthier, more are traveling domestically and to neighboring countries. These newly wealthy travelers are still budget-conscious, which is one reason why regional discount carriers have taken off so quickly. As of October, budget airlines accounted for over half of capacity in Southeast Asia's four largest travel markets, compared to the 40% of the market that budget airlines in Europe (paywall) occupy, even though they've been in existence for almost twice as long.
There are about 47 budget carriers in Asia Pacific, which is slated to be the world's largest air transport market by 2016, including the region's biggest, Air Asia, and 10 new budget carriers expected to launch this year. That number may grow higher now that China's civil aviation authority has scrapped lower limits on the amount that airlines can charge, opening up the door to Ryanair-style super cheap fares.
Some worry Asia's low-cost airline industry may be growing too fast. Bertrand Brabowski, head of DVB's aviation and transport finance division, told Reuters, "I wouldn't call it irrational exuberance but clearly everybody in Asia is ordering aircraft more than they really need." Analysts say Southeast Asia is the only market where there are more planes on order (paywall) than in operation, creating what some are calling an aircraft order bubble that has more to do with low interest rates and stimulus measures at home than actual regional demand.
One thing Asian budget airlines have going for them, at least for now, is that many of their passengers are new travelers who aren't objecting to the no-frill service of discount airlines. So far, there's no Air Asia equivalent to the sites devoted to complaining about Europe's largest budget carriers.