In March 2012, Twitter's executive chairman, Jack Dorsey, thought he'd secured a verbal agreement with Instagram founders Kevin Systrom and Mike Krieger to buy the photo sharing app for $525 million.
He hadn't. Yet the impact of that failure is only just now hitting home.
As the history books show, a couple of weeks later, Facebook outbid its smaller rival to gain control of Instagram, barely 18 months after it's birth. In the end, not by that much: the closing value of Facebook's bid was $735 million. Twitter might have legitimate grievances about the way the sale was handled (reports suggest it was never given the opportunity to match or exceed Facebook's winning offer) but the photo platform's surging user growth could be pretty useful for it right now.
Twitter has a devoted following among celebrities, politicians, sports stars, and of course, journalists. But there has long been a perception that the broader public is bemused by it. And the social network's sluggish growth in the last quarter will do nothing to disabuse people of that notion. Twitter added 9 million monthly active users in the last three months of 2013, an increase of just 4% on the previous quarter, and up 30% from a year earlier. That looks particularly disappointing given all of the attention the company got in the run-up to its high-profile IPO.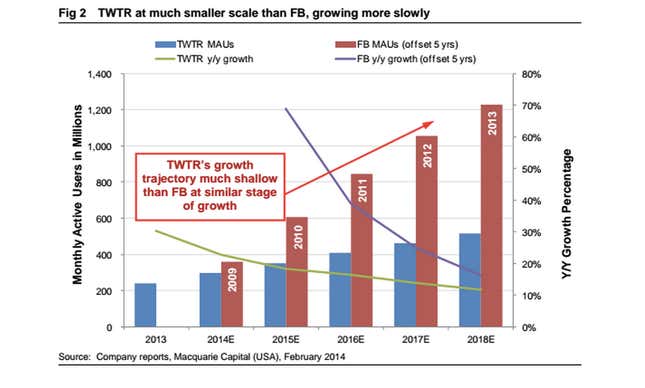 It's no surprise that Twitter, being younger, is much smaller than Facebook (which currently claims 1.2 billion monthly active users), and for that matter, LinkedIn and Google Plus. But as the above chart from Macquarie Equities shows, it is also growing at a much slower pace than Facebook was at a similar age. And "timeline views," one of Twitter's key measures of user engagement, actually fell last year. All this is a concern if the company is ever to grow into what by conventional measures is an extremely lofty valuation.
Twitter CEO Dick Costolo has pledged to rectify this with a string of improvements that he thinks will "change the shape of the growth curve" in users. These include a simpler signup process and changes designed to make Twitter easier for new users to understand, like organizing conversations along topical rather than just chronological lines. (Some early signs of what a new Twitter interface might look like are already filtering out.)
But it could all have been so different.
A courtship turned sour
The relationship between Twitter and Instagram used to be close. Systrom was an intern at Odeo, the podcasting service where Dorsey worked and which spawned Twitter. Dorsey was both an early fan of Instagram and a financial backer. In a Vanity Fair piece published in June last year, he described it as a "joy to use" and said he was "blown away by how much detail they put into the experience."
Instagram incorporated various elements of Twitter—like using hashtags to filter topics, and the concept of "following" people, which is a one-way relationship, as opposed to the two-way "friending" that happens on Facebook. Early on Instagram allowed users to find their friends on Twitter and easily follow them on Instagram.
Twitter courted Instagram for months. According to the Vanity Fair article, this culminated in March 2012, when, over drinks at a campfire in Arizona during a conference, Dorsey and Twitter's then CFO Ali Rowghani presented Systrom with what they thought was a formal offer to buy Instagram for more than $500 million. Systrom has contested this; he said under oath at a California court: "We never received any formal offers or term sheets".
When Instagram subsequently linked up with Facebook, tensions with Twitter swiftly bubbled over. Twitter blocked Instagram's ability to let users find friends on Twitter and follow them. Instagram blocked Twitter's ability to display photos from Instagram directly in tweets, forcing users to click on links to Instagram's site instead.
The spat hasn't affected Instagram; it's been growing at breakneck speed. According to Facebook's last earnings call, the number of monthly active users on Instagram doubled in a year, suggesting it now has around 180 million. At that pace, it won't be long before it overtakes Twitter.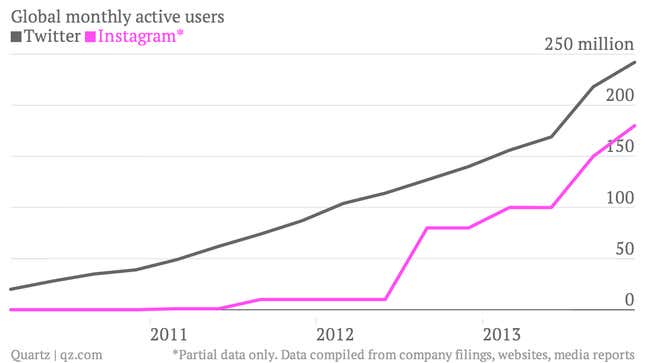 It's true that Pew Research study last year found that there was already a substantial overlap between the two services: 53% of Twitter users already use Instagram. But another way to look at this is that nearly half of Instagram's rapidly growing user base isn't on Twitter. It's also reasonable to assume that a big chunk of this overlap comes from early adopters of both services. (Anecdotally, none of my non-media friends use Twitter. All use Facebook. Most use Instagram).
There's every chance the improvements Twitter has planned this year will be successful, and reignite growth in its user numbers and engagement. But had it had Instagram in its portfolio, those sluggish numbers might not have been a problem in the first place.
As for Facebook, many have questioned whether buying Instagram will do much for its growth. But as a defensive move to keep Instagram out of the hands of possible rivals, it's looking increasingly clever.