It's getting ridiculous.
In the wake of the financial crisis, US companies have socked away a record $1.93 trillion in cash or liquid securities.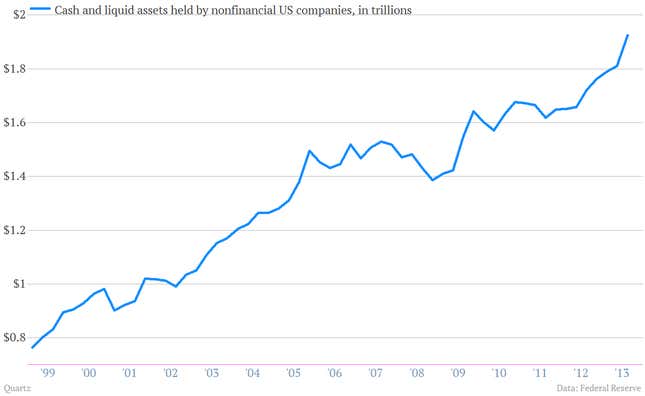 As long as that pile has been growing, observers have argued that those funds will fuel an imminent boost in spending on long-term business investment—capital expenditures—traditionally seen as a key driver of economic growth later in the business cycle.
Don't hold your breath.
So if they're not investing it, what are they doing?
They're giving it back to shareholders. Check out the recent surge in stock buyback activity spotlighted by the equity analysts over at Goldman Sachs.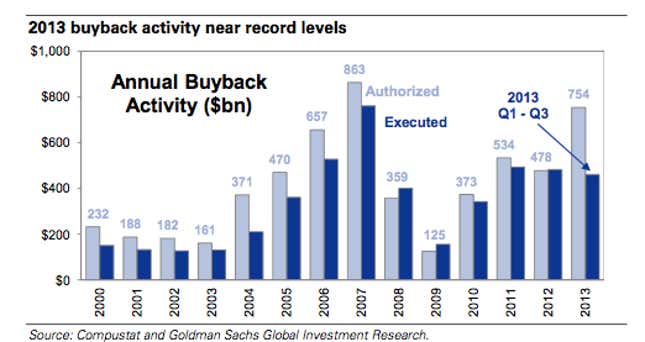 Dividends are also booming. At the end of January, some 420 out of the 500 companies that comprise the benchmark S&P 500 stock index paid dividends. That's the most since 1998. And S&P companies say they plan to pay out roughly $330 billion in dividends this year—a new record high.
Now, from a shareholder's perspective, this is a welcome development. After all, the cash at these companies belongs to shareholders, not the management of the firms. Returning it either via dividends or buybacks is the right thing to do, if executives don't see a productive place to invest that money.
But for the economy as a whole, the surfeit of corporate cash tells a very simple story. There's more money floating around than demand for it. That's a recipe for ongoing low interest rates—regardless of the fact that the Federal Reserve continues to cut back on its bond-buying programs. And, if regulators aren't on top of things, the excess supply of cash might tempt some to adopt shakier lending practices. Those with too much money may lower standards when it comes to what they see as potentially "productive investments."