Paul Taubman strikes again!
The former Morgan Stanley veteran banker has become a one-man mergers-and-acquisition machine on Wall Street. The rainmaker, who left Morgan Stanley nearly two years ago, is racking up plum billion-dollar merger assignments and scoring solo deals, nearly two years after abandoning his 27-year stint at the firm. Taubman left Morgan Stanley amid reports that he was butting heads with co-head of Morgan Stanley's sales and trading unit Colm Kelleher.
He emerged alongside a who's-who list of prominent advisors Thursday on one of the biggest deals of 2014, advising Comcast in its $45.2 billion announced bid for Time Warner Cable (paywall), working alongside heavyweights JPMorgan Chase and UK investment bank Barclays. (Incidentally, that places him opposite former employer Morgan Stanley, which is serving as advisor to Time Warner.)
Scoring a solo assignment on a major M&A deal is rare; it tends to come only to those with big Rolodexes and strong people skills. There are only a handful of other solo advisers, such as Citigroup star dealmaker Michael Klein, who provided advice on the $41 billion Glencore International and Xstrata merger two years ago. So far Taubman has been the solo advisor to Verizon Communications on its $130 billion purchase of Vodafone Group's 45% stake in the company's wireless venture.
Taubman struck his relationship with Comcast over a decade ago at Morgan Stanley, when he advised the company on a $58.7 billion purchase of AT&T Broadband (the deal created the world's largest cable operator). He also represented Time Warner while at Morgan Stanley and advised on its merger with AOL in 2000.

Sources tell Quartz that Taubman has been wrestling with whether to officially start his own M&A advisory firm. Opening his own shop would play into the growth of boutique M&A firms. According to Thomson Reuters data last year, well-connected boutique firms like Moelis & Co., founded by UBS rainmaker Ken Moelis, Lazard and LionTree Advisors recently launched by another star UBS telecommunications, media and technology banker Aryeh Bourkoff, took in a third of Wall Street's advisory fees—the highest fee tally since Thomson Reuters began tracking fee data.
Boutique firms have been taking business from the top 50 firms (mostly banks) for several years: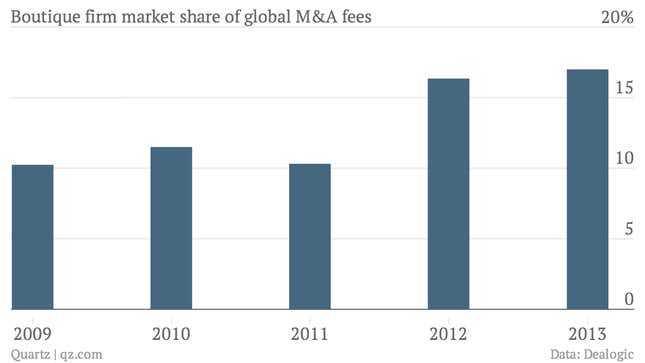 Going it alone doesn't just come with more personal freedom; Solo deals curry tens of millions of dollars in advisory fees, none of which go to big bosses at Morgan Stanley.