Most western retailers have focused their international expansion efforts on big and fast-growing countries like China, India, Russia or Brazil.
Eddie Bauer, the US outdoor clothing maker, took a different approach. As you can see from the map below, released in an investor presentation this morning, it has entered markets in North Africa (such Algeria and Egypt), Saudi Arabia, and apparently, less well trodden parts of Asia like Kazakhstan.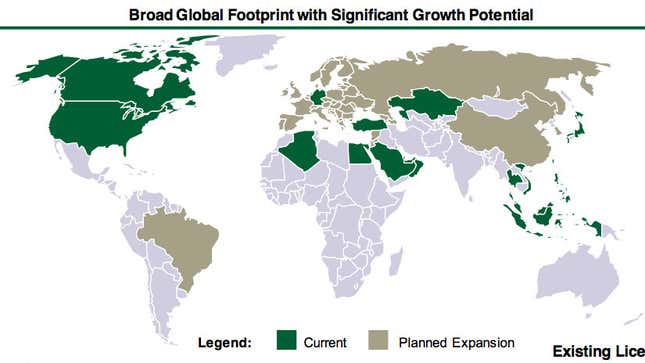 The 96-year-old company, which arguably reached the zenith of its popularity in America the 1990's (although Ford still makes vehicles with Eddie Bauer trim), and emerged from bankruptcy in 2009, agreed to be taken over by Jos. A Bank Clothiers this morning for $825 million. (The map above is from Jos. A Bank's investor presentation).
Jos. A Bank has separately been engaged in a lengthy takeover battle with its rival in the market for low-cost men's clothing, Men's Wearhouse, that has featured just about every tactic in the M&A banker's playbook. Notably, in its press release this morning, Jos. A Bank said it still has the right to walk away from its deal with Eddie Bauer if a third party offer is made to acquire Jos. A Bank that would be better for its shareholders. Which means there could be yet one final twist in the ongoing battle for control of the American dad's clothing industry.