There are good reasons to believe Spotify is seriously considering an IPO—and not just because the Sweden-based music streaming service is looking to hire an expert in US financial reporting.
Chief among them is the growing confidence among investors about music streaming business models. The stunning rise of rival Pandora, which has soared nearly 200% on the stock market over the past 12 months, means now may be the perfect time for Spotify to go public.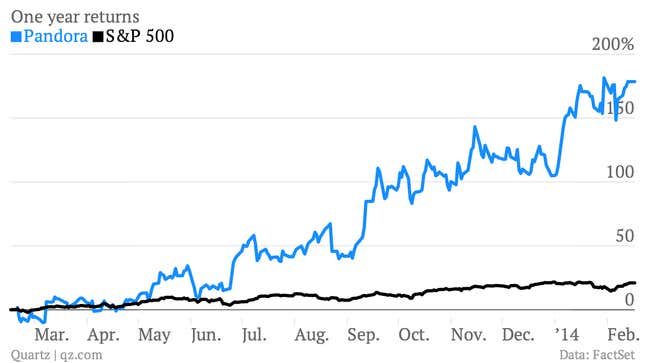 As we've previously discussed, there are key differences between the Pandora and Spotify business models. Pandora, which surpassed 200 million registered users last year, is more of an advertising-based business, while Spotify employs a subscription-based model.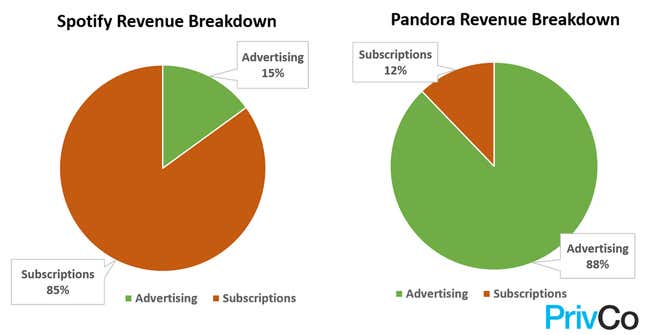 At any rate, Pandora turned its highest quarterly profit last month, earning $8.98 million for the three months to December 30. (According to Morgan Stanley, it was even profitable for the entirety of 2013 year once certain one-off items are excluded.) Even though their business models are different, Spotify's IPO will inevitably draw comparisons with Pandora. The higher Pandora's valuation is, the more likely investors are to be interested in Spotify as an investment opportunity.
Spotify is already exploring ways to bundle its service with other subscription products to expand its reach. It recently struck a deal with News Corp to grant subscribers to the Times of London newspaper 12 months access to its premium service for free. Remember when Twitter started cleaning up its house a few months before it filed IPO documents last year?
The Twitter analogy could prove instructive here. Spotify's financial losses mounted last year, despite surging revenue growth. But as Twitter's IPO last year shows, US investors have a ravenous appetite for growth, and are prepared to pay top dollar for businesses with promising value propositions that are nonetheless losing money. With 6 million paying subscribers and 23 million active users, Spotify falls into this camp.