Cloud computing is so commonplace that it is easy to overlook. But behind music streaming, Internet-of-Things connectivity, and countless other innovations is the cloud. The ubiquity of cloud computing has created a $200 billion cloud services industry dominated by big tech names like Amazon and Microsoft, along with software companies on the rise like Salesforce and Workday.
Quartz's latest presentation tells you everything you need to know about the cloud services industry and how it will keep driving innovation in 2020 and beyond.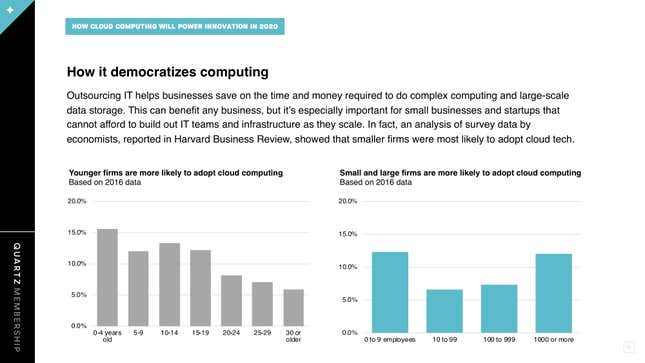 Part of the cloud's revolutionary power is that it allows companies to outsource significant amounts of their IT work. Smaller, younger firms that pay for public cloud services benefit from large providers' economies of scale and cutting-edge technology.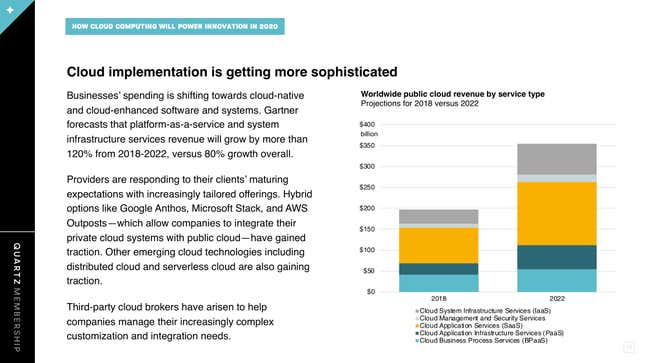 In the 2010s, cloud adoption became mainstream. In the 2020s, it will become more sophisticated, according to Gartner research vice president Sid Nag. As clients better integrate cloud services into their businesses, providers are creating more tailored offerings. Some providers are turning to hybrid options like Google Anthos, Microsoft Azure Stack, and AWS Outposts, which allow companies to integrate their private cloud systems with public cloud.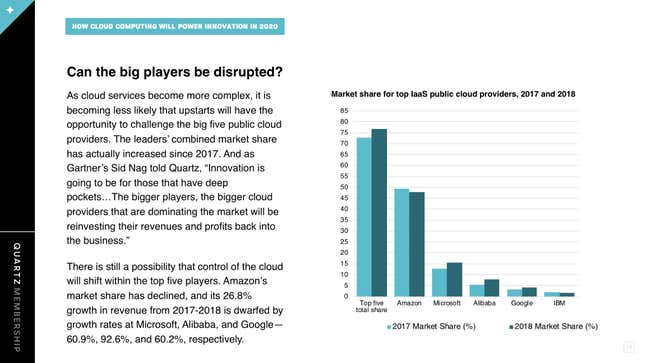 Five companies—Amazon, Microsoft, Alibaba, Google, and IBM—claim 75% of the world's public cloud infrastructure market. In coming years, the battle to lead the field is likely to intensify. Amazon's market share is 47.8%, but Microsoft's soaring revenue and Alibaba's rapid market expansion threaten to end Amazon's dominance.
To see all of the slides, you can view the PDF version or download the PowerPoint file, which includes our sources and notes. This is one of an ongoing series of member-exclusive presentations, which you can read, reformat, and use as you wish.
Please share any feedback about what would make these presentations more useful—or topics you'd like to see us cover—by emailing us at members@qz.com. These presentations are an exclusive benefit for Quartz members. We'd love it if you'd encourage any friends or colleagues who express interest to become a member so they can access them too.