Poor Americans are under even more extreme financial pressure lately, and that's showing up in US companies' sales.
For instance, check out this chart, which was including in an investor presentation US foods giant Kraft made earlier this week.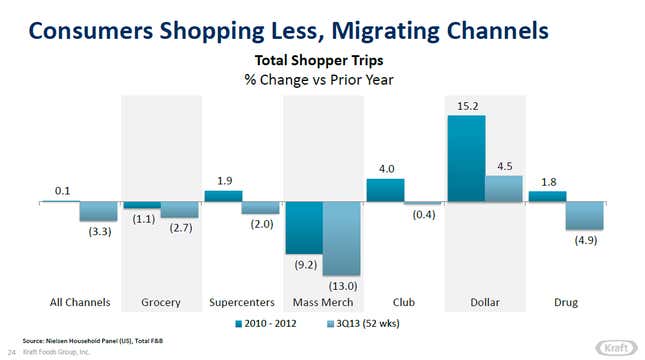 According these numbers, American visits to dollar stores have vastly outpaced traffic at other retailers over the last few years. It would be logical to think that this would be a good thing for those discount stores themselves. But things have been so rough for the poorest parts of America that low-income shoppers are  increasingly shifting their purchases toward absolute necessities, such as low-margin food products. That's hurt sales growth at discounters such as Family Dollar.
"Our core lower-income customers have faced high unemployment levels, higher payroll taxes, and more recently reductions in government-assistance programs. All of these factors have resulted in incremental financial pressure and reduction in overall spend in the market," said Family Dollar CEO Howard Levine, as part of his company's post-earnings conference call.
Wal-Mart, the world's biggest retailer, echoed those sentiments today in its post-earnings conference call. Shares of the retailer fell after Wal-Mart offered a weaker-than-expected fiscal year forecast. Executives noted that reductions in US government assistance programs, higher payroll taxes and what they described as tight credit conditions "will continue to weigh on our customers."