Mark Zuckerberg may have turned Jan Koum into an instant Silicon Valley darling, but co-founder and chief executive of WhatsApp isn't the only one who made money on the deal.
Technology bankers at Morgan Stanley, who advised the California-based web messaging company on its merger deal with Facebook also notched a big score. The deal vaulted the technology team, led by superstar tech M&A specialist Michael Grimes, four places in the global tech deal rankings—known to investment bankers as "league tables"—after the  $19 billion mobile messaging deal  was announced yesterday. 
Here's a chart of the global tech deal rankings just prior to the deal: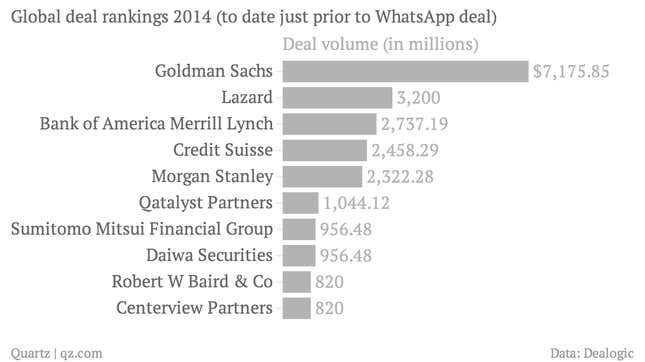 Now, here's Morgan Stanley's deal ranking today–after the Facebook deal for WhatsApp: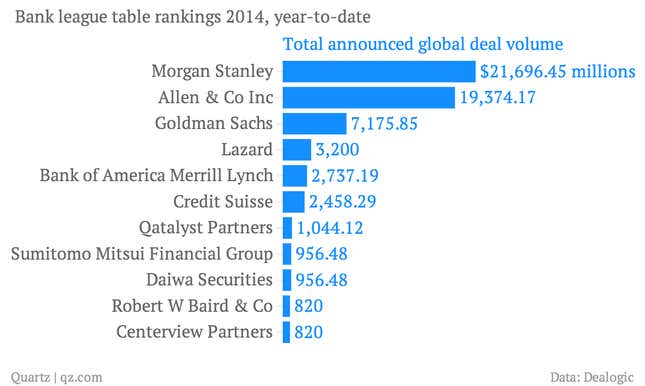 Grimes drew criticism (paywall) after Facebook's botched $16 billion initial public offering back in 2012. But since losing out on plum assignments like Twitter to the bank's fiercest rival Goldman Sachs, Grimes has been on a road to redemption of sorts, scoring a string of big deal assignments. That includes leading the co-founders of WhatsApp—former Yahoo employees Koum and Brian Acton—to a deal that placed an eye-popping valuation on the company. (The price Facebook paid translates into roughly $380 million per employee, as WhatsApp has a staff of 50.)
Perhaps it's worth noting that Grimes didn't advise Facebook on the M&A deal. That job went to New York-based boutique advisory firm Allen & Co. Allen & Co.'s involvement in the transaction enabled it to leapfrog Goldman Sachs and take second place in the deal rankings.
For Grimes's part, the WhatsApp deal (and most importantly the big score for its founders) will probably serve as a calling card for the 47-year old banker in a red hot year for technology mergers and initial public offerings. The WhatsApp deal is the biggest so far: