China warned the White House that it should cancel president Barack Obama's meeting with the Dalai Lama on Feb. 21 or else "seriously damage" relations between the two countries. But this isn't the first time China has issued strongly worded statements against US presidents receiving the exiled spiritual leader—and it probably won't be the last.
In fact, since 1991, every American president has met with the Dalai Lama. Meanwhile, US-Chinese economic ties have grown exponentially closer—all reasons why China's warnings are little more than face-saving publicity. "I think China will send a strong message of protest publicly and privately, trying to warn president Obama to not go too far, because we still have a major, new relationship to build," Sun Zhe, director of the Center for US-China Relations at Tsinghua University, told Reuters.
Here's a look at how the threats have played out over the years:
1991
George H.W. Bush became the first US president to meet with the Dalai Lama. Two years later, the US had become China's largest source of foreign direct investment. Bilateral trade, which in 1989 was about half of what the US traded with Taiwan, more than doubled to $40.3 billion (pdf, p. 186) in 1993. The US is also guilty of empty promises. That same year, Washington renewed China's trade privileges despite previous warnings that it would not until China's human rights record improved.
2000
US president Bill Clinton met with the Dalai Lama in the same year China and the US normalized trade relations, a step that cleared the path for China joining the World Trade Organization in 2001. Between 1980 and 2004, US-China trade had already risen 46-fold to $231 billion from $5 billion.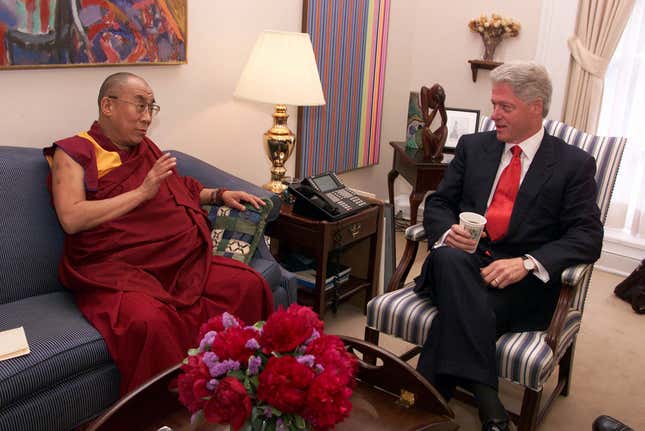 2007
George W. Bush became the first US president to hold a public meeting with the Dalai Lama, awarding him the Congressional Gold Medal in front of national and international news media. Predictably, Beijing acted outraged and said Bush had seriously violated "the basic principles of international relations."About a year later, Beijing became America's largest creditor, having amassed almost $600 billion in US government debt.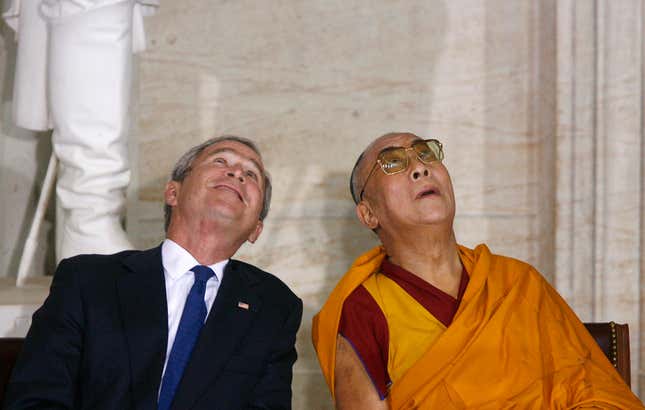 2011
After president Barack Obama met the Dalai Lama in 2010, China issued a statement calling the meeting "a serious interference in China's internal affairs that hurt the feelings of the Chinese people, hurts China's core interests and hurts Sino-US relations." But Beijing stopped short of threatening any kind of retaliation. Bilateral trade between the two countries remained steady.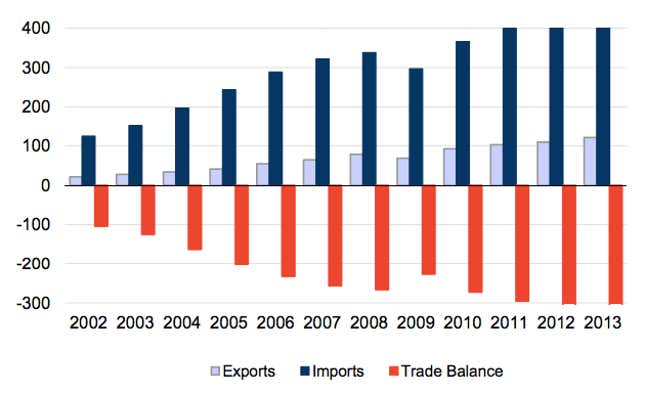 2014
When Obama meets with the Dalai Lama today, on Feb. 21, it is against the backdrop of growing trade and investment between China and the US. China is America's second-largest trading partner and its top source of imports, and the US is China's largest trading partner after the European Union. Between 1991 and 2013, trade between the two countries has grown from $25.6 billion to $562 billion. And Chinese investment in the US has tripled since 2007, with more of it coming from private Chinese firms going into a range of US sectors.